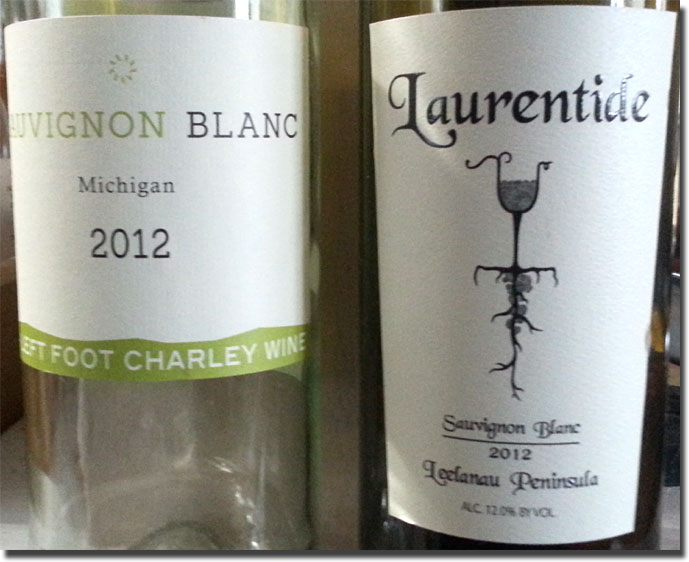 Last April, Kim and I drove up to Traverse City to attend the Leelanau Peninsula Vintners Association Media Weekend. After checking into our hotel, we did what we do whenever we go to TC, and booked straight over to Left Foot Charley Winery and Tasting Room. It's right in town, we don't have to drive to either the Old Mission or Leelanau Peninsulas, and we know we're going to taste some of the best wines in Michigan. As luck would have it on this occasion, owner/winemaker Bryan Ulbrich was in the house; he took us back into the production area, and gave us a taste of several tank and barrel samples. Everything was at least good (some parcels were meant for blending, rather that standing alone, so while not shining on their own, they would make important contributions to their intended greater whole), and then there were things like the then-yet-to-be-bottled 2012 LFC Pinot Blanc, which we could already tell was quite yummy. One of the most intriguing samples that Bryan poured us was a 2012 Sauvignon Blanc, one of the first from Michigan we'd ever tasted as far as I can remember, but as it turned out, by no means the first that has been produced. (I say as far as I can remember, because some years back, Kim and I sat on Joel Goldberg's Michwine.com tasting panel, and I seem to vaguely recall that we tried one or two back then, but I have no notes to verify that.)
The next day, during the LPVA Media Loop Tour, we stopped into the tasting room of one of the newest Leelanau producers, Laurentide, and we got a taste of another Michigan Sauvignon, this one grown right there on French Road, and made by our friend Shannon Walters. That one was from the 2011 vintage, and it caught the attention of everyone in our group. So, the variety was making inroads in the Grand Traverse Bay region, not unlike the upstart plantings of Gruner Veltliner at Chateau Grand Traverse and Chateau Fontaine that we've reported on previously.

This past summer, I had the pleasure of getting beck up in that area to play music, and both Ulbrich and Walters sent me home with a bottle each of Left Foot Charley and Laurentide Sauv Blanc respectively. The LFC was that 2012 we tasted, but the Laurentide was their 2012, which proved to be rather different than the 2011; happily, I took some notes in April, so the contrasting characteristics are given below.
2012 Left Foot Charley Michigan Sauvignon Blanc, 80% Antrim County (3 year old vineyard), 20% Leelanau County (4 year old vineyard).
Approximately 80 cases produced. 13% alc.: Clean pale-to-medium color; ever-so-slightly darker than the Laurentide. There's no mistaking the effusive boxwood/cat spray on the nose here, and, indeed, that element dominates both flavor and aroma. There's a good core of grapefruit and green apple fruit, but it plays second fiddle to the feline musk. Medium bodied, with good intensity and racy acidity, this is a better match for the grilled, smoked Bakers Acres chicken thighs than the '12 Laurentide. I'd like a little more fruit to counter-balance the cat pee, but given the age of the vines, this is an impressive effort. Find this wine
2012 Laurentide Leelanau Peninsula Sauvignon Blanc, 12 % alc.: Clean pale-to-medium color; as it warms and opens in the glass, its characteristic Sauvignon personality becomes more apparent, but it's pretty ripe for SB, from Michigan or anywhere else, almost giving the impression of sweetness, but stopping just short of going over the top. This probably wants a different food pairing than the grilled chicken thighs, as it's almost ripe enough for some spicy Asian cuisine, or maybe the chicken just needs a spicy southwestern treatment. This is not a bad wine by any means (the vines that produced the fruit were 4 years old), just very different, not only from the LFC, but also the 2011 Laurentide that we tasted at the tasting room last April during the Leelanau Peninsula Vintners Association Media Weekend. Find this wine
2011 Laurentide Leelanau Peninsula Sauvignon Blanc, 12 % alc.: In retrospect, this is much more like the 2012 LFC than the '12 Laurentide. With clean, pale color, it too is dominated by a boxwood character on both the nose and palate; there's no mistaking it for anything but SB. Medium bodied, with not quite the rich core of fruit as the '12, but then, the vines were only third leaf. Find this wine
Laurentide makes Riesling, Pinot Gris, Chardonnay, Pinot Noir and more, but they consider their Sauvignon Blanc to be their flagship wine, which gives some indication of how they feel about the future of the variety in Michigan. It stands to reason that a grape best suited to cooler climates would do well here, and while I don't think that SB will ever supplant Riesling as our predominant white wine, these three give ample evidence that Sauvignon Blanc is here to stay in the Mitten state.
Reporting from Day-twah,
geo t.
Related posts: