April 7th, 2015 |

Author:
George Heritier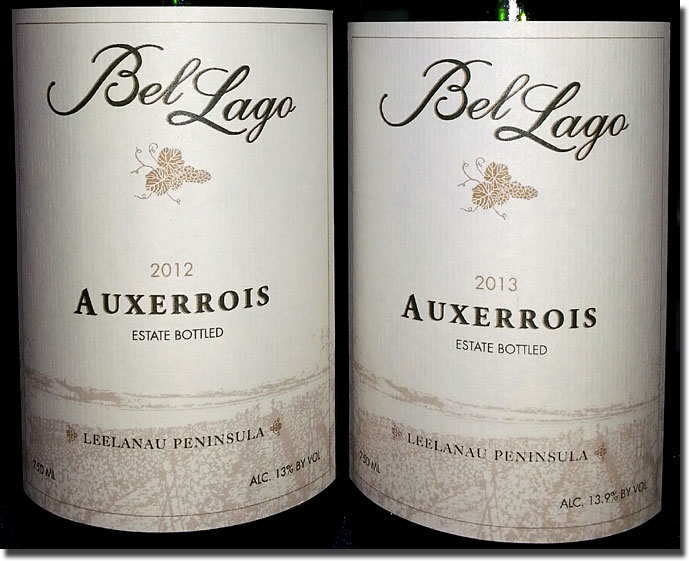 It's been two years since I named Charlie Edson's Bel Lago Auxerrois as one of my two favorite Michigan wines, along with Left Foot Charley's Island View Pinot Blanc, and I promised to file a follow-up report on the Auxerrois at that time. I didn't promise how long it would take me to get around to filing said report, and while I wish I would have gotten to it sooner, I do feel that this blog entry is a "better-late-then-never" kind o' review. (Click image to enlarge.)
(Disclaimer: My original statement should now be amended to these two being my favorite still wines, given my recent revelations as to just how fine our northern Michigan sparkling wines are, and I doubt that Charlie or Charley aka Bryan Ulbrich will take issue with that.)
I first learned to love Bel Lago Auxerrois back in 2009, during a remarkable November tour of Leelanau Peninsula vineyards and wineries. You can see what Charlie had to say about his version of the variety in the following video that Kim recorded and edited at that time:
I had originally intended to do a comparison tasting of the 2011 and 2012 vintages, and, in fact, we did so about four or five months ago, and what stuck with me then was the contrast between those two vintages. The 2011 was in a prime drinking window, being very mineral-driven, with perfectly balanced acids; it would make a good "ringer" in any number of blind Alsatian (or perhaps even Loire) white wine tastings. The 2012 was racier, with a little less mineral and a big hit of lime that differentiated it from the earlier vintage. It was a great demonstration of how both different vintage conditions and an extra year in the bottle can impact this consistently fine wine.

A few weeks ago, I noticed that both the 2012 and 2013 vintages are now available, on the same retailer's shelf, no less, so I picked up one of each to continue my Michigan Wine Month celebration with a comparison of the two.
2012 Bel Lago Auxerrois Leelanau Peninsula, 13% ALC., $15.99: Clean, medium color, with some nice peach-like aromas; more peach on the palate, with a streak of lime and underlying mineral that shows more on the finish. Rich and fairly ripe, being medium bodied and then some, with racy acidity and very nice length. Just a pleasure to sip, and a nice match with Kim's homemade garlic chicken sausage with brown rice, spinach and veggie stir fry. It gets better and better as it opens and warms in the glass, with more minerality emerging. Closer to its prime drinking window than the 2013, but it would still like at least another year to round out to its full potential. Find this wine
2013 Bel Lago Auxerrois Leelanau Peninsula, 13.9% ALC., $15.99: Clean, medium color, slightly more intense than that of the 2012; not as generous on the nose as the previous vintage, more obviously mineral driven and a little less ripe, showing peachy flavors shaded with some apple (mostly red) and a bit of citrus. Fairly rich, medium bodied plus, with zingy acidity and good length. The mineral turns slightly chalky as it opens, and while this also pairs well with the chicken sausage brown rice stir fry, it's a bit tight and will improve with another year or two in the bottle, so be patient with this one; you'll be well rewarded. Find this wine
I can't say enough good things about these two delicious examples of just how good Michigan wines can be. I'd love to sit down with Charlie Edson some time and taste through a few older vintages of his Auxerrois to see how they've evolved over the years.
Reporting from Day-twah
Bastardo
One Response to "Can You Say Auxerrois Boys and Girls?"