Our soul sister Christina Donley made her annual visit to Day-twah to promote the wines of Ridge Vineyards a few weeks ago, and when we caught wind that she would be presiding over a tasting at Mudgies Deli & Wine Shop, we made a point of clearing the time on our schedules so that we would be in attendance. I reported on another way cool Ridge tasting at Mudgies last year, and it's clear that owner Greg Mudge is as much a fan as we are, so this was bound to be a fun event.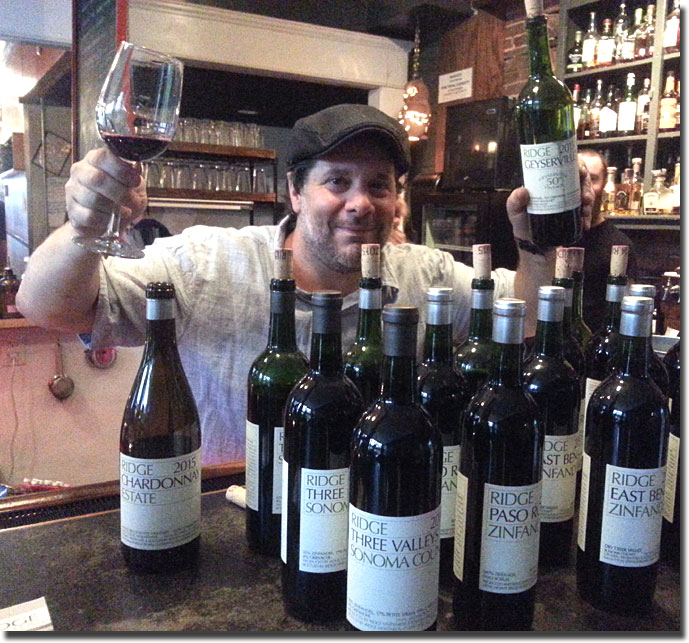 We arrived to find Greg holding court behind the bar, which was lined with bottles of the selections we'd be tasting. Christina was interacting with guests in the room, with more-than-able assistance from Great Lakes Wines and Spirits super-reps Monica Wilde and Rebecca Poling. We were greeted with glasses of Chardonnay and I pulled out my trusty pen and note pad and started tasting and scribbling.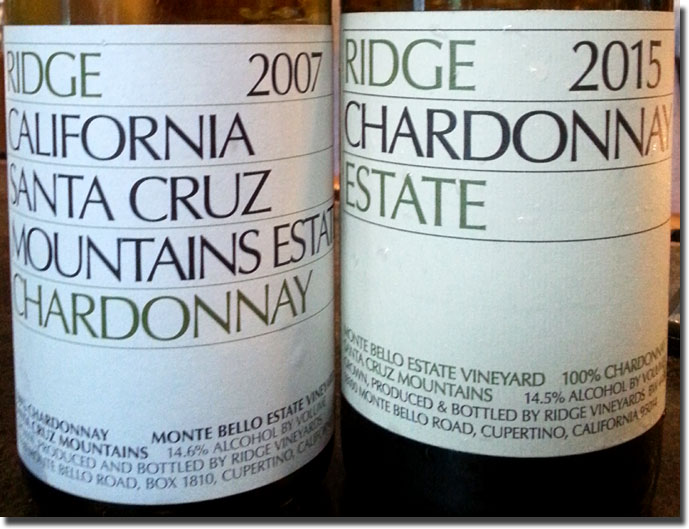 2015 Ridge Santa Cruz Mountains Estate Chardonnay Monte Bello Vineyard, 14.5% alc., $54: This exudes a ripe apple-pear and sweet oak bouquet that's a bit toasty, and I like that. Rich, fairly ripe flavors echo and expand on the promise of the nose so nicely; the wine is full bodied, with great depth, balance and acidity and very good length. Christina says that the oak, mostly neutral American, with some French, has been toned down some over the past few years, and it shows. This is as fine a Ridge Estate Chardonnay as I can remember tasting, and a delight to sip on as the event gets started. Find this wine
Monica pulled the following selection from her "wine closet" and brought it along to contrast and compare with the 2015.
2007 Ridge Santa Cruz Mountains Estate Chardonnay Monte Bello Vineyard, 14.7% alc.: The clean, medium color gives no telltale signs of its age, and while the nose is not nearly as exuberant as that on the '15, it does give just a hint of something like caramel. Surprisingly fresh on the palate, super silky, and showing no secondary characteristics, it's all lovely apple-pear laced with a little mineral. Full bodied; the acids are still racy and there's nice length on the finish. Find this wine
I reported on this next one last fall, but it's always nice to get another taste, especially since this bottle was opened almost 8 hours earlier.
2014 Ridge Sonoma Three Valleys, 65% Zinfandel, 17% Petite Sirah, 14% Carignane, 4% Grenache, 14.5% alc., $27.00: This offers notes of rhubarb and mineral on the nose. Earthy and ripe (but not too ripe) on the palate, with black raspberry and blackberry flavors; full bodied, beautifully balanced and drinking quite well now, yet structured for at least a few more years in the cellar. Find this wine
I reviewed the 2014 versions of the following three after Christina's last visit, a little over a year ago.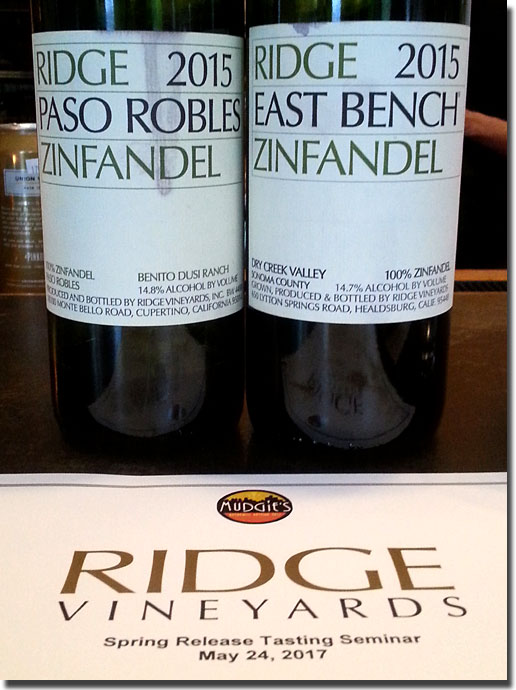 2015 Ridge Paso Robles Zinfandel, 14.8%, $35: There's something like sea air-aquarium (really!) on the nose here; with great balance and perfect ripeness, this is quintessential Paso Robles Zin and eminently drinkable already, but structured for at least 10 years of aging and development. Find this wine
2015 Ridge Dry Creek Valley East Bench Zinfandel, 14.7%, $33: Rich and ripe on the nose, with more of the same on the palate; beautiful Zin with that distinctive Ridge character and some earth underneath it all. Structured for several years in the cellar, but drinking well now, especially with air and/or some grilled red meats. Find this wine
There were two bottles of the new Geezer, one freshly opened and one that had gotten lots of air.
2015 Ridge Geyserville Alexander Valley, 70% Zinfandel, 15% Carignane, 12% Petite Sirah, 3% Alicante Bouschet, 14.5% alc., $40.00: Opened at 11 AM, 8 hours earlier: Big, rich and impressive; great power and intensity, with classic Geyserville character and obviously enjoying the extended aeration, being more than approachable.
Opened at the tasting: Less generous than the bottle opened 8 hours earlier, and showing more wood, though not "oaky," per se. The side-by-side really demonstrates the benefits of giving this plenty of air at this juncture, so give it at least an hour in a decanter if you're going to open one now, and enjoy with grilled lamb-sickles a la Canadian Zinfan. Your best option, however, will be to tuck it safely away in the cellar for 10 years or longer. Find this wine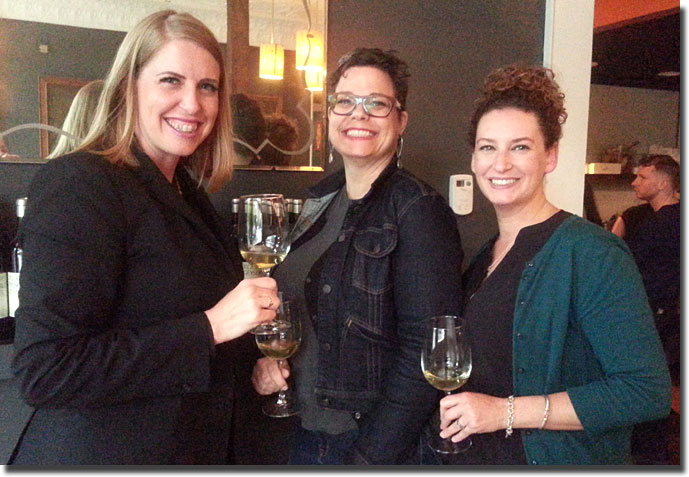 Christina (above left, with Rebecca Poling and Monica Wilde) had the following selection and the '05 Monte Bello flown in for the tasting.
2009 Ridge Lytton Springs Dry Creek Valley, 74% Zinfandel, 23% Petite Sirah, 6% Carignane, 14.5% alc.: Surprisingly stingy on the nose, but big, deep and dark on the palate, and the earthiest red tasted so far on this occasion. Not as ripe as the Three Valleys, Paso or East Bench, being much more "claret-like" in style, this will likely resemble mature Bordeaux with extended age, as these often do. Find this wine
This next wine was generously donated by another of Monica's accounts to compare with the previous vintage.
2010 Ridge Lytton Springs Dry Creek Valley, 67% Zinfandel, 23% Petite Sirah, 7% Carignane, 3% Mataro, 14.4% alc.: A bit lighter and more approachable than the '09, but still big, rich and ripe; a great demonstration of how different one vintage can be from the next in an iconic vineyard. Open this now and give it some air, if you want (or put it down for 5-10 years or more), but leave the '09 alone for several more years. Find this wine
2005 Ridge Monte Bello Santa Cruz Mountains, 70% Cabernet Sauvignon, 22% Merlot, 6% Petit Verdot, 2% Cabernet Franc, 13.4% alc.: "Draper perfume" mingles with sea air on the nose; this is obviously a big change of pace from the Zins, all black currant, blackberry and leather, with some well-integrated oak lurking in the wings. Silky tannins allow for pleasurable drinking now (it was also opened at 11 AM), so much so that I'm wishing I had some thinly sliced, medium rare filet mignon in front of me while tasting it. A lovely wine that will continue to evolve over the next 8-15 years and beyond. Find this wine
What a great way to spend an evening, tasting Ridge wines with some very cool friends in an old school Corktown barroom. Next time you're in that venerable Detroit neighborhood, stop in for some good food and wine (or beer, or cocktails) and tell 'em Gang of Pour sent you.
Reporting from Day-twah,
Bastardo
Save
Save
Save
Related posts: