July 1st, 2013 |

Author:
George Heritier
Since we first tasted Zinfandels from Bruce Patch's Wine Guerrilla back in January of 2011, they seem to have undergone a change in style. Back then, they weren't quite old-school in character, but neither were they the kind of over-ripe, over-extracted monsters that became all the rage in the late '90s and, frankly, turned us off to the variety for a while. We had similar feelings about a batch we tried last December; if anything, those leaned even more toward the style that we loved back in the late '70s and into the '80s and early '90s. Judging from the latest samples sent to us for review recently, something a little different seems to be going on. All three show the same kind of delicious fruit that the previous selections did, but there are some "cosmetic" overtones, for lack of a better term, that we find disconcerting in at least two of them. They are reviewed here in the order they were tasted. (Click image to enlarge.)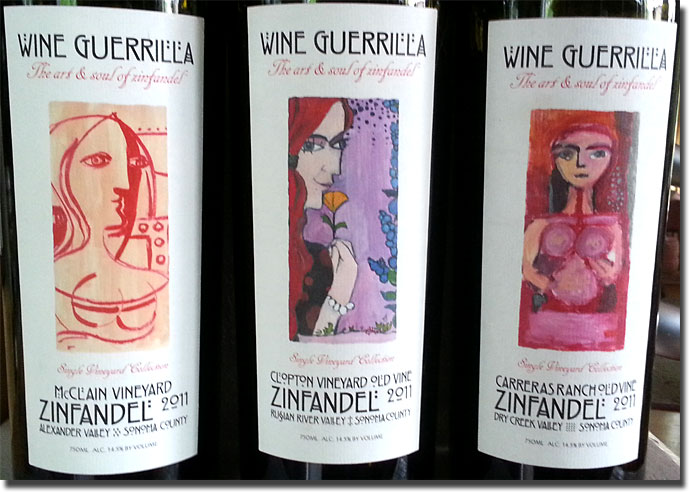 2011 Wine Guerrilla Sonoma Zinfandel McClain Vineyard Alexander Valley, 80% Zinfandel and 20% Petite Sirah, 14.5% alc., $35.00: Showing clean, dark color, this immediately exudes aromatics of dill and mint that morph into something like celery seed; whether or not this is a by-product of the obvious oak treatment may be up for debate, as I've heard arguments both pro and con regarding similar characteristics in other wines. What I do know, is that for me and three fellow tasters in the wine biz, these characteristics are rather overbearing at this early point in this one's evolution. There's a nice core of lovely fruit here, and the wine is sleek, full bodied and well-structured for future development. When I suggested that the dill, mint, celery seed and oak might integrate with some years in the bottle, my colleagues weren't having any of it, and they're probably correct. I guess time will tell. This style must have its fans, but sorry to say, we're not among them. Your mileage may vary. Find this wine

2011 Wine Guerrilla Sonoma Zinfandel Carreras Ranch Old Vine Dry Creek Valley, 14.5% alc., $40.00: Deep and dark in color, and like the McLain, it's a dill, mint and oak dominated thing. Svelte, yet full bodied, with a rich, but not too ripe core of pretty fruit, and a little earthy, just the way I like my Zinfandel…, except for that dill, mint and oak. Silky tannins and good acids will take this a good five years down the road and beyond, but, again, will those components that we find objectionable ever integrate? An old field blend of Zinfandel, Alicante Bouchet, Petite Sirah, Napa Gamay and Chasselas Dore. Find this wine
2011 Wine Guerrilla Sonoma Zinfandel Clopton Vineyard 'Old Vine' Russian River Valley, 14.5% alc., $40.00: A 100+ year-old field blend, showing deep, dark color, and only a trace of the dill-mint-oak on the nose so predominant in the other two selections. On the palate, notes of black raspberry and black cherry gain shades of nice, earthy briar/bramble, and the fruit isn't too ripe at all. Sleek, full bodied and structured for several years of improvement, I'm betting that this will take on a claret-like character with cellaring. The dill and mint are a slight detraction, but there's plenty more to like than otherwise, for this taster. Of the three, this is the one that will most likely integrate fully with time. Find this wine
I wish I had better things to say about the first two wines. I really admire Bruce Patch's dedication to Zinfandel and the old vineyards from which he sources his fruit. It seems apparent that since the specific qualities noted repeatedly are more or less present in all three, they are the product of decisions made in the wine making process, rather then characteristics of the vineyards themselves.

Reporting from Day-twah,
geo t.
Related posts: