February 5th, 2016 |

Author:
George Heritier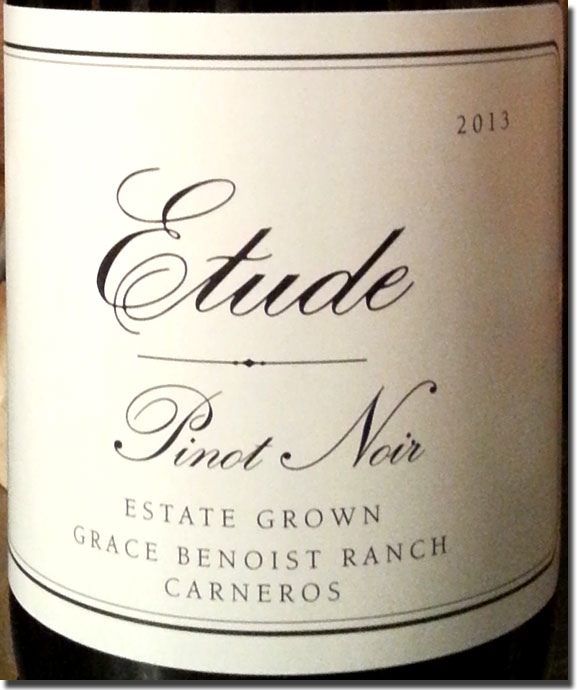 It had been a while since we last tried anything from Etude, perhaps as long as 10 years. I had a most interesting and informative chat with founder Tony Soter back in 2004, and usually liked what I tasted a lot, but, for whatever reason (price maybe?), I haven't gotten (or taken) the opportunity to try another until last week, when I found this in a bin at my friendly neighborhood Costco. As is so often the case, I was curious and asked myself, "How bad can it be?" Turns out it's pretty damned good!
2013 Etude Pinot Noir Carneros Grace Benoist Ranch, 14.4% alc., $33.99: Medium dark in color, with a beautiful perfumed Pinot Noir black cherry nose, with hints of tea leaf; the rich, earthy flavors generally echo, finishing decidedly dry, a little green and somewhat astringent. Medium full bodied and well-structured, which is a good thing, because this should benefit from some years in the cellar.
I like this. The green aspect isn't imposing enough to be a detraction; it actually fits in well as a complementary component of the greater whole. It opens nicely with air, and offers real drinking pleasure now, but give it five years to develop and it will be even better. The vineyard site obviously produces superior quality grapes, and the winemaking team of Soter, Jon Priest and Franci Ashton knows just what to do with them. Given the quality here, I have no problem with the price tag, and plan to go back for more. Find this wine
Reporting from Day-twah,
Bastardo
Related posts: