There are so many wine producers in so many regions of the world that fly well under our radar, it's always a treat for us when we happen upon one that really impresses us. Case in point; we'd never heard of Left Coast Cellars until a few weeks ago, when their PR firm contacted us to inquire as to whether we'd be interested in meeting their winemaker and viticulturist, Luke McCollom, who would be in Michigan during the week of August 17.
I did some quick research, and found that this family owned winery seemingly had much to admire, starting with a commitment to sustainability. 150 of the 353 acres on the property, located in Rickreall, Oregon, are planted to nine vineyards, with a focus on exclusively estate-grown Pinot Noir, Pinot Gris, Chardonnay, Pinot Blanc, Viognier and Syrah, with several single vineyard wines in their lineup. Besides growing grapes, Left Coast Cellars has also undertaken a project of growing European truffles (mostly Périgord, with some Italian whites) on a four acre site of hazelnut trees, shrub roses and holly oaks. There are also oak groves, fruit orchards, organic gardens, bee hives, streams and a small lake which adds to the site's biodiversity and provides water for gravity fed irrigation. (Click images to enlarge.)

The vineyards themselves contain a wide variety of clonal and rootstock combinations, elevations, row orientations and soil compositions, which provide for a significant range of nuance to what we've quickly come to recognize as a distinctive LCC house style. Based on what I discovered on the winery web presence, we decided that this was an operation we'd like to learn (and taste) more about, so we accepted their kind offer and a time was set to meet with Mr. McCollom last Wednesday, at Birmingham's The Bird & The Bread.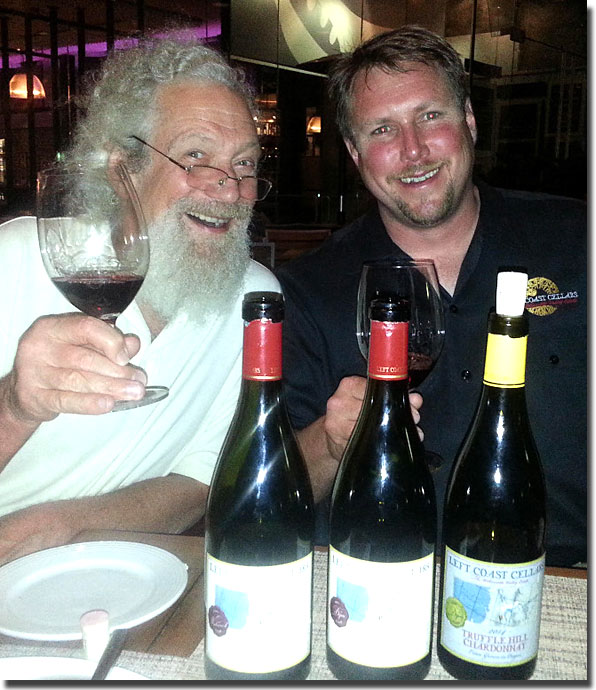 Luke McCollom is an handsome, articulate gentleman in his mid-30s. I've met more than a few winery officials, including winemakers, who are long on the company line, rattling off facts and figures by rote, and short on personality, acting bored and seemingly wishing they were someplace else, namely back home. Happily, Luke is no such animal, and Kim and I really hit it off with him, finding a kindred spirit during our rambling 3-hour dinner.
McCollom has always had a passion for fruit. He started working in the wine industry at the age of 15, and within a few years, was making picking decisions for Meridian Vineyards. He graduated from California Polytechnic University at San Luis Obispo with a B.S. in Fruit Science and a minor in Wine and Viticulture, and went on to manage 30 vineyards in Napa Valley, including those of Harlan Estate. Eventually tiring of the rampant Napatude, he moved to Oregon in 2003. He met with the Pfaff family, signed on with them and has been instrumental in the development of Left Coast Cellars. He has a hand in all aspects of LCC, from managing the vineyards all the way down to diagnosing tractor repairs. (While he does hold the title of winemaker, with all that entails, Joe Wright actually handles the day-to-day wine-making chores for LCC.)
While we got acquainted, we got things started with apps and a glass of Chardonnay.
2014 Left Coast Cellars Willamette Chardonnay Truffle Hill, 13.8% alc., $26: Clean pale color, and quite primary at this early stage of its development, with a nice kiss of toasty oak that carries over onto the palate, setting the initial tone for the personality of the wine. Things change considerably with some air, however, as the oak recedes and this shows itself to be quite dry and mineral driven. A very nice expression of cooler climate Chardonnay, lean, and not at all fat like too many California versions; medium-full-to-full bodied, with racy acids and good length. This is really to my liking about two hours after it is open, and two-to-five years in the bottle should give us an even more interesting wine; Luke says these peak at around five. 60% oak, 40% stainless steel. Find this wine
From there, we moved on to the Pinot Noirs, both of which paired nicely with my Scottish Salmon.
2013 Left Coast Cellars Willamette Pinot Noir Truffle Hill, 13.4% alc., $36: Clean ruby garnet color; like the Chardonnay, it is quite primary, but it too opens and evolves continuously with air. A kiss of toasty oak has a slightly green quality to it, and it is just a little astringent at first. Luke nails it with his descriptors of "beet root, rhubarb and pomegranate seed," and Kim adds impressions of "swimming pool, cola and play dough." This too opens dramatically with air, exuding huge aromatics and offering more and more of everything. This will certainly benefit from a few years in the cellar, and should be singing by 2020.
Here's what the Left Coast Cellars website has to say about this particular vineyard's Pinot Noir program: Truffle Hill is one of the most unique places on the Left Coast Cellars estate. Home to 4 acres of European Black Truffle-inoculated hazelnut trees, shrub roses and holly oaks this dual varietal vineyard is planted with 5 acres of the Swiss clone Wädenswil Pinot Noir. Find this wine
2013 Left Coast Cellars Willamette Pinot Noir Latitude 45°, 13.5% alc., $36: Dijon clone-based, this clean ruby garnet colored wine is not quite as generous on the nose as the Truffle Hill, but it's not as green, either. Earthy and quite dry, this is in no way "fruit forward," and that's a good thing. Medium-to-medium-full bodied, with good structure that is even more evident in the acids than tannins. Resembling earth and beet root, this, like the other two, opens beautifully with air, but really needs two-to-five years in the cellar to show its best.
From the Left Coast Cellars website: Left Coast's signature, single vineyard designate Latitude 45 Pinot Noir is managed to produce low yields and is known for its red fruit along with its spiciness, which is a function of the terroir; with the Chehulpum silt there is also a distinct "dusty" character. Find this wine
Because McCollum was staying just down the road from us, I took the opportunity the following evening to deliver two bottles of our favorite Michigan wines to him (2013 Left Foot Charley Island View Pinot Blanc and 2012 Bel Lago Auxerrois), along with a sample of Kim's killer Gang of Pour White Wine Lemongrass-infused Vinegar. He, in turn, had some wines open to taste through, a few of which he'd been sampling in Ann Arbor earlier that day, and a few more that were gifted to him by one generous retailer in that fine town, including a lovely 2006 Château de Beaucastel Châteauneuf du Pape Blanc (I'll have more to say about this one in a later report). The LCC wine that really caught my attention was their top-of-the-line Pinot, and I'm really glad to have had the opportunity to have tried it.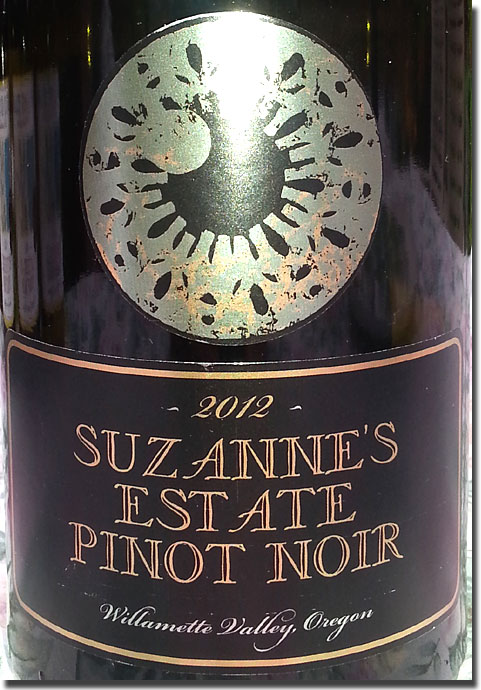 2012 Left Coast Cellars Willamette Pinot Noir Suzanne's Reserve, 13.5% alc., $50: Clean and dark in color, and showing rich, beautiful fruit, this is a wine that will reward patience, as much as ten years, maybe more. It offers hints of something like dark chocolate over deep, dark earthy fruit; Luke suggested "chocolate covered dry blueberry," with a "sour juicy core, like biting close to a plum pit." I poured myself another glass more than an hour after my first taste, and it was almost like a dark chocolate cocoa lightly dusted on top of the rich dense fruit. This is only made in better vintages, when there is enough exceptional fruit, and while I admit that I tried it separately from the others, it is my favorite of the three Pinot Noirs. #670 of 850 bottles; 18 months in French oak. Find this wine
Luke was most generous in letting us take home all four of the wines noted above so that we could get to know them better, and as my notes indicate, they all continued to open and evolve throughout. While retasting the three on Wednesday, it occurred to me that these were crafted more in the old world style than the new, and when I asked him about that on Thursday, he confirmed that that was the intent. I should also add that I got a brief taste of the 2014 Left Coast Cellars White Pinot Noir, which I might have mistaken for a good Pinot Blanc in a blind tasting; it didn't show that much specific varietal character, but was intense, racy and damned tasty on its own account.
We thoroughly enjoyed our visit with Luke McCollom, and were quite impressed with the Left Coast Cellars wines we tasted and the philosophy behind them and the estate. We're hoping to get out to Oregon this fall, and if and when that comes to pass, we're going to make a point of paying this fine producer a visit to get a first-hand look at their entire operation.
Reporting from Day-twah,
Bastardo
Related posts:
One Response to "Hangin' with Luke McCollom of Left Coast Cellars"