As previously reported, Shannon aka Shawn Walters sent me home from my June road trip to Traverse City and Leland, Michigan, with a selection of wines that he'd made for various clients. Besides selections from Bowers Harbor and Chateau Fontaine, he also gifted me with selections from Boathouse Vineyards, Blustone Vineyards and Verterra Winery. We're very familiar with Verterra, of course, but not so much with Boathouse and Blustone. The intrepid reader can follow the links to their respective websites and pretty much learn about as much as we know about them, but I promise, my next trip up to Leelanau, I will be knocking on their doors to get a better taste and a bigger picture of what these two promising producers are up to. (Click images to enlarge.)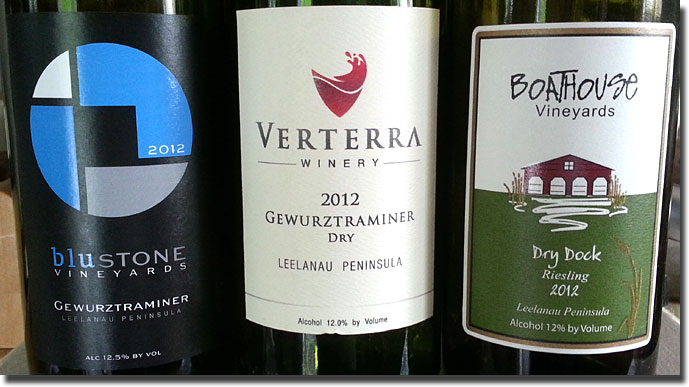 All five of the wines tasted here give yet further testimony to the great strides that have been made in the Leelanau Peninsula with regard to wine growing and winemaking in the past several years, and Shannon (it's hard not to call him Shawn, but Shannon is his given name, and he goes by that now) is at the very forefront of this movement. Here are my impressions of each.

2012 Boathouse Vineyards Leelanau Peninsula Riesling "Dry Dock," 12% alc., $16: Clean, medium color, and, as the name implies, quite dry, with mineral driven green apple and quince flavors and aromas; one of the most mineral driven Rieslings I've had, very much like Jim Lester's Wyncrofts in that respect.. Excellent intensity, zippy acids and good length, all on a medium bodied frame. This has all the goods to age and improve for some years, so don't be afraid to put a few down in the cellar, because it will certainly get even better. Find this wine
2012 Blustone Vineyards Leelanau Peninsula Gewurztraminer, 12.5% alc., $20: Clean medium color; more in the citrus-green apple spectrum, with some hints of the characteristic litchi and rose petal lurking in the background, and a little rainwater as well, which adds to the appeal. Medium bodied, beautifully balanced acids; it may not exactly be "varietally correct," but it's quite enjoyable. I really like it for what it is, and could care less about what it's not. Totally dry at 0.2% residual sugar, this was fermented and aged 1/2 in stainless steel, and 1/2 Acacia Wood for 8 months. Find this wine
2012 Verterra Winery Leelanau Peninsula Dry Gewurztraminer, 12% alc., $18: Pale-to-medium color; a bit more spice and mineral than the Blustone shows, but, again, only hinting at any litchi or rose petal. There's a nice core of apple and citrus, and if it's not quite as rich as the Blustone, the spice and mineral compensates nicely. Medium bodied, with nice length and wondrous acidity; not too little, and not too much, but just as it should be. The spicy quality is one that is associated with Gewurztraminer, so perhaps this is a little more "typical" than the previous selection, but it delivers more than enough pleasurable drinking that it could be any white variety under the sun, and I'd like it just fine. Find this wine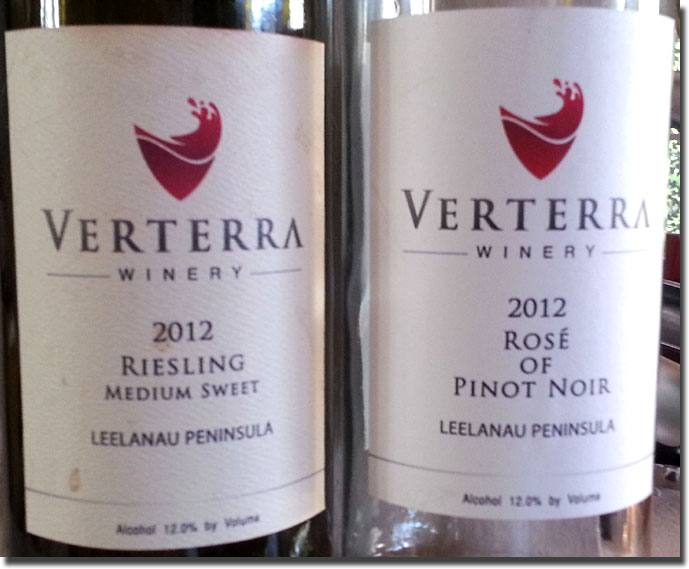 2012 Verterra Winery Leelanau Peninsula Riesling Medium Sweet, 12% alc., $16: Clean, medium color, with a mélange of red and green apple flavors and aromas, mostly ripe, but a hint of tartness adds a nice contrast. Not too terribly sweet at all, and subtle minerality adds another element to the greater whole. Medium bodied, with excellent acids and very good length on the finish. Another great example of why the two peninsulas in the Grand Traverse region are such fine sources for this grand grape variety. Find this wine
2012 Verterra Winery Leelanau Peninsula Rosé of Pinot Noir, 12% alc., $16: Bright, deep raspberry pink color; rich, fairly ripe mineral driven strawberry and raspberry flavors and aromas. Medium bodied and then some, with good acids and length. Not terribly complex, but then, how many rosés are? Nice intensity and quite enjoyable. We drink rosé all year around, and while this might serve best with a good chill on a hot day or warm night, I wouldn't hesitate to open it on a January evening and pair it with some lake trout, grilled or pan fried. Find this wine
Reporting from Day-twah,
geo t.
Related posts: