August 8th, 2013 |

Author:
George Heritier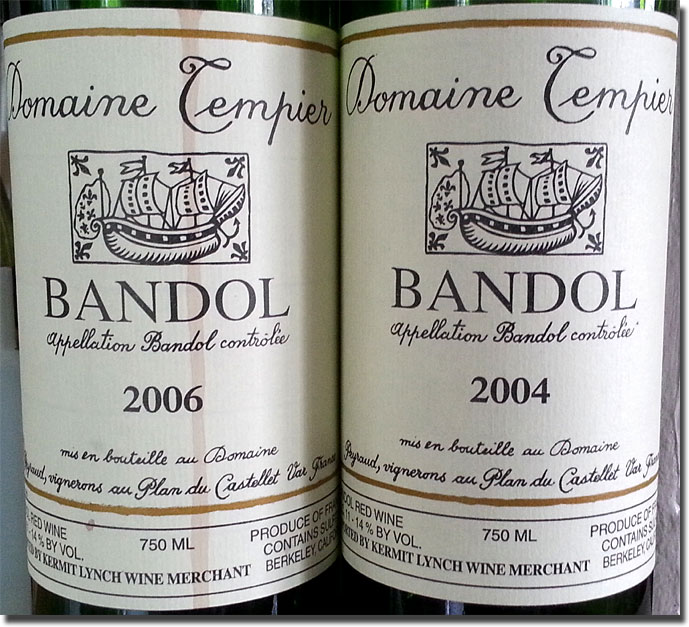 We love Domaine Tempier Bandol at our house. We have for several years now, and as I prepared this report, I did a search on the old site to see if I could find our earliest posting on wines from this iconic estate. Sure enough, it came up right away; the event was Day 3 of our first MO'COOL, in 1997, and the tasting, held at the Polo Fields Country Club, outside of Ann Arbor, was called "The Boys in the Bandol." What I find especially interesting about going back and reading through my notes from that day is that I wasn't exactly thrilled by most of the Bandol wines, Tempier or otherwise; the ringer, the '95 Ridge Pagani Mataro ATP, was the one that blew my hair back. Tells you all you need to know about where my taste buds were at back then, or maybe it says something about the specific wines that were poured that day and where they were at right then and there. (Click on image to enlarge.)
Whatever the case, we developed a serious affection for the Peyraud family's wines over the years, not only through tasting and enjoying them so very much, but also through Kermit Lynch's accounts of his times with them back in the day in his book, "Adventures on the Wine Route," and also Richard Olney's "Lulu's Provencal Table," a cookbook featuring many of family matriarch's wonderful recipes that she prepared for so many gatherings over the years.
We do cellar some of these wines, despite what I said back in '97. We don't have a lot of them, and we don't open them very often. We save them for our very special friends, like Christina Donley and Rebecca Poling. Whenever Christina comes to town, we make sure to have Rebecca join us for dinner and we have all become more than just good friends, we're family.
Kim decided that grilled, smoked Bunny Hop Ranch Rabbit, from Cedar, Michigan, was what was for dinner, and because Lulu would serve all kinds of dishes with the Tempier reds that one might not think would be the most obvious pairings, I decided this was the way to go, and it worked just fine.
2004 Domaine Tempier Bandol, 11-14% alc.: Clean, dark color; earthy black plum and black currant character, with a delicious note of leather. Classic Tempier, and really in a nice drinking window right now. Full bodied, and structured for several years of development, yet so tasty already. As it opens, it takes on more and more of the leathery aspect. Seamless and gorgeous. Wish I had a case of this. Find this wine
2006 Domaine Tempier Bandol, 11-14% alc.: Clean, dark garnet color; a bit of the barnyard here, but just a little. Silky, but not as generous as the '04, at this point, and tight in comparison. Earthy black currants and berries, still on the primary side, with good structure that wants at least a few more years in the cellar; not at all ready for prime time. Not sure that it'll ever be as good as the '04, but it'll certainly improve with some years in the cellar, so be patient with this one for at least a few years. Find this wine
As for dinner, de wabbit was reawwy, reawwy good!
Domaine Tempier Bandol is imported by Kermit Lynch Wine Merchant, Berkeley, CA
Reporting from Day-twah,
geo t.
Related posts:
2 Responses to "Two from Tempier"