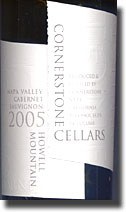 Napa Valley's Cornerstone Cellars sent out their samples packages to select reviewers last week, and we are fortunate enough to be on that list. We received four new releases, two each from their moderately priced Stepping Stone program and the prestige Cornerstone label. We published reviews of the previous vintages of the two Cornerstone Cabernet Sauvignons last May, and readers looking for further background information on this producer can refer both to that report and to Cornerstone's own web site. Suffice it to say here that this is a well run, well-heeled operation that cuts no corners in producing the very best wines they possibly can, no pun intended.
We first tried the two selections from the Stepping Stone line, which Cornerstone General Manager Craig Camp describes as being inspired by "the classic winemaking styles of France in the 1970's." The stated intent is not to recreate those wines, but rather "to craft wines that honored their tradition, while showing the distinctive personality of the California vineyards in which they were born."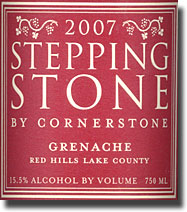 2007 Stepping Stone Red HIlls-Lake County Grenache, 94% Grenache, 4% Zinfandel, 15.5% alc., SRP $20: Showing a clean, ruby garnet color, this offers a fragrant melange of red fruit on the nose, including plums, berries and black cherries, and there's plenty more of the same in the mouth, all rich and ripe, with a kiss of well-integrated oak and ever-so-subtle earthy undertones. Very smooth and easy to enjoy, it has an almost candied quality to it that reminds me a little of the 1990 Rosemount Diamond Label Shiraz that we went through cases of back in the day. Medium-full to full bodied and structured for at least a few years in the cellar, it does show a little heat from the alcohol level, but it's not much of a detraction for this taster. The ripeness of fruit tones down a little with air, but you'll never mistake this for anything old world, and that's all right with me, because I like the wine for what it is, an excellent specimen of Left Coast Grenache. Find this wine
2007 Stepping Stone Carneros Cabernet Franc, 90% Cabernet Franc, 10% Merlot, 14.9% alc., SRP $30: Clean, dark color, and not terribly expressive on the nose at first, this does gradually open to give earthy red and black currant and berry shaded with a little oak, though not as much as with the Grenache; the big flavors echo, and again, with a decidedly earthy character and herbaceous undertones that do resemble its cousins from the Loire somewhat, not being nearly as bright as the Grenache. Full bodied and well structured, this needs time to show its best, perhaps 3-5 years, and has the stuffing to get there. It tastes as though it saw older barrels, rather than newer, and that's not a bad thing at all. While it does open in the glass and is certainly approachable, especially with food, time will be this one's best friend. Find this wine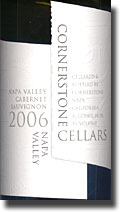 2006 Cornerstone Cellars Napa Valley Cabernet Sauvignon, 14.5% alc., SRP $65: Deeply, darkly colored, rich and refined, this beauty is ripe without going over the top, delivering pure, lovely blackberry and black currant flavors and aromas shaded with very well integrated oak, subtle earthy undertones and the vaguest hint of chocolate. Structured for several years of development and yet already quite approachable, it makes a real style statement and hits all the right notes for this taster.  I enjoyed every sip, from start to finish. Sourced from Howell Mountain and Oakville; aged for two years in French oak followed by a year of bottle age. Find this wine
2005 Cornerstone Cellars Howell Mountain Cabernet Sauvignon, 14.8% alc., SRP $100: With clean, deep dark color, this is even more elegant, refined and opulent than the '06 Napa bottling, with lovely, ripe blackberry, black currant and black cherry character graced with a subtle note of chocolate, a pretty kiss of well-integrated sweet oak and a little more earth underneath it all than the previous selection. Full bodied, yet sleek, very smooth, yet well structured, this drinks beautifully now, yet promises to age well for many years.  Sourced from Cornerstone's organically certified block high on Howell Mountain in the famed Ink Grade Vineyard; aged for two years in French oak barrels followed by two years of bottle age before release.  Find this wine
The oak in both of these beautiful Cabernets seems more restrained and in balance than with last year's models, and while I was impressed with those last May, these are much more to my liking, and that's coming from someone who tends to prefer more traditional, old world-styled wines. By way of contrast, Kim found these to show a little more oak than she cares for, but then, her tastes have gone even more old world than mine. I still enjoy wines from Napa when they're well-made, and these two are very well-made indeed. I'd recommend them to anyone with New World palates still playing in the high-end wine market.
Reporting from Day-twah
geo t.
Related posts:
8 Responses to "4 New Wines from Cornerstone Cellars"