So these three bottles were sitting on the shelves at Western Market in Ferndale for several months, not quite languishing, and I'd see them and say to myself, "I really should take them home; they've got a little age on them, and as devoted Doon-heads, we owe it to ourselves to see how they're coming along."
I finally bit the bullet in June. It then took us another few months to actually get to them, because I was looking for just the right occasion, which finally reared its pointy little head last week in the form of a certain annual celebration.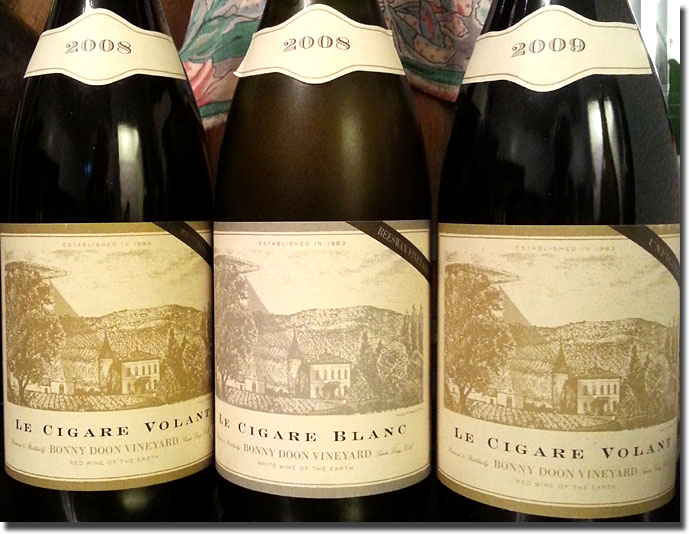 2008 Bonny Doon Le Cigare Blanc Arroyo Seco Beeswax Vineyard, 57% Roussanne, 43% Grenache Blanc, 14.3% alc., $22.99: Clean medium color with a tinge o' lemon; all mineral-driven white tree fruit and lanolin. The nose is still lively and the flavors still expressive, with somewhat toned-down acids that nevertheless do everything they need to do. No secondary action here as of yet, just an enjoyable 8-year old white Rhone blend that gives testament to the age worthy nature of this bottling. Made from biodynamically grown grapes, this is one of my very favorite California whites, vintage in and vintage out. Find this wine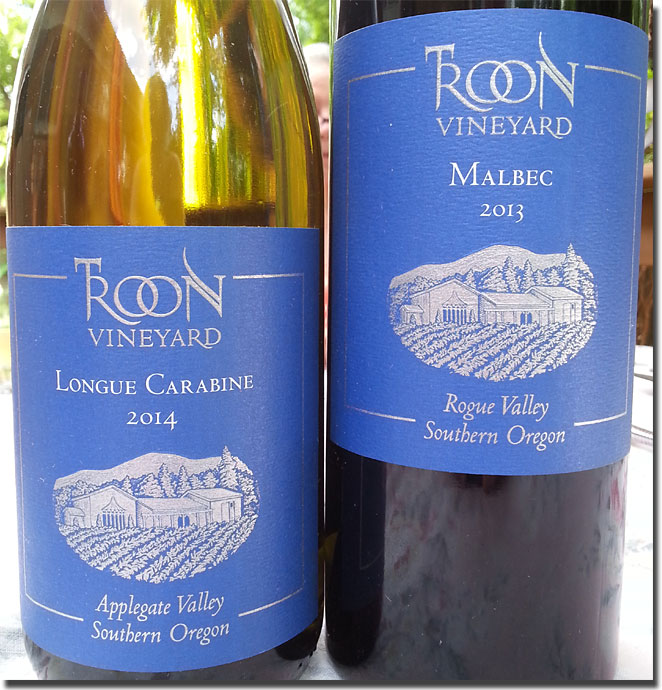 I think I'd be safe in hazarding the guess that when many causal wine drinkers hear the term "Oregon wine," the immediately think "Pinot Noir." Some of the savvier might add "Willamette Valley," but, of course, Oregon produces many more varieties than Pinot alone, and in other appellations as well.
One such region is Applegate Valley, a sub-appellation of the Southern Oregon AVA, and that's where Troon Vineyard is located. Troon is by no means a new operation; Dick Troon started planting vines back in 1972. (Dick sold the winery to his good friend Larry Martin in 2003; you can read a brief history of Troon here.) Over the years, the focus has centered on seemingly unlikely varieties such as Vermentino, Zinfandel, Malbec and Tannat, to name just four. Sustainable farming is the practice (estate vineyards are L.I.V.E. and Salmon Safe Certified), with grapes crushed in the old school method, by foot. Natural yeasts are employed in fermentation, and they don't do much in the way of using new oak or sulfur. In short, the wines are produced as naturally as possible, which is always a good thing, in our not-so-humble opinion.
Troon has been making something of a splash lately, not just because the wines are, for the most part, very good, but also due to the fairly recent addition of Craig Camp to the General Manager position. I've been virtually acquainted with Craig since before he took on the GM job at Cornerstone in Napa back in 2009, when we crossed paths and traded notes on various wine forums. Along with his many other considerable skills, Craig totally gets social media, and knows how to use it to promotes his business concerns; he demonstrated that during his tenure at Cornerstone, and, if anything, he's doing so even more adroitly at Troon. Wine samples have been sent to a whole host of wine and food blogs, and the feedback has been quite positive, with more than a few rave reviews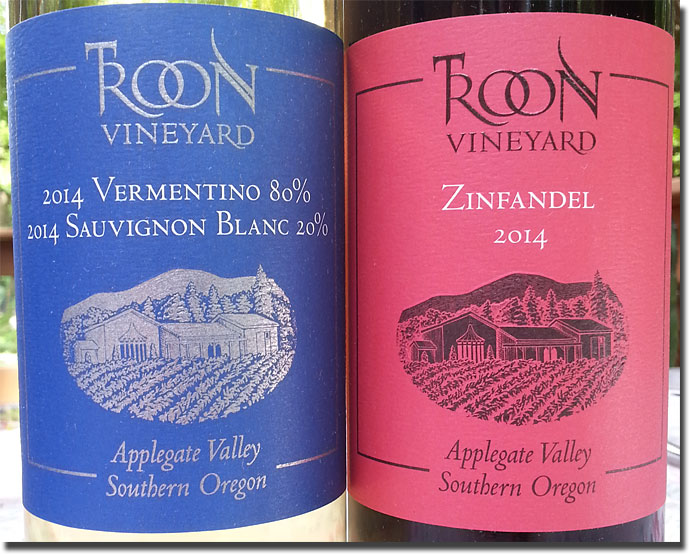 We received six Troon selections for review our own bad selves, and here are our impressions of each, starting with the whites.
2014 Troon Vineyard Blue Label Vermentino Applegate Valley, 80% Vermentino, 20% Sauvignon Blanc, 12.5% alc., $24: Clean medium color; green apple citrus flavors and aromas, with some underlying mineral. Good intensity in the mouth, and while it shows good acids and length, for me, it lacks just a little of the zippy edge that I like; I thought the same thing on the second night. Still, it's pleasant, enjoyable and nice with chicken, spinach and feta sausages. Find this wine