So I'm reading through this week's Diner's Journal by Eric Asimov in the New York Times and I see that Francis Ford Coppola has acquired "Inglenook," the original name of Gustave Neibaum's estate that he purchased in 1975. I also note that Coppola's Rubicon Estate (previously known as Neibaum- Coppola) shall henceforth be known as Inglenook, which I find especially interesting, since I attended a "Rubicon Estates" tasting here in the Detroit area just last week, which goes to show how quickly things can sometimes change in the wine biz. It was also intimated last week at said tasting that a new winemaker would be taking over soon, following Scott McLeod's departure last year, but that it was a big secret as to who that person would be. Now, it has been announced that Philippe Bascaules, who has spent the last 21 years at Château Margaux, will be taking over as estate manager and winemaker at Inglenook this summer. Big news indeed!
I attended one of these tastings back in 2004, then, as now, courtesy of our friends at Vintage Wine Company; at that time, the 2000 vintage of Rubicon was tasted blind alongside the same from Châteaus Haut-Brion and Mouton Rothschild. It was an interesting affair, though the Rubicon was quite obvious in its New World opulence. Driving to Ruth's Chris Steak House in Troy last week, I wondered what the tasting format would be this time and if there would be another "taste-off" of sorts. As it turned out, it was a straightforward survey of four of Ingle…, er, Rubicon Estate's most visible labels.
I didn't pay much attention to the speaker's by-rote talk about "Francis this," "Francis that," the estate and its vineyards or the wines, because I've either heard or read it all before; the information is readily available on the Rubicon Estate website, which I imagine will now have to be converted to the Inglenook website. (I hope they drop the flash format.) I focused on the wines, which were all pretty good, if a bit…; but wait a minute, I'm getting ahead of myself here.
As you might expect, we started off with a white.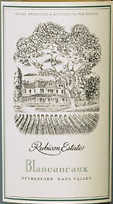 2008 Rubicon Estate Blancaneaux Rutherford Napa Valley, 43% Roussanne, 38% Marsanne, 19% Viognier, 14.5% alc., SRP $48.00: Clean, medium color, with a moderately expressive nose of white tree fruit that develops a pretty perfume as it opens in the glass; echoes and expands on the palate, with shades of lanolin and mineral. Full bodied, with good acids and length, this is rich and fairly smooth, with the cut to age and develop for at least a few years. Find this wine

2008 Rubicon Estate Edizione Pennino Zinfandel Rutherford Napa Valley, 92% Zinfandel, 6% Petite Sirah, 2% Primitivo, 14.5% alc., SRP $45.00: Clean, dark color, with big oak over rich raspberry and blackberry aromatics, and there's a certain quality here, not unlike women's perfume, that I find overdone. With a smooth, plush texture, this shows less oak on the palate, though it's still very apparent, along with plump raspberry, black raspberry and blackberry fruit. Full bodied, with good structure and length, this works pretty well with Ruth's Chris' steak and pasta and should handle three to five years in the cellar with no sweat, not that you'd smell any with all that perfume… Find this wine

2007 Rubicon Estate CASK Cabernet Sauvignon Rutherford Napa Valley, 14.5% alc., SRP $75.00: Clean, dark garnet, with classic Napa Cabernet character of black currant and cassis, adorned with a subtle perfumed quality that complements rather than detracts. Smooth, plush, full bodied and well-structured, with good length; in the mouth, the oak takes a back seat to the ample fruit. Even though the bottle was opened an hour and a half before serving, it's still somewhat tight, so drink now with air and food, or better yet, lay it down for some years. 100% Cabernet Sauvignon; 13 months in 500 Liter American oak puncheons. The company line on this one is that it's "not the little brother of Rubicon," but then it is immediately noted that this comes from younger vines, some of them only 10-15 years old. Give it a high enough price tag and I guess you can spin it any way you like… Find this wine

2007 Rubicon Estate Rubicon Rutherford Napa Valley, 14.5% alc., SRP $145.00: Clean, dark color; throws effusive, perfumed black currant and cassis aromatics. Voluptuous mouth feel, full bodied, rich and ripe, but not over-ripe, with subtle earthy undertones. Fairly soft after two hours in a decanter, and undeniably attractive, but not really my style; one taster aptly describes "a big glycerin feeling in the mouth." A second bottle opened and poured almost immediately shows the wine in a tighter light, and reveals a definite note of Cabernet Franc-like earthy underbrush. 100% Cabernet Sauvignon, all Clone #29, from the same genetic material brought over from France by Gustave Neibaum between 1882 and 1885. 20 months in new French oak. Find this wine
And now for a bloody pulp-styled rant (or is that pulpit?): I can understand that, given both his stature as a filmmaker and as the successful owner of such an important historical property, Mr. Coppola has every right to strive to consistently produce wines that are in the upper echelon in Napa Valley and price them accordingly. But when I taste the wines and consider their respective Suggested Retail Prices, I don't get it. All four of these range from good to excellent, though I wouldn't characterize any of them as great. The Blancaneaux probably falls closest to a reasonable price point for me, though a roughly comparable white Rhone blend from Tablas Creek (the '09 Esprit de Beaucastel Blanc has Grenache Blanc instead of Viognier in its makeup) goes for $8 less. Ridge Vineyards' flagship Geyserville and Lytton Springs Zinfandel blends, which show none of the excessive oak that the Edizione Pennino does, go for $10 less. And I'm sorry, but for me, the prices of both Cabernets are just stupid. I guess somebody will pay this kind of money for these two, but in-my-not-so-humble opinion, Cornerstone's 2007 Howell Mountain Cab is a better wine than the Rubicon from the same brilliant vintage, and it's priced on par with the '07 CASK at $70 less. As always, your mileage may vary (and no doubt fans of these might find points to quibble with in my evaluation), but that's my story and I'm sticking to it.
Reporting from Day-twah,
geo t.
Related posts: