So here's the deal. I've decided that I haven't been drinking nearly enough Riesling lately.
Really.
Riesling is considered one of the "noble" grape varieties of the world, and I used to drink my fair share (and some of yours too) back in the late '70s. Over the years, however, I gradually consumed less and less of the stuff, and for no good reason that I can figure out. True, I seem to like it better than Kim, and every once in a while, we'd try something that really struck a chord with us, like a tasty little number from Tawse, or that lovely, bone dry 2004 Wyncroft Madron Lake out of a magnum. By and large, however, we haven't spoken much Riesling around Gang Central for a long time. (Click image to enlarge.)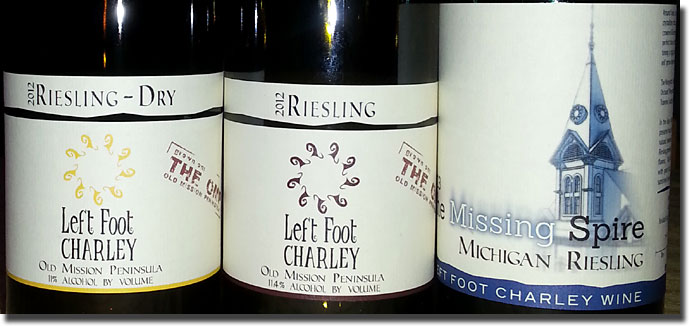 A good part of the reason I've decided to explore more Riesling is due to the fact that Michigan is doing such a great job of growing and making very fine wines from it, a point brought home to me yet again while touring six Leelanau Peninsula producers the weekend before last. Another good reason is a bottle that I bought and opened the night before said tour.
Whenever we travel up to Traverse City, our first stop is always Left Foot Charley. Every time. We've followed Bryan Ulbrich's urban winery from the very beginning, and I've stated on several occasions that his Island View Pinot Blanc is consistently one of my two favorite Michigan still wines. So, as I was driving up two weeks ago, I decided, pretty much out of the blue, that it was time to taste what was happening with Bryan's Riesling again. When I arrived at the facility, I exchanged pleasantries with him and Meridith Lauzon, LFC Operations Manager, then went to check out the selection
I picked up two of the 2012 Seventh Hill Farm Rieslings and a 2013 The Missing Spire Riesling, and after the Friday night festivities in Leland, I opened one of the Seventh Hills in my room. When I tried the 2006 version of this wine back in 2007, Ulbrich told me that his intent was to fashion "a glass doll" with this wine, but one that won't break, and it was lovely, almost delicate. Fast forward to the present day, and six vintages later, I doubt that anyone will refer to this one as "a glass doll." It is something else altogether, and as I headed back to Day-twah on Sunday, I stopped back in and bought two more bottles. Here's why.
2012 Left Foot Charley Old Mission Peninsula Riesling Seventh Hill Farm, 17.7 g/l R.S., 11.4% alc., $23.00: Pale-to-medium straw in color, and medium bodied in weight, it offers more than a hint of petrol over rich, pure Riesling fruit on the nose. That fruit comes to the fore on the palate with intensity and style, delivering off-dry flavors of red and green apple splashed of lime, mineral and just a bit of petrol. There's a not-quite-unctuous density to this, with brisk acidity and a long, lingering finish. I love this wine, and I don't remember ever having a better domestic Riesling, not just from Michigan, but from anywhere in the U.S., and I daresay, it will more-than-hold its own on the world stage. This pairs quite well with Kim's delicious Saag Paneer, and I need to get more soon. Find this wine
A few days after trying the 2012, I found the previous vintage of the Seventh Hill on the shelves of Ferndale's Western Market, so I decided to grab one and see how it compares.
2011 Left Foot Charley Old Mission Peninsula Riesling Seventh Hill Farm, 3.48% R.S., 9.3% alc., $23.99: At first, this starts out a little slowly, and doesn't seem to carry quite the same weight and intensity as the 2012. Pale straw in color, with a hint of petrol on the nose, it features pleasant flavors of red and green apple, shaded with a little lime, mineral and a hint of diesel. Medium bodied, with slightly toned-down acids and good length, this is pleasant enough at first, but some air and coming up in temperature just a bit works wonders with it. The acids and intensity both pick up, and by the end of the second glass, I'm liking it a lot. Not quite as good as the 2012, but not far off by any means; just be sure to give it a little time in the glass. Interestingly, this is the only one of the four wines in this report that employed a cork, the other three use Stelvin (screwcap) enclosures. Find this wine
2013 Left Foot Charley Michigan Riesling The Missing Spire, 30 grams/liter R.S., 9% alc., $18.00: Pale straw in color, and medium bodied, with medium sweet apple flavors and aromas, more red than green, dosed with some subtle minerality. Like the 2011 Seventh Hill, this seems to gain vigor the longer it's open, particularly with regard to the acids. While it's not all that complex right now, what's here is very nice, and it has the stuffing to cellar for several years, so I'll come back to it in 2018 of so and see how it has developed. Fruit for this wine was sourced from Engle Ridge Farms, Cork's Vineyard and Terminal Moraine in Grand Traverse County and Old Orchard Vineyards in Leelanau County. Find this wine
I happened upon this final selection just a few days ago, at Holiday Market in Royal Oak, and it whispered to me in no uncertain terms that it needed to come home with me, so…
2012 Left Foot Charley Old Mission Peninsula Riesling The Terminal Moraine, .78% R.S., 11% alc., $17.99: Rich medium straw color, with a not-too-subtle note of petrol in both flavor and aroma, this is perhaps the most "steely" Michigan Rieslings that I've had, with the possible exception of a few of Jim Lester's Wyncroft models. Rich, intense and pretty much bone dry, with mineral, quince and lime characteristics mingling with that little bit o' diesel; there's also an ever-so-slightly sour element that I don't mind at all. Medium bodied, with plenty of acidity and very good length, this is very easy for me to linger over for a few hours while transcribing these notes. Find this wine
If you haven't yet tried any of the delicious wines from Left Foot Charley's roster, do yourself a favor and seek some out right now. Any of these four would be an excellent place to start, as would the 2013 Island View Pinot Blanc, which we had again just a few nights ago and it is positively rockin'.
Every month is Michigan Wine Month.
Reporting from Day-twah,
Bastardo
Related posts:
2 Responses to "Riesling a la Left Foot Charley"