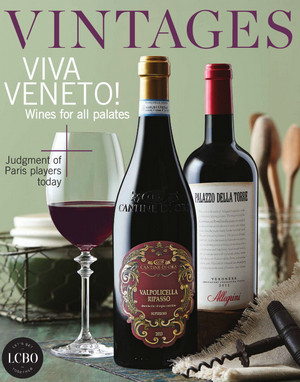 Hello, here are some notes on several of the wines being released on Saturday May 28th. The release features wines from the "Viva Veneto" and there are some solid Californian wines in the secondary release, the "Judgement Call".
The latter is honouring the wine tasting of 1976 known as the Judgment of Paris. A wine competition organized on 24 May 1976 by Steven Spurrier, who, at the time was a wine merchant in the city.
French judges carried out two blind tasting comparisons: one of first rate Chardonnay from California and Burgundy and the other, red wines from Bordeaux and Cabernet Sauvignon from California.
Much to their dismay and disbelief, the Californian wines rated best in each category. This was unheard of back then as France was regarded as being the foremost producer of the world's premium wines.
The American vintners beating the French at their own game is akin to Leicester City wining the EPL. That too was an achievement that most footie fans would have believed impossible.
The repercussions of the Paris Tasting were far-reaching as it seriously raised interest levels for California's wines in both domestic and international markets. And furthermore, The Judgement of Paris happens to be this year's theme for the twenty fifth anniversary picnic of MoCool. The date for this extemporary event is August 13th and sign up information is soon to be released. This release showcases current wines from some of the original players who put California onto the world wine map.
While we often tell anyone who will listen that we enjoy dry rosé throughout the year here at Gang Central, I have to admit, there is something very special about drinking pink as the weather warms and the world emerges from its winter slumber. One of our favorites over the last several years has been Bonny Doon Vineyards' Vin Gris de Cigare, for its delicious old world character. Frankly, the folks at Doon put out yummy stuff pretty much across the board, and when we found out that they've added three new bottlings to go with the Vin Gris, we just had to try them all. (I especially like the fact that all four are labeled as "Pink Wine.") We started out with the latest vintage of our tried-and-true delight. (Click images to enlarge.)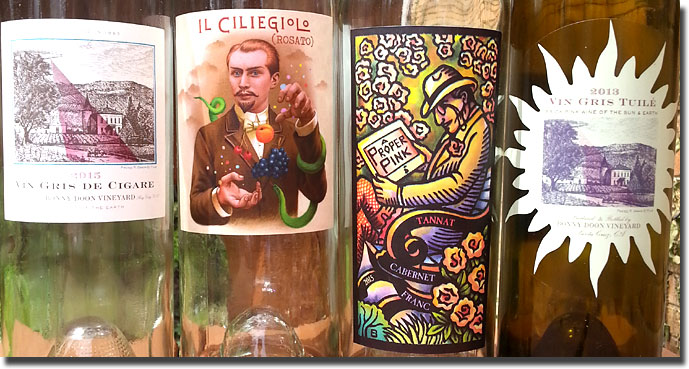 2015 Bonny Doon Vineyards Vin Gris de Cigare Central Coast Pink Wine, 44% Grenache, 20% Grenache Blanc, 12% Carignane, 11% Mourvèdre, 7% Cinsaut, 6% Roussanne, 13.5% alc., $18: Pale pink in color, with classic dry rosé character, offering mineral-driven strawberry and cherry flavors and aromas. Medium bodied, with zippy acids and good length. So consistent from vintage to vintage, this is probably my favorite domestic pink; it's certainly in my top three. It does everything I want a good rosé to do. Find this wine
It seems only fitting that, since Bonny Doon added a white Bordeaux-styled offering called Gravitas as a pale companion to their "A Proper Claret" bottling, a pink version would be created as well, and so we have the following selection. As Randall Grahm puts it, "…while the Vin Gris de Cigare is intended for more sober-minded occasions, this is definitely the less buttoned up in style."