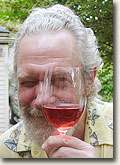 Gang of Pour co-founder, George Heritier says, "I'm not a wine critic, but I play one on the Internet"  He has been a lover of fine wines for many years and actively involved in the retail wine industry since 1999. You'll sometimes find him on Internet wine forums as Bastardo or geo t.
Follow George on Facebook
________________________________________________
GEORGE'S ARCHIVE FOR THIS BLOG MAY BE FOUND
HERE
GEORGE'S ARCHIVE FROM THE ORIGINAL SITE:

Tasting Notes from the Underground – November 2003 to October 2009
Tasting Notes from the Underground Archives - 1997 to 2003
Rednecks & Red Rhônes 2009 or Edwards Got Wrecked and So Did I
We Will Always Have Toledo: Year 10!!!
We Will Always Have Toledo: Year 8 and older
Moe Fest 2004 – Moe's Cool Summer offline
Geezers and Northern Rhône All Stars in the Land of Cleve
Wines With Blackout and Other Earthly Delights
Spinning in Zinfinity Again – ZAP 2003
Ridgestock – 3 days of wine food and friends in Sonapanoma
Good Friends, Good Food and 5 '89 Bordeauxs
Don't cry for us, Argentina! – goin' gaucho at Casa Goldberg
Meatfest 2002 – grillin' and a-swillin'
A Rare and Special Burgundy (and other earthly delights)
geo t.'s Tasting Notes – 2001-2003
The Cleve Tastings (Super Tuscans & Pinot Noir)
Napa Confidential – A Day at Chateau Montelena
On the Road to Gang of Pour – time to hit the pinot trail
Wines From the Lost Vineyards or A Walk through Park Muscatine
The Gang gets ZAPPED at ZAP '99
Aris Francisco's Family Reunion Cab blowout!
Left Coast Diary: Meeting Allan Bree, califusa
A Gang of Pour reunion with Chateau Gruaud-Larose
12 Syrahs from Around the World
Hangin' With the Gang From the Wine Boards
Mocool 1997, '98, '99 and 2000
UNLEASHED! Wine Country Here We Come" Gangsters Blast Through Sonoma and Napa
Dispatch from the Left Coast – The first fever dream
Bacchus and the Overborg – The second fever dream
Dispatch from Sonapanoma – The third fever dream
7 Responses to "George Heritier"