Now that Christmas and New Years Eve/Day have come and gone, it occurred to me that I really should report on the wines we indulged in on Thanksgiving. (That's right, no flies on me, folks.) Dinner was enjoyed at the home of our dear friends Brian and Anne Klump. It was traditional holiday fare, and deliciously so, which created what seemed to me to be the perfect opportunity to open two wines that were sent to us for review by our friends at Cornerstone Cellars. Our previous experiences with samples from Cornerstone's Oregon operation had been positive, and these turned out to be every bit as good as their predecessors. After a glass or two of a tasty Delamotte Champagne Anne poured us, we moved on to the Chardonnay. (Click images to enlarge.)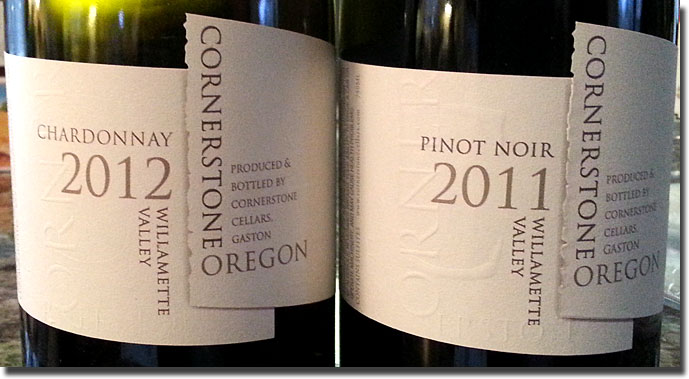 2012 Cornerstone Oregon Willamette Valley Chardonnay, 13.5 % alc., $40.00: Clean medium straw in color, with a nice little spicy touch from the oak that is the driving force for the wine's personality at this point; otherwise, the fruit is somewhat under-ripe and austere, but in a good way. Brian commented on a note of pinewood, adding that he finds it very "fall-y," as in autumn-like. Lean and crisp, this opens nicely as it warms in the glass, and I found it more to my liking than the Morey Chassagne-Montrechet that Anne opened. Nice with appetizers and dinner now, and it should drink well for at least the next few years. Find this wine
Once we sat down to dinner, it was time for some Pinot Noir.

2011 Cornerstone Oregon Willamette Valley Pinot Noir, 13.5 % alc., $40.00: A pretty ruby garnet in color, this, and like the Chardonnay, somewhat under-ripe, but nicely so. A nice kiss of spicy, smoky oak graces the pretty black cherry character; indeed, Kim comments that this is "intensely cherry." Medium-full bodied, nicely balanced and structured for several years of aging and development, this makes a perfect match for a traditional Thanksgiving dinner. Coming back to this after trying Anne's two red Burgundies, it more than holds up and shows well. The folks at Cornerstone feel that, while most producers take their wine out of barrel at 11 months, their wines benefit from extending time in barrel. Happily, this one shows no signs of any excessive wood character. 29% Yamhill-Carlton, 29% Eola-Amity, 25% Dundee Hills, 11% Chehalem Mountain, 6% Ribbon Ridge Find this wine.
We tried Cornerstone's second-string Oregon Pinot Noir a few weeks before Thanksgiving, and this charming wine performs like anything but a second-stringer. Notes are included here for the sake of continuity.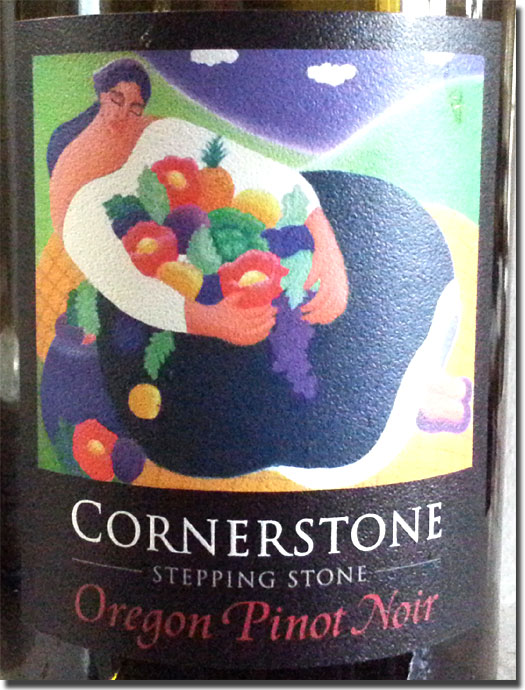 2012 Stepping Stone by Cornerstone Oregon Willamette Valley Pinot Noir Artist Series, 14.1% alc., $30.00: Clean, dark color, with a lovely nose that just sings Pinot Noir, all cherries, black cherries and raspberries. Flavors echo beautifully with subtle earth underneath; nicely balanced and structured for at least a few years in the cellar (3-5, no sweat), yet so good right now. Made in the tradition of the "village" wines of Burgundy, this was removed from barrel sooner the previous selection. Lots to like here, with or without food. Find this wine
And, while I'm at it, here are my impressions of the three wines that Anne opened for Thanksgiving, all from the Vineyard Brands portfolio that she represents so well here in Michigan.
2007 Domaine Jean-Marc Morey Les Chenevottes Chassagne-Montrachet Premier Cru, 13.5% alc.: Clean, medium color; like the Cornerstone, wood dominates the character of this wine too, and there's a bit more fruit here as well. Full-bodied, with crisp acidity, but the oak is a bit too heavy-handed for my liking. Find this wine
2003 Vincent Girardin Les Gravieres Santenay Premier Cru, 13.5% alc.: Clean, dark ruby color, with a nice kiss of oak over bright, earthy cherry fruit. Almost perfumed, and if there's a detraction here, that's it for me. Medium-full-bodied and still structured for several more years in the cellar. Find this wine
2002 Domaine Matrot La Piece Sous Le Bois Blagny Premier Cru, 13% alc.: There's a slight hint of brick to the clean ruby color; spicy black cherry flavors and aromas that show no secondary characteristics as of yet. Otherwise, in a very nice drinking window right now; warm and friendly, and structured for several years of further development. Find this wine
Reporting from Day-twah,
geo t.
Related posts: