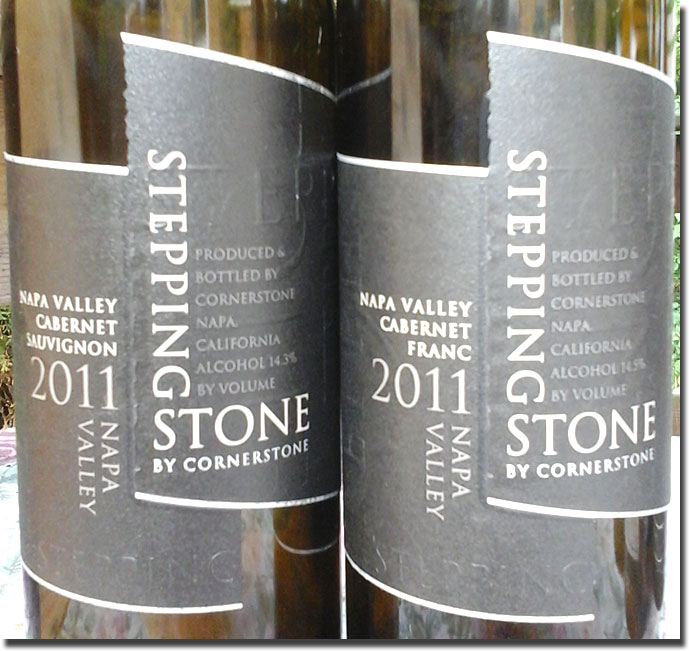 Earlier this year, our friends at Cornerstone Cellars in Napa Valley decided that a change was needed with their second label, Stepping Stone by Cornerstone Cellars. You can read Cornerstone Managing Partner Craig Camp's blog regarding their thoughts about that change, but the basic idea was that they wanted to move away from a range of declassified wines that were lower in price and more easygoing (or "comfortable, as Camp put it), and strive for higher quality with fruit from specially selected vineyards. The old Stepping Stone label was abandoned in favor of a black version of the familiar white Cornerstone Cellars label, and thus the Black Label Stepping Stone Cuvée tier was born. We received bottles of their inaugural Cabernet Sauvignon and Cabernet Franc some months ago, and took our sweet old time getting to the latter, thus the delay in filing this report.
We mostly liked what we had tried from the Stepping Stone tier previously, so I was quite intrigued as to what these are all about. Here are my impressions of the two.

2011 Cornerstone Napa Valley Cabernet Sauvignon Black Label Stepping Stone Cuvée, 14.3% alc., $45.00: Certifiably opaque, deep and very dark in color; big oak on the nose, too much for my liking, really. More of the same on the palate, with plenty of rich, ripe Cabernet fruit shaded with earthy undertones that give some little sense of connection to the soils from which it was produced. I'm more tolerant than Kim or some of our other wine loving friends when it comes to oak, but this is just too much for me right now. The question is, how well will it integrate with time? Full bodied, well-structured and too much oak, Mozart!
Now, here's the odd thing. I took my time over a few hours with a couple of glasses of this, and then corked it up for Kim to try the next evening. I didn't get a chance to taste it, because I was out playing music. When I asked her how she liked it, I was surprised to hear her say that she did, and might acquit itself nicely with a steak off the grill or some such. I wish I'd had the chance to see what kind of changes it went through over 24 hours, and I'd like to try it again in a few years, because there's obviously a luscious core of great fruit here. 88% Cabernet Sauvignon: Ink Grade Vineyard, Beatty Ranch (Howell Mountain) Garvey Family Vineyards "Home Ranch", Rutherford: 12% Merlot Oakville Station, To Kalon. Each of the vineyards was harvested early to late October, 2011 in perfect conditions. 18 months in French Bordeaux oak barrels, 50% new. Find this wine
2011 Cornerstone Napa Valley Cabernet Franc Black Label Stepping Stone Cuvée, 14.5% alc., $45.00: Clean dark garnet from rim to rim; sweet oak and ripe, earthy fruit coexist nicely on the nose, following through on the palate with hints of smoke and bramble, the latter element emerging more and more with air. Full bodied and very well-structured for several years of development, but certainly more than approachable now. I like this better than the Black Label Cabernet Sauvignon, as the oak is more integrated and the fruit, while ripe, isn't excessively so. It opens nicely with air, and if it's not my preferred style of Cab Franc, it's pretty tasty on its own merits. Very nice with a grilled medium rare Piedmont burger with onion, tomato, arugula and honey Dijon mustard.
We didn't receive a PDF file with specific tech notes on this wine, as we did with the Cabernet Sauvignon, but Craig Camp did post some general background info on his Linked in page. Cabernet Franc is not exactly abundant in Napa Valley, but Cornerstone does have access to high quality fruit from vineyards in St. Helena, Oakville, Coombsville and Carneros; this also has a bit of Carneros Merlot blended into it. Find this wine
Comparing notes and numbers on the 2010 Stepping Stone by Cornerstone Cellars Napa Valley Cabernet Franc and the 2011 Cornerstone Napa Valley Cabernet Franc Black Label, one notices the $10 price increase. Looking at last year's effort, I also notice that the fruit also seems to have come from "specially selected vineyards," so I'm not quite sure what else differentiates the two, beyond the new label and a price increase. My notes on both are rather similar, otherwise.
Reporting from Day-twah,
geo t.
Related posts: