Archive for the Vintages/LCBO Release Notes Category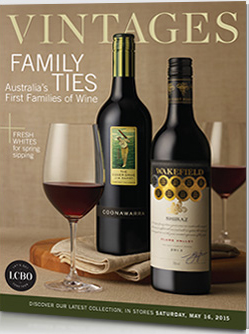 G'day mates, a few Aussie wines are to be rocked up on the shelves of your local bottle-O store this coming weekend. Stylistically, Australian wines have changed over the past few years, much to this cobber's liking. Many of these wines are totally bonza and some even got the old fella excited! Perfect to sip on a sunny arvo with some tucker on the Barbie, and you'll have a ripper of a time. (Click images to enlarge.)
943399 D'ARENBERG THE COPPERMINE ROAD CABERNET SAUVIGNON 2010 McLaren Vale, South Australia mL $49.95
Power packed, aromas of eucalyptus, mint, Ribena, black sweet cherry, mineral and smoke. Rich and chewy palate, with gorgeous layers of red and dark fruit, some spiciness, ground black pepper and ripe dusty tannins that stick to your teeth like candy. A very good price too as it is considerably more expensive elsewhere. Find this wine
048785 D'ARENBERG THE LOVE GRASS SHIRAZ 2011 McLaren Vale, South Australia $25.95
Some funk, muddy wet soil and mineral, but a solid background of dark fruit and blackberry lurks beneath. A touch of coffee grounds, very tasty black raspberry and blackberry flavours, with good acidity and a sprinkle of dark chocolate on the finish. Find this wine
408328 DE BORTOLI GULF STATION SHIRAZ/VIOGNIER 2010 Yarra Valley, Victoria$19.95
Earthy, floral and mineral aromas give way to prune, tar, cigar box and forest floor; lots of juicy cherry and plum flavours, chewy tannins and good length. Find this wine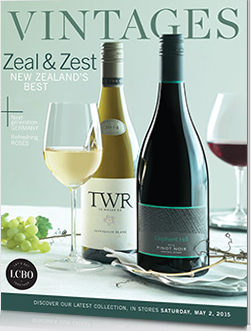 The release for May 2nd has three features. One can choose to peruse through some wines from New Zealand, a small allotment yes, but there are some tasty Sauv Blancs. Fans of Germanic wines can sample some of Germany's next generation's style of wine. Or, to make us really believe that summer is just around the corner, there are several Rosé wines to chill down and assist with some long awaited patio sipping. (Click images to enlarge.)
NEW ZEALAND
095679 SAINT CLAIR PIONEER BLOCK 2 SWAMP BLOCK SAUVIGNON BLANC 2013 Dillons Point, Marlborough, South Island, New Zealand $24.95
Far from the typical in your face Sauvignon Blanc here. This has aromas of earth, apple orchard, tangerine, tomato leaf and citrus. The palate is rich with concentrated tropical fruit, kiwi, Meyer lemons, papaya and baked apple. I really like this style of sauvignon Blanc. Find this wine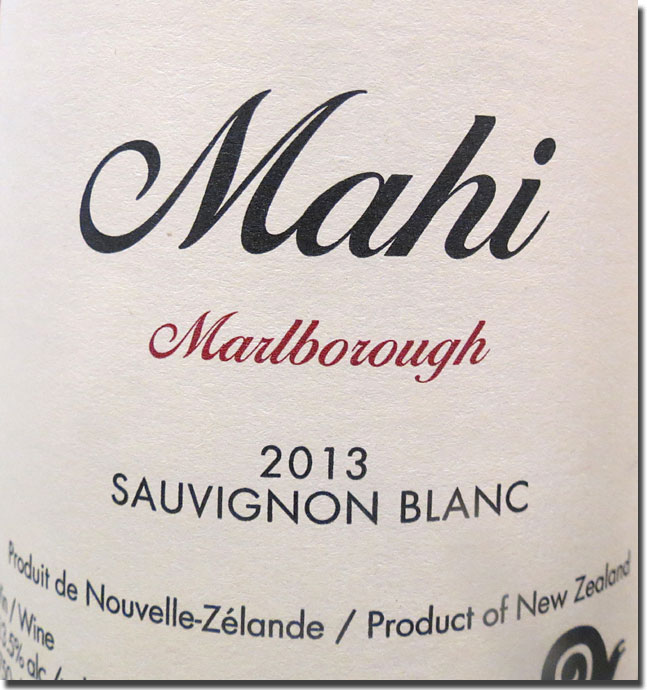 063941 MAHI SAUVIGNON BLANC 2013 Marlborough, South Island $19.95
Very brazen, showing grassy, gooseberry, thyme and cumquat aromas; palate offers great acidity, lots of candied citrus notes and a herbaceous character that runs well into the finish. Find this wine
411603 TE WHARE RA SAUVIGNON BLANC 2014 Marlborough, South Island $24.95
Stony mineral, candied lime and gooseberry, quite grassy. Fresh squeezed grapefruit is the featured flavour on the palate, acidity is crisp, with hints of melon and papaya on the finish. Find this wine
408625 OPAWA PINOT GRIS 2014 Marlborough, South Island$16.95
Floral, stone fruit, toffee and apple candy aromas; nicely set palate, well balanced with apple and nectarine flavours, a rich chewy texture and caramel note on the finish. Find this wine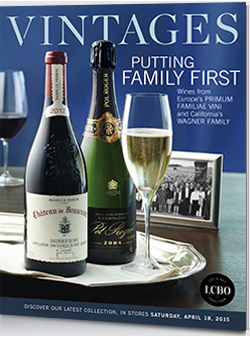 A little late for Ontario's family day, but the think tank of the Vintages releases has come up with a theme entitled "Putting family first", Wines from Europe's "Primum Familiae Vini and California's Wagner Family". There are some gems to be found on April 18th, but sadly few of these wines fall into the "pick up a couple tasty wines for the weekend" category. However, for those with deep pockets will be like kids in a candy store. (Click images to enlarge.)
Wines of "BodegasTorres Influential Spanish globetrotters "
381046 MIGUEL TORRES ALTOS IBÉRICOS CRIANZA 2012 Rioja, Spain $16.95
Torres does produce an array of wines at all price points and these two are affordable. This 100% Tempranillo has clean fruity aromas, but with an odd plastic note; the palate, carries strawberry and red berry flavours. Tannins are low and the soft acidity renders it drinkable now. Find this wine
210872 TORRES CELESTE CRIANZA 2011 Ribera del Duero, Spain $20.95
Bacon fat, thyme, dark chocolate combine with a mix of red and dark fruit on the nose. A tasty palate shows dark fruit enhanced with mocha while tight tannins grow powerful on the finish. Give it a little time in a decanter and this will show well. Find this wine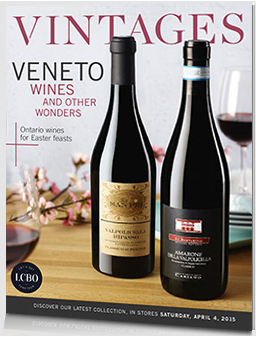 This release showcases some interesting juice from Italy's famed Verona region. There are some tasty wines, but the French contingent impressed me far more in terms of value and drinking quality. My advice is to just read on…
Wines of the Month
990440 KENWOOD CABERNET SAUVIGNON 2012 Sonoma County, California $23.95
Nice aromas of forest floor, ripe black fruit, mostly currant, Chinese black mushrooms, spice box and cedar. Good concentration, a little spicy now, but decanting will help, tannins are medium. Fun wine. Find this wine
672931 ALLEGRINI PALAZZO DELLA TORRE 2011 Veronese, Italy $24.95
Oozing notes of blackberry, cassis, cherry liqueur, mocha, pressed flowers and lavender. A little fruit forward on the palate, but bitter chocolate helps to balance, finishing with cherry and anise. Find this wine
WINES FROM THE VENETO RELEASE
403840 LE BERTAROLE PODERE CARIANO AMARONE DELLA VALPOLICELLA CLASSICO 2009 $44.95
Very tight in its youth, teasing with notes of hay, straw and with much coaxing, hints of chocolate, caramel and dark fruit appear. It is sweeter than anticipated, as raspberry liqueur takes centre stage accented by cinnamon and anise. Quite disjointed right now, but time will render good stuff. Find this wine
332403 DONATONI MASSENÀ APPASSIMENTO 2011 $16.95
Very fruity, bolstered with mint and floral aromas and coffee grounds; an odd sweetness hits the palate along with cough candy, blueberry and blackberry. Down side is it finishes rather stickily. Find this wine
Editor's note: For  more on the Appassimento method of winemaking, go here.
181446 FEUDI SAN PIO RIPASSO VALPOLICELLA CLASSICO SUPERIORE 2012 $17.95
Enticing floral aromas complete with cake spice, dark fudge, balsa and sweet vanilla bean; lovely sweet flavours of cherry and currant. Some grip and the solid tannins do suggest time. Find this wine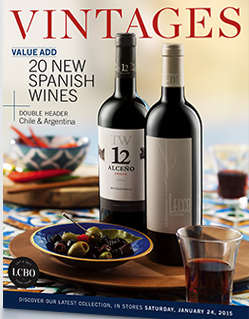 The wines of Spain take centre stage for the January 24th release. Spanish wines are usually fairly priced in the LCBO and many of these wines offer the consumer great wines at reasonable prices. Lots to buy so please read on……
Wines of Spain
392522 FINCA LOS ALIJARES GRACIANO 2009 Vino de la Tierra de Castilla $17.95
Very concentrated, laden with dark fruit, sweet rhubarb, caramel and nutmeg; plenty of blackcurrant flavours, with a touch of cherry, mineral, aggressive tannins and a touch of heat. Give it time. Find this wine
393140 DOMINIO DOSTARES ESTAY PRIETO PICUDO 2011 Vino de la Tierra de Castilla y León $15.95
Dark fruit, Fry's chocolate cream bar, a touch of mocha and mint; juicy plum flavours, earthy, great acidity and gentle tannins. Find this wine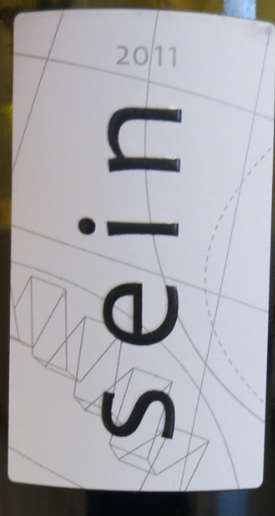 391896 VINESSENS SEIN 2011 Alicante $17.95
Sweet blackberry and currant, dark chocolate, thyme and Herbes de Provence; sweet chewy fruit, pings of anise and cardamom, good acidity and a decent finish. Find this wine
$17.95 SUEÑO TEMPRANILLO 2011 DO Ribera del Júcar $18.95
A lovely combination of blackberry, cherry and plum, mostly fruit focused nose, but the touch of lavender is pleasing; luscious chewy palate, good structure, some spice and mocha cream on the finish. Find this wine
392993 MACHO MAN MONASTRELL 2012 Jumilla $18.95
Chunky and clumsy, jammy black fruit, sweet oak and sandalwood; low acidity, sweet chewy texture, little hint of spice and an overly sweet finish. Find this wine
398685 BURÓ DE PEÑALOSA CRIANZA 2009 Ribera del Duero $23.95
A forceful mix of French and American oak, plenty of dark fruit, blueberry, tar, fresh flowers and coal dust; nicely balanced palate, some anise and bay leaf and a touch of heat on the finish, but overall a very good wine. Find this wine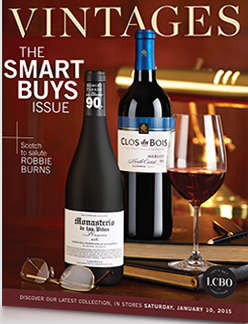 It's January, things are a little less hectic, the holiday haste is done and life is supposedly back to some sense of normality. Cellars tend to get depleted over the jovial season and if that is the case, one can stock up with a few of the wines from Vintages "Smart Buys" release.
WINES OF THE MONTH
256693 CONCHA Y TORO SERIE RIBERAS GRAN RESERVA CABERNET SAUVIGNON 2012 Marchigue, Central Valley, Chile $17.95
Blasts out aromas of Cassis, Ribena, polished wood, Asian spice, anise and bay leaf; strange soapy/cardamom taste, dark fruit does come through, with good structure and gentle tannins. Find this wine
657411 VIÑA REAL PLATA CRIANZA 2010 Rioja, Spain $18.95
Lots of mocha, dried flowers, black raspberry, bitter chocolate, black tea, and forest floor, but a musty note interrupts. Good chewy dark fruit, but the musty note hits on the finish. A bad bottle perhaps. Find this wine
SMART BUYS LISTINGS
234518 LAMADRID SINGLE VINEYARD RESERVA CABERNET SAUVIGNON 2012 Agrelo, Mendoza, Argentina $15.95
Very tight; some sweet spice, red fruit and raspberry start to show, light palate, with some currant flavours and low tannins. Just a simple wine. Find this wine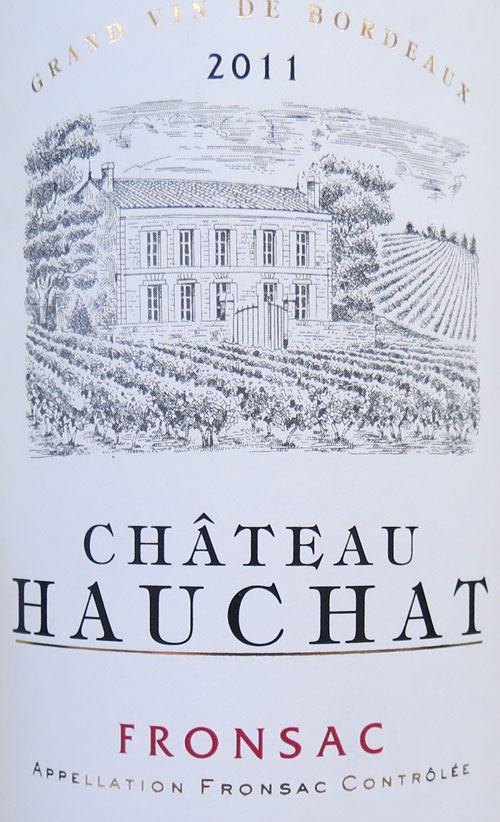 123489 CHÂTEAU HAUCHAT 2011 AC Fronsac, Bordeaux, France $15.95
Mushroom and a little earthy beet, with plenty of ripe dark plum fruit; low acid palate, where blackcurrant shines, with some grip and spice on finish. Find this wine
395053 12 E MEZZO PRIMITIVO DEL SALENTO 2012 Puglia, Italy $13.95
Juicy dark fruit, cough candy medicinal notes, black sweet licorice, dusty, pleasing sweet berry flavours; good acidity, a little cloying on finish. Find this wine
124883 CLOS DU BOIS MERLOT 2012 North Coast, California $16.95
Dark with some mineral notes, black cherry, chocolate shavings; palate shows black raspberry and dark fruit. Simple structure, gentle tannins. Find this wine
171025 PUIG-PARAHY CUVÉE GEORGES 2011 Côtes du Roussillon, Midi, France $16.95
Maltesers, creamy coffee crisp bar, Asian spice, tar and black fruit. The disappointing palate shows light in comparison to its nose; dark fruit is there, but pales and the finish is rather light. Find this wine
395236 LAFAGE CÔTÉ SUD 2012 Côtes Catalanes, Roussillon, France $14.95
60% Syrah and 40% Grenache, showing lovely floral aromas; layers of dark fruit and tar, blackberry and currant flavours are ripe and chewy, with a silky texture sweet spice on the finish. Find this wine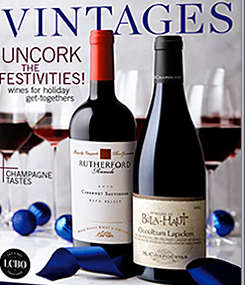 I am happy to write that this release is full of some very good wines at more affordable prices than the previous two I reported on. Rarely do we see good quality Beaujolais in this part of the world, but there are a couple that caught my interest and several Spanish wines show particularly well too. There is only a single release this month, but it is a big one, thus there will be a lot of wines on the shelf to sort through. Notes are brief, but to the point. Please read on, buy some good stuff for your stockings and have a great holiday season.
WINES FROM THE UNCORK THE FESTIVITIES RELEASE
130195 13TH STREET SANDSTONE GAMAY NOIR 2011 Niagara Peninsula $29.95
Lots of dried currant, licorice root, elderberry, dark cherry and a tar/smoky note, with good concentration and acidity; plum and red currant flavours, toffee and pure fruit on finish with a touch of peppery spice. Find this wine
276477 GEORGES DUBŒUF DOMAINE MONT CHAVY MORGON 2013 $21.95
Ripe, full of damson, sweet plum , pepper, a lovely hit of flowers and some juicy plum. Quite a fleshy palate, some tannins, but non offensive. Find this wine
643239 DOMAINE DE BILA-HAUT OCCULTUM LAPIDEM 2012 Côtes de Roussillon-Villages $24.95
A bold fruit driven wine, showing blueberry, blackberry, red licorice and sweet oak; the palate has a chewy texture, tight, creamy, silky tannins. A complex fruit bomb. Find this wine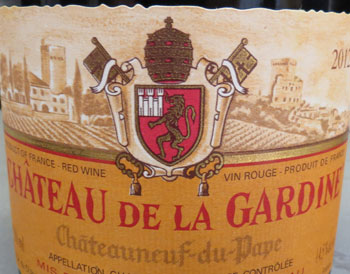 298612 CHÂTEAU DE LA GARDINE CHÂTEAUNEUF-DU-PAPE 2012 $39.95
Plenty of sweet spice, cigar leaf, barnyard, Dutch licorice and pure blackberry aromas. Chunky and creamy palate, a little disjointed now, but acids are perfect, tannins and serious, as is the level of fruit. Not to be rushed, needs much time. Find this wine
658351 CANTINE DUE PALME PRIMITIVO 2012 Salento $15.95
Sweet, zinberry aromas, black toffee, tar, maple syrup and blueberry; juicy and spicy, fruit laden great acidity and lovely creamy chocolate on the finish. Note to self-buy lots. Find this wine
388678 CASTELLO DI SPALTENNA CHIANTI CLASSICO 2011 $19.95
Earthy, eggshell aromas, raisins coffee grounds, balsa, solid red fruit, some plum and cherry aromas. Plenty of fruit on the palate, a note of anise and dried cherry on finish. Find this wine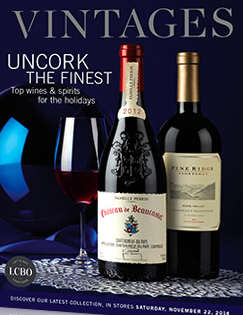 Yet another high end release is on the books for this Saturday's Vintages "Uncork The Finest". This coupled with the amount of snow in the area means it must be Christmas after all. Several good to very good wines, but the board was in a bit of Scrooge mood as they were not as generous with the amount of wines sent for tasting as they were for the last release.
315200 HENRY OF PELHAM CUVÉE CATHARINE CARTE BLANCHE ESTATE BLANC DE BLANC 2009 Traditional Method, Short Hills Bench, Niagara Peninsula, Ontario $44.95
Not presented at the tasting, but having the good fortune to taste this on a recent visit to the winery I can say to anyone wanting to pop a bottle of domestic bubby for the New Year, this will not disappoint. It has all the yeasty, straw and toasty aromas of a fine quality Champagne. The palate is dry, has superb acidity, with plenty of pear, mineral and bready flavours. Find this wine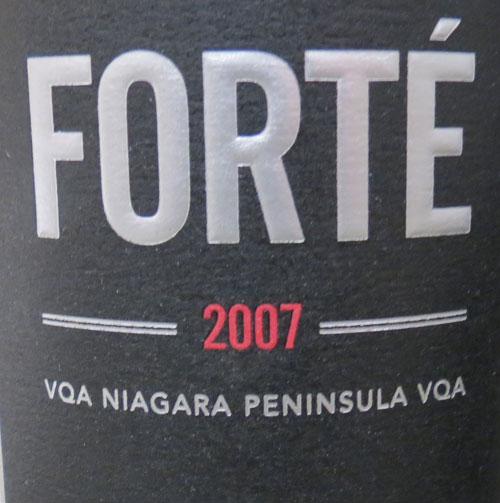 361758 UNION FORTÉ 2007 Niagara Peninsula, Ontario 500 mL $16.95
One of a couple of Port style wines up for grabs and this is really quite tasty. It oozes aromas of sweet plum, black toffee, sweet cherry and apple skin. It is a Tawny style wine made from a blend of Cabernet and Merlot from the region's excellent vintage of 2007. It's chewy on a palate and benefits from the explosion of blueberry fruit, and creamy dark toffee texture. Find this wine
548677 MASI CAMPOLONGO DI TORBE AMARONE DELLA VALPOLICELLA CLASSICO 2007 Veneto, $101.95
Quite lovely, enticing aromas of marzipan, chocolate egg, cardamom, root beer, mocha and cappuccino abound. Quite dense on the palate, great fruit flavours, slightly sweeter than its cousin below, with damson, blackberry and plum, somewhat spicy, finishing with dried blueberry and dusty tannins. Find this wine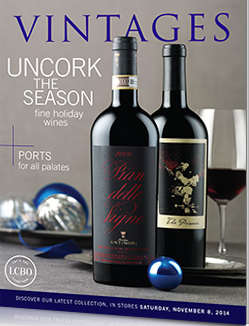 Tis the season to be jolly and Vintages is releasing some of their finest in the annual "Uncork the Season" release. As always there are good wines and not so good wines. Hopefully I can take the guess work out of some of them for you.
A selection of my opinions from the "Uncork" release.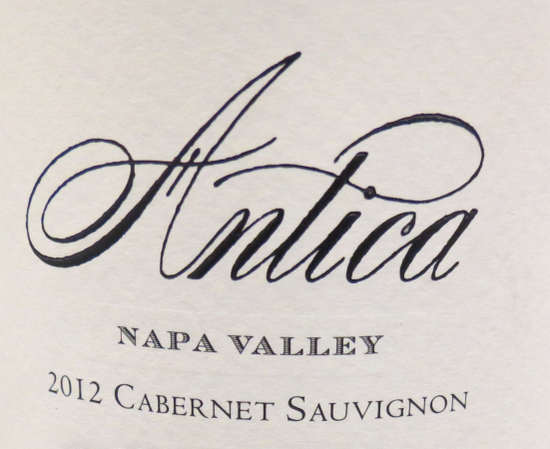 266551 ANTICA CABERNET SAUVIGNON 2012 Atlas Peak District, Napa Valley $53.95
Brimming with bursts of red jelly candy, cocoa, dried blackcurrant, licorice, tree bark, clove, anise and tar with luscious chewy fruit, featuring blueberry, plum and a touch of chocolate, well balanced, but firm tannins suggest time. Find this wine
652883 BELLE GLOS CLARK & TELEPHONE VINEYARD PINOT NOIR 2013 Santa Maria Valley, Santa Barbara County $44.95
Aromas of ripe red fruit, damson, black raspberry, rose petal, creamy cappuccino, Fry's cholate cream and cheap dollar store style sweet licorice. The palate is forceful, punching out blackberry and Asian spice flavours to no end. Great wine, but, fans of silky fined tuned Pinot beware, this is the anti-Christ of Pinots. Find this wine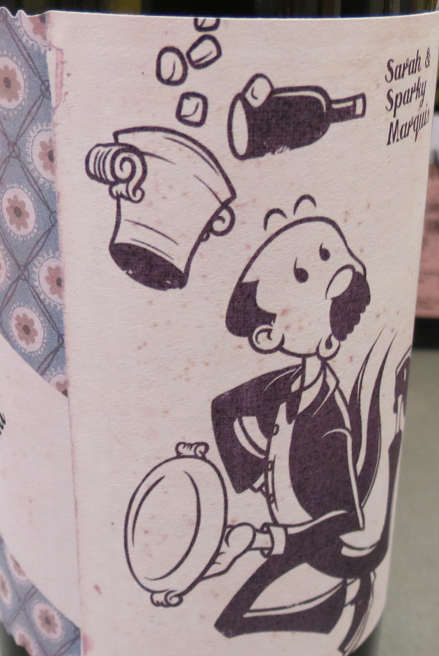 246629 MOLLYDOOKER THE MAITRE D' CABERNET SAUVIGNON 2013 McLaren Vale, South Australia $29.95 $29.95
I must confess to not enjoying Australian wines as much as I used to, but if they were all made like this, I would be a born again Ozzie- ite. This is a monster, but a gentle giant that oozes with aromas of iron, currant, mineral, dusty pine and eucalyptus. Its palate is powerful, but impeccably balanced, boasting flavours of currant, blackberry, Moroccan spice and Mocha. Think this is good; wait until the next release for my notes on its way bigger and brawny brother. Find this wine
104299 THE PRISONER 2012 Napa Valley $49.95
Murky, showing notes of dried leaves, hazelnut, sweet oak and dark red fruit, this vintage is toned down from last year's rendition, but the sweetness and the 15 plus level of alcohol both make their way to the surface . The blend of 46% Zinfandel, 22% Cabernet Sauvignon, 18% Petite Sirah, 12% Syrah, and a small amount of Charbono could be a fun wine to drink, but sadly the palate is globby and chewy with a finish of candy syrup and heat. Find this wine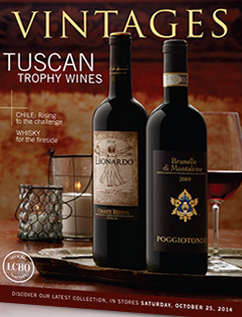 Tuscan wines are the feature this release and I can state there are good quality wines to be found at both ends of the pricing structure. Not too many other wines to report on as little else was sent to sample. There is a Chilean sub release, but my palate was done after tasting these big Tuscan beauts.
378257 BANFI BRUNELLO DI MONTALCINO 2009 $59.95
An enticing nose built of black raspberry, berry, dark caramel, espresso, polished wood and treacle. The palate has other ideas about drinkability though, it is tight, showing a little red fruit, bay leaf, sweet spice and plenty of gripping tannin on the finish. Find this wine
315150 CASTELLO D'ALBOLA RISERVA CHIANTI CLASSICO 2008 $22.95
Some pretty aromas of perfumed black fruit, thyme, cherry, tree bark and cigar leaf; sadly a little lean on the palate, tannins are dusty, but non aggressive. Find this wine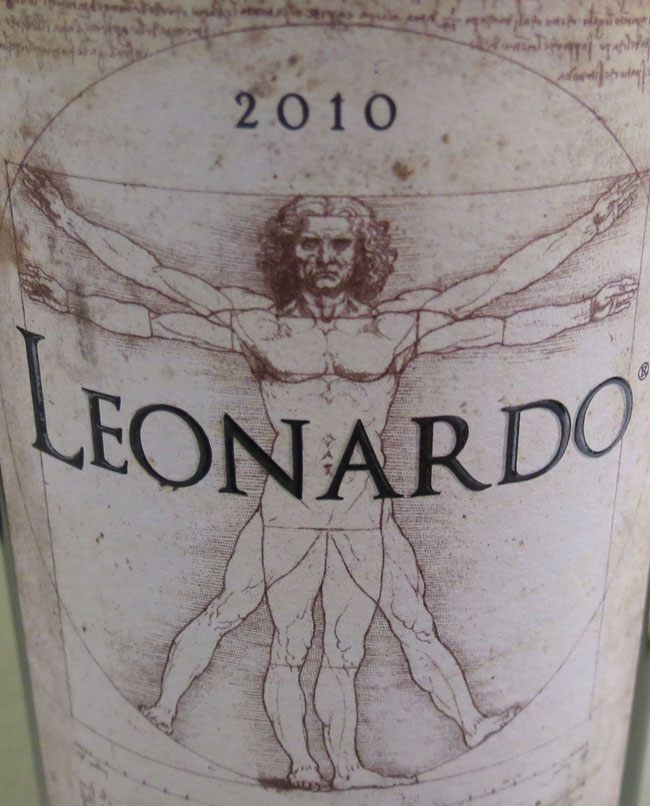 164707 LEONARDO CHIANTI RISERVA 2010 $19.95
Quite intense and stimulating, with a smoky/bacon note backed up with clove, plum, dried fruit and cave air. Fruit on the palate is quite dense showing off dark cherry and plummy flavours that render a decent wine for the price. Find this wine
222810 ROCCA DI CASTAGNOLI CHIANTI CLASSICO 2011 $17.00
A nice perfumed nose with heaps of plum, blackberry, fresh flowers and sweet spice leading to a slightly sweetish palate, but nonetheless, it has good solid dark fruit, gentle tannin and a soft texture. It is a tasty and nicely balanced wine. Find this wine
943670 AVIGNONESI VINO NOBILE DI MONTEPULCIANO 2011 $35.95
Laden with sweet fruit aromas, black cherry and fig take centre stage, but are supported well by notes of cured meat, Asian spice box and black tea. Chewy and ripe, the palate is full of flavours of damson, cherry and chocolate; there are some assertive tannins, but no bitterness whatsoever. Give this a couple of years and it will be a stunner. Find this wine