Since our first serious encounter with Argentine wine back in 2003, I've maintained the somewhat tongue-in-cheek, but perfectly arguable stance that beef and Malbec are the unofficial national food and drink of that country. The two complement each other about as well as any pairing one might imagine, as we've seen (and tasted) again and again in the ensuing years.
We rarely eat beef anymore, because of our changing dietary habits. We avoid giving any support to factory farms, for health, environmental and animal cruelty concerns, and when we do consume the flesh of four-footed mammals, it's usually in the form of Kim's pork projects or pasture-raised, grass fed lamb.
We also don't drink much wine from Argentina these days, either, not because they aren't making high-quality juice down there, but for the same money, or less, our preferences come from southern France. Mostly different grape varieties, true, but those are what we like, and we tend to stick with them. Still, we are always happy to see what they're producing in South America when we get the chance, and such was the case a few weeks ago.
We'd never heard of Hand of God Wines before we tried these two, but it's obvious that they have some seriously good things going for them. Hand of God is a collaboration between American venture-capital entrepreneur Jon Staenberg and Argentine winemaker Santiago Achával, better known for his highly acclaimed Achaval-Ferrer winery in Mendoza. The two selections we sampled for review were sourced from the two estate vineyards, Stolen Horse Vineyard, planted in the 1920s in the Cruz de Piedra area of the Maipú region, and Sobremesa Vineyard, established in 2007 in Valle de Uco. Stolen Horse consists of 8 acres of old vine Malbec, while Sobremesa is planted to more than 47 acres of Malbec, Merlot, Cabernet Franc, Viognier, Roussanne, Marsanne and Sauvignon Blanc. (A white blend of 35% Viognier, 35% Marsanne and 30% Roussanne, 2011 Fingerprint Series Único, is yet to be released.) Both the new and the old world techniques are used to produce the wines; the vineyards are still plowed by horse, even though tractors could do the job more quickly.


So, we have these two Malbec-based wines for our consideration, and to taste them in their best setting, we need beef, right? No problem, we know right where to go. Our friends at Western Market, in Ferndale, carry natural, grass-fed and organic meats from C. Roy Meats in Yale, Michigan. If we're going to eat beef, that is the kind we want, and because we don't consume it in anywhere near the volume that we once did, one good sized rib eye, grilled medium rare, was enough for Kim and this taster. It proved to be the perfect match for these two fine selections. We started with the blend.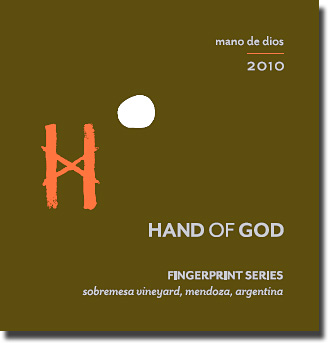 2010 Hand of God Fingerprint Series Red Wine Uco Valley, Mendoza, Sobremesa Vineyard, 55% Malbec, 35% Syrah and 10% Petit Verdot , 14.5% alc., $45.00: Looks like a glass of purple-garnet ink; toast and coffee over deep, dark black currant, berry and plum in both flavor and aroma. Full bodied and very well structured for a nice long rest in the cellar. It's a young, rambunctious thing right now, so it really does need some time to develop. The oak, while not overwhelming, does dominate at this point, but time in the bottle should resolve that aspect.
Sobremesa Vineyard is located at 3,600 ft. above sea level in the Uco Valley, Mendoza. Grapes were hand-harvested at 1.8 tons per acre, with only a fraction of the highest quality grapes used in this blend. (Petit Verdot is not listed among the varieties grown at Sobremesa, so I don't know where that component comes from, but at only 10% of the blend, I'm not sure that it matters.) 20 months in 50% new French oak, 50% 2nd year seasoned oak; no racking, unfined and unfiltered. 1100 cases (750ml), 300 magnums (1.5l) produced. Find this wine
2010 Hand of God Old Vine Malbec Maipú Mendoza Stolen Horse Vineyard, 14.5% alc., $75.00: Another glass of purple-garnet ink, and another oak-dominated personality, with more toast and coffee over deep, dark black currant and blackberry on both the nose and palate. Bone dry, full bodied and very well structured for many years of cellaring. More old world in style than new, and perhaps a bit more approachable now with the beef. I'd love to try this again in 10 years or so. Grapes were hand-harvested at 1.2 tons per acre. 20 months in 100% new French oak; no racking, unfined and unfiltered. 806 cases (750ml), 150 magnums (1.5l) produced. Find this wine
The oak in both of these lends a somewhat astringent element that should resolve with cellaring. These are obviously wines of substance, and while the "toast and coffee" style of these and many other Argentine wines that we've tasted is not my favorite, I can appreciate it for what it is. These are both hard young wines right now, tight and primary. However, as I continued to sip a glass of each after dinner, during a 2 ½ hour music rehearsal, they opened considerably, revealing even deeper, richer cores of intense fruit. They are very impressive wines; if you don't have the patience to wait 5 or 10 years for them to develop, I'd recommending decanting for at least an hour before drinking.
Reporting from Day-twah,
geo t.
Related posts: