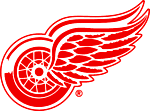 Long time readers might be surprised that we're going into our fourth month of the current National Hockey League season and I'm only now posting my first Red Wings and Red Rhônes entry of the campaign. Truth to tell, I'm a little surprised myself. The lapse isn't due to any lagging enthusiasm for either Detroit's skaters or those big, hearty reds from southern France; au contraire, both are still near and dear to my heart. The simple fact of the matter is that a lot of other things have been laid on our plate and when you got 'em, you gotta go with what's timely. Still, we've been enjoying some really nice red Rhône selections so timely is as timely does. We've been getting to know a great little Côtes du Rhône QPR All Star really well over the last few weeks, and recently, I ran into an old friend still available at its original release price, a real rarity these days. We're always happy to try new wines the Perrin family of Chateau Beaucastel fame, and we've also included notes on two white Rhônes, just for the halibut. Here submitted for your consideration is my first Rhône-down of the new year, and it most assuredly won't be the last.
2007 Jean-Luc Colombo Côtes du Rhône Les Abeilles, 50% Grenache, 30% Syrah, 20% Mourvedre, $7.99, 13.5% alc.: Clean, dark color, with generous and satisfying CdR character that takes me back to the the good old Red Wings and Red Rhones days when we were drinking the '97 and '98 and paying MORE for them! The fruit is ripe without going overboard, and that aspect is offset by a solid earthy anchor to the dark plum and berry spiced up with a nice peppery quality. Full bodied and well-structured for further improvement over the next few years, this is a steal for the Costco price, and it's been our house red for the past few weeks. We're buyin' 'em by the case and drinkin' 'em 'til their gone. Maybe we'll stash a few, but I doubt it. Find this wine
Imported by Palm Bay International, Boca Raton, FL
2007 Coudoulet de Beaucastel Côtes du Rhône Rouge, 30% Grenache, 30% Mourvedre, 20% Syrah, 20% Cinsault, 14.5% alc.: Shows a slightly murky dark color, but then, red Rhônes do that sometimes. Big, rich, earthy and chewy, with smoky black plum and blackberry flavors and aromas. Full bodied, with massive structure and good length that suffers some from tannins that clamp down on the finish. This will serve best by giving it several years in the cellar, and should be singing by 2015-2017. Find this wine
Imported by Vineyard Brands, Inc., Birmingham, AL
2009 Perrin Crus Côtes du Rhône Villages, 50% Syrah, 50% Grenache, 13% alc., $14.99 SRP: Clean dark color, with just a hint of chocolate on the nose; big and brawny on the palate, with deep, dark black fruit and a good dose of earthy underbrush, and, again, a little of that chocolate. Well-structured for several years in the cellar, and like the Coudoulet, tannins clamp down hard on the finish, so give this some time to develop (3-5 years). It should be worth the wait. Find this wine
Imported by Vineyard Brands, Inc., Birmingham, AL
2000 Bois De Boursan Chateauneuf Du Pape, 13.5% alc., $37.99: Slightly cloudy dark garnet color, and a bit funky in that classic Chateauneuf Du Pape style; really in a nice place right now, with earth, iron, cola and black fruit flavors and aromas shaded with "a little garrigue," according to Anne Keller, and "licorice root and sweet Morrocan spice," as Alan Kerr aka Canadian Zinfan describes it. Full bodied, well structured and still on the way up. You can certainly enjoy it now, as we did, but it should continue to improve for at least five years and hold for many more beyond that. Best of all, just look at that price! I bought four of these a few weeks ago. Find this wine
Imported by J et R Selections, Mt. Pleasant, MI
2009 Domaine Saint-Anne Cotes-du-Rhone Blanc, 14.5% alc., $12.99: Clean, medium color, with classic character of white tree fruit, mineral and a hint of lanolin. Full bodied, with good acids, depth and length. Minerality and lanilon really become accentuated with air, adding to the appeal. Not a blockbuster, not even exceptional, really, but it does hit the "sweet spot" for solid satisfaction on an every-day level. An excellent choice for a house white, and one we'll be revisiting again and again. Find this wine
Imported by A.H.D. Vintners, Warren, MI
2008 Perrin et Fils Chateauneuf du Pape Blanc Les Sinards, 75% Grenache Blanc, 25% Clairette, 13% alc., $39.00 SRP: Clean, medium color; shows some noticeable oak over rich, white tree fruit, with some nice, underlying minerality. Full bodied, with good acidity and length, and more and more stony mineral emerges as it opens with air. Not sure that I like the oak character at this point, but it has the stuffing to age for some years, so perhaps that will integrate over time. Fermentation and aging takes place in 50% in new oak barrels and the remainder in 1 year barrels. Find this wine
Imported by Vineyard Brands, Inc., Birmingham, AL
Reporting from Day-twah,
geo t.
Related posts:
One Response to "Red Wings and Red Rhônes 2011"