July 25th, 2013 |

Author:
George Heritier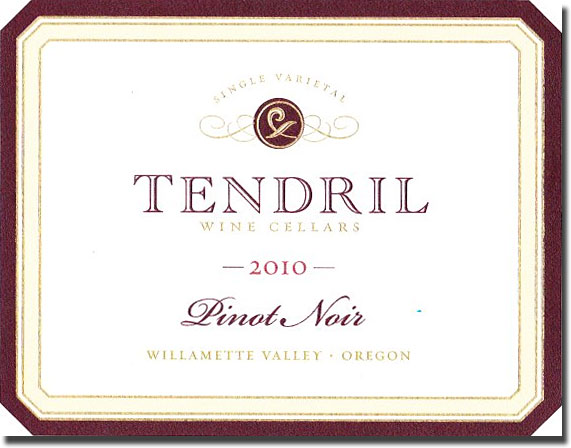 A few months ago, I received a generic email from one of the major shipping companies with a tracking number. There was no indication of what might be coming our way, but when I clicked on said tracking number, it informed me that whatever it was had originated in Oregon's Willamette Valley. It wasn't too difficult to extrapolate that there was probably some wine on board, but we'd just have to wait to find out where it might be from. It turned out to be two bottles of Pinot Noir from Tendril Wine Cellars. We were unfamiliar with this producer, but soon discovered that they are made by Tony Rynders, best known for his ten years as head winemaker at Domaine Serene Winery/Rockblock Cellars. We're actually more familiar with Tony's work based on the very fine Pinot Noir that he's crafted for Cornerstone Oregon, so with credentials like these, this promised to be some very fine stuff.

The review samples we received were two of Tendril's 2010 White Label Pinots; they also make a White Label Chardonnay and a high end "Tightrope" Pinot Noir. We didn't rush to pull the cork on either of these; we waited for the right opportunity, which finally presented itself a few weeks ago when we grilled some beautiful wild Alaskan salmon.
2010 Tendril Wine Cellars White Label Pinot Noir Willamette Valley, 13.5% alc., $48: Clean, dark ruby garnet color, with a smoky black cherry and cranberry nose that leads to more of the same on the palate; Kim remarked, "really pretty, very floral," and indeed, it is a lovely expression of pure Pinot Noir. Medium-to-medium full bodied, with subtle earthy undertones, silky tannins, balanced acids and good length on the finish. It makes a perfect match for the grilled salmon and veggies, and while it's drinking very well now, it will no doubt be even better with some time in the cellar. Bonus, we have another bottle to enjoy down the road! (Thanks, Tony!) The wine spent 15 months in French oak barrels; 30% new; the appellation fruit sources are 79% Yamhill-Carlton, 6% McMinnville, 6% Chehalem Mountains, 4% Eola Hills, 3% Ribbon Ridge, 8% Dundee Hills. Find this wine
If the White Label bottling is this good, I can only imagine what the Tightrope must be like, and the Chardonnay looks tempting as well. We're overdue for another visit to Oregon, so maybe we can try them out sometime in the not-too-distant future.
Reporting from Day-twah,
geo t.
Related posts: