For our tastes, Cono Sur's whites have a well-established track record for being balanced and enjoyable, but, with the exception of the Pinot Noir program, the reds are rather less satisfying. I'll let my tasting notes tell the rest of the story.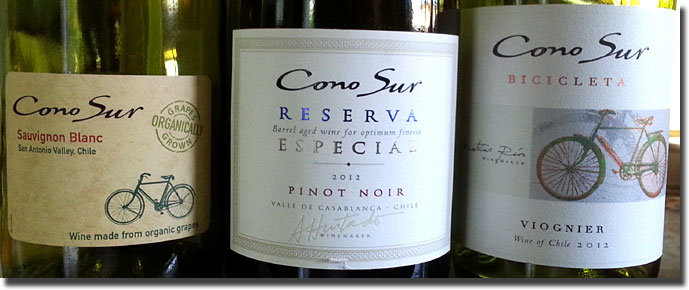 2012 Cono Sur Bicicleta Chardonnay Valle Central, 13.3% alc., $12: Clean, medium color; a note of lime adds zest to the apple and pear personality. Full bodied, rich and ripe, with good acidity and length. Does everything you could ask from a $12 Chilean Chardonnay. Find this wine
2012 Cono Sur Bicicleta Sauvignon Blanc Valle Central, 12.9% alc., $12: Clean medium color, and correct varietal character, with grapefruit and green apple flavors and aromas underscored with subtle minerality. Medium bodied, with good acids and length, this continues to be an appealing alternative to similarly priced Sauvignons from New Zealand and elsewhere. Find this wine
2012 Cono Sur Bicicleta Viogner Colchagua, 13.7% alc., $12: Clean, medium color, with a nice nose of apple and pear accented with floral overtones; flavors echo and expand, with a note of lime, nice minerality and zesty acidity. Rich, round, fairly ripe and delivering plenty of depth of flavor on a medium-full-to-full bodied frame. A pleasure to drink, now and over the next few years. Find this wine


2011 Cono Sur Bicicleta Carmenere Colchagua, 13% alc., $12: Deep, dark color; hints of balsa and earth over deep dark black fruit on the nose. More balsa on the palate, with a solid base of black currant and blackberry, shaded with some toast and coffee. Full bodied and good structure here, but if it's not as over-oaked and manipulated as some of Cono Sur's reds have been in the past, it still shows enough of those detractions to make me decline a second glass. Too bad; seems like they had good fruit to work with and mucked it up with "wine making." Find this wine
2012 Cono Sur Organic Chardonnay San Antonio Valley, 13.2% alc., $14: Clean, medium color; straightforward apple and pear flavors and aromas, ripe, but not excessively so. Full bodied and well balanced, with ample acidity to keep everything moving along nicely. If I prefer a more mineral-driven style of Chardonnay, this is still quite enjoyable for what it is. Find this wine
2012 Cono Sur Organic Sauvignon Blanc San Antonio Valley, 13% alc., $14: Clean medium color, and like the Bicicleta, there's no mistaking this for any other variety; it screams Sauvignon Blanc. More in the citrus/grapefruit spectrum and less green apple than Bicicleta, with a certain pungency to it, and some nice minerality. Has a slightly sour quality that almost reminds me of a farmhouse ale in that particular sense, but that's not meant as a negative. Medium bodied and very zippy, with good length. Shows a little more of the aggressive side of Sauvignon, and while I like to support "Organic" whenever I can, Bicicleta seems to be the better of these two, if only by a little. Still, it's a solid effort, and I gladly poured a second glass, just to make sure… Find this wine
2011 Cono Sur Organic Cabernet Sauvignon Carmenere Colchagua, 60% Cabernet Sauvignon, 40% Carmenere, 13.5% alc., $14: This shows clean, dark color, and while it's less spoofy than the Bicicleta Carmenere, it still shows more of that balsa than I care for. Actually, I don't care for any of that balsa at all; as with too many Cono Sur reds, it mars what seems to have been good, tasty fruit to begin with. There's a nice core of full bodied black currant and berry fruit, but, perhaps it's the 70% of whatever the blend actually is that spent time in French oak barrels, or maybe they didn't mention oak chips or staves used in the winemaking process. To be fair, I'm guessing that wine drinkers with so-called "New World palates" will like this just fine, and while I find it tolerable, I'd look elsewhere for a good $14 red. Find this wine
2012 Cono Sur Reserva Especial Sauvignon Blanc Casablanca, 13% alc., $15: Clean, medium color, and not much on the nose, at first; intense grapefruit and gooseberry flavors pick things up big time on a medium-full bodied frame, and keep moving right along, driven by zippy acidity. With good length on the finish, and true varietal character, this does pretty much everything you want good Sauvignon to do, but the Bicicleta still might be my favorite of the three reviewed here. Find this wine
2012 Cono Sur Reserva Especial Pinot Noir Casablanca, 14% alc., $15: Clean, dark garnet color, darker than many Pinots; smoky, almost flinty black cherry nose. Earthy flavors to match, as the smoke, flint and earth vie for dominance with the ample core of fruit. Medium-full bodied, with good structure and acids for five years or more of development. The Cono Sur Pinot Noir program is producing their best reds, hands down; this one is approachable now, and then some, but its best days are ahead of it. Delivers solid value for the price. Find this wine
2012 Cono Sur Reserva Especial Cabernet Sauvignon Maipo, 86% Cabernet Sauvignon, 4% Carmenere, 5% Syrah, 3% Malbec, 2% Merlot, 13.9% alc., $15: Kim summed this one up perfectly when she declared, "Horridly over-oaked." Nothing else to say about this one, other than it's hard to finish one glass. Find this wine
Cono Sur imported by Vineyard Brands, Inc., Birmingham, AL
Reporting from Day-twah,
geo t.
Related posts:
One Response to "New from Cono Sur"