June 17th, 2013 |

Author:
George Heritier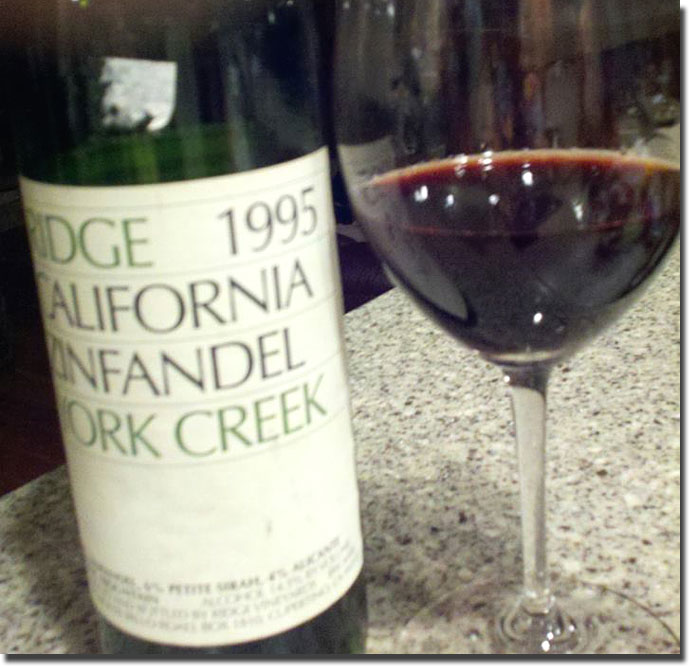 I had the distinct pleasure of playing the opening set of music for my old friend Charlie Walmsley's new folk-rock band, "Crazy Chester," last Thursday in Mount Pleasant, MI. It was a fun gig, and you can read a bit more about it here. Afterwards, we retired to Charlie's home, where we celebrated playing music together again. Champagne would have been a good option, but Chaz had a better idea, and pulled the cork from an 18-year old bottle of Mr. Ridge, which we enjoyed immensely with his wife Melinda. Here's what I wrote about this beauty; the picture was taken with my cell phone camera.
1995 Ridge Spring Mountain Zinfandel York Creek, 90% Zinfandel, 6% Petite Sirah, 4% Alicante, 14.5% alc.: There's some bricking to the slightly murky dark garnet color here; the lovely, mature nose still shows obvious and unmistakable "Draper perfume" in all its glory, along with a slight mustiness that gradually blows off. There's more of the same in the mouth, with a rich core of Zinfandel fruit shaded with attractive secondary nuances. Classic Mr. Ridge, and very silky; there's still plenty of life left here, but I wouldn't wait much longer if I had any of this in my cellar. I'd rather drink it while it still gives plenty of pleasure, rather than letting it turn into a museum piece. Charlie said he purchased this for around $30 from Valley Produce in Midland, MI, about 6 or 7 years ago. I sort of doubt that they have any left, if the place is still even in existence… Find this wine
Reporting from Day-twah,
geo t.
Related posts:
2 Responses to "Celebrating with a '95 Ridge York Creek Zin"