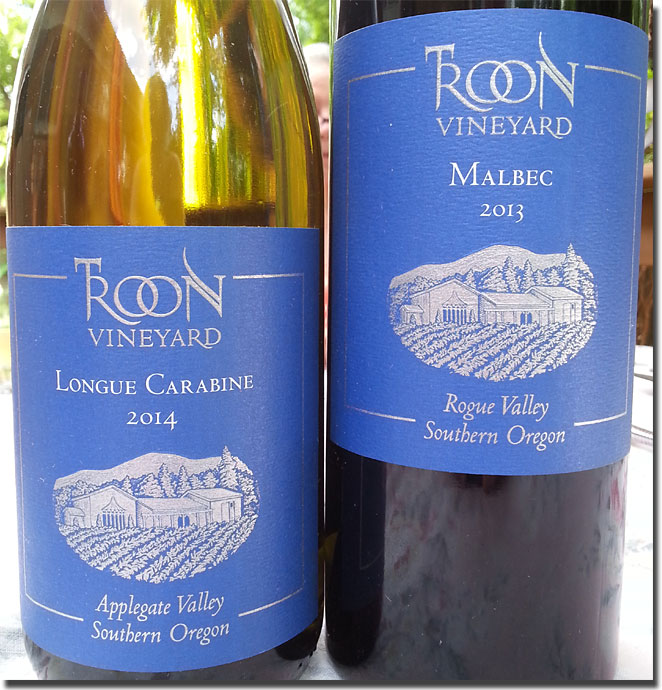 I think I'd be safe in hazarding the guess that when many causal wine drinkers hear the term "Oregon wine," the immediately think "Pinot Noir." Some of the savvier might add "Willamette Valley," but, of course, Oregon produces many more varieties than Pinot alone, and in other appellations as well.
One such region is Applegate Valley, a sub-appellation of the Southern Oregon AVA, and that's where Troon Vineyard is located. Troon is by no means a new operation; Dick Troon started planting vines back in 1972. (Dick sold the winery to his good friend Larry Martin in 2003; you can read a brief history of Troon here.) Over the years, the focus has centered on seemingly unlikely varieties such as Vermentino, Zinfandel, Malbec and Tannat, to name just four. Sustainable farming is the practice (estate vineyards are L.I.V.E. and Salmon Safe Certified), with grapes crushed in the old school method, by foot. Natural yeasts are employed in fermentation, and they don't do much in the way of using new oak or sulfur. In short, the wines are produced as naturally as possible, which is always a good thing, in our not-so-humble opinion.
Troon has been making something of a splash lately, not just because the wines are, for the most part, very good, but also due to the fairly recent addition of Craig Camp to the General Manager position. I've been virtually acquainted with Craig since before he took on the GM job at Cornerstone in Napa back in 2009, when we crossed paths and traded notes on various wine forums. Along with his many other considerable skills, Craig totally gets social media, and knows how to use it to promotes his business concerns; he demonstrated that during his tenure at Cornerstone, and, if anything, he's doing so even more adroitly at Troon. Wine samples have been sent to a whole host of wine and food blogs, and the feedback has been quite positive, with more than a few rave reviews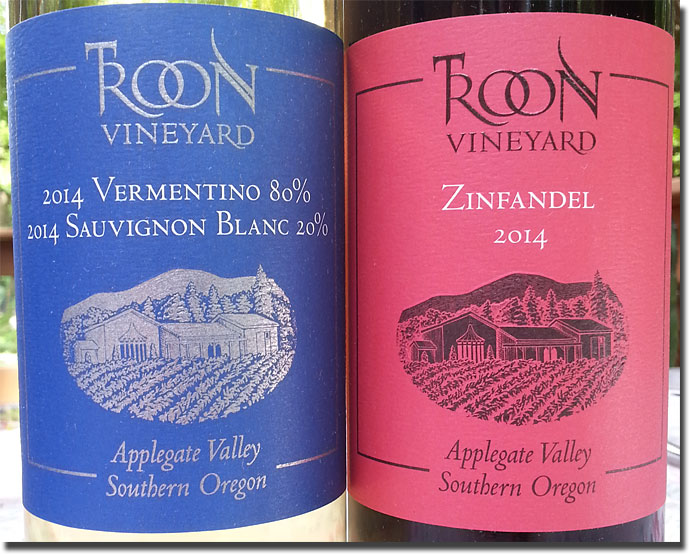 We received six Troon selections for review our own bad selves, and here are our impressions of each, starting with the whites.
2014 Troon Vineyard Blue Label Vermentino Applegate Valley, 80% Vermentino, 20% Sauvignon Blanc, 12.5% alc., $24: Clean medium color; green apple citrus flavors and aromas, with some underlying mineral. Good intensity in the mouth, and while it shows good acids and length, for me, it lacks just a little of the zippy edge that I like; I thought the same thing on the second night. Still, it's pleasant, enjoyable and nice with chicken, spinach and feta sausages. Find this wine
2014 Troon Vineyard Blue Label Longue Carabine, Applegate Valley, 8.5% Vermentino, 33% Viognier, 33% Marsanne, 1.5% Roussanne, 12.5% alc., $29: The name Longue Carabine is a reference to the rifle used by pioneers that came west to settle the Oregon Territory in the 1800's. Clean, medium color; rich, intense and mineral-driven, with white tree fruit flavors and some obvious white Rhone character. The mineral sets the tone here, almost to the point of being earthy, and it has the zip I'm missing with the previous wine. Nice with grilled smoked chicken and a Euro-style potato salad, and sipping by itself whilst watching some Olympic soccer. Find this wine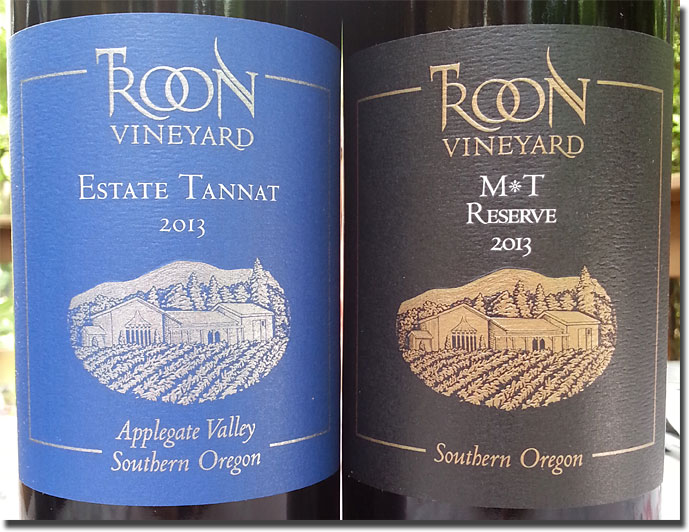 We like the Troon Tannat, Malbec and MT Reserve blend a LOT! We sampled all three with grilled C. Roy porterhouse steaks and mixed grilled veggies, potatoes and corn on the cob.
2013 Troon Vineyard Blue Label Estate Tannat Applegate Valley, 13.7% alc., $29: Clean ruby garnet color; enjoyable as soon as it's poured, with pretty red berry and cherry fruit, underscored with some subtle earth and rhubarb. Well-structured, for drinking now with food and laying down for at least a few years in the cellar; nice length on the finish. "Eminently drinkable," according to Kim, and that's high praise from her indeed. Find this wine
2013 Troon Vineyard Blue Label Malbec, Rogue Valley, 13.7% alc., $29: Clean dark color; a gentle kiss of oak caresses the pretty, slightly earthy red and black currants and berries, adding a subtle creamy note. Good to go now, but structured for a few years of cellaring. Find this wine
2013 Troon Vineyard Black Label MT Reserve Southern Oregon, 55.67% Malbec, 44.33% Tannat, 13.7% alc., $50: Clean ruby color, but deeper and darker on the nose and palate then either of the single varietal bottlings. Earthy dark plum, currant and berry flavors and aromas, with just a hint of oak influence; deep, rich and intense, with 5-10 years of aging potential. More than approachable already, but put a few of these down for at least a couple of years, as it gives every indication that it will evolve into something even better. Find this wine
The Red Label Zinfandel is only one of the six wines that we didn't care for.
2014 Troon Vineyard Red Label Zinfandel Applegate Valley, 14.5% alc., $20: Dark ruby in color, with a nose that only hints at the intensity of flavor, and yes, it tastes like Zinfandel; not the overripe gobby stuff, but the earthy plum and berry kind. The problem here for us is that the wine shows alcoholic heat and the acids border on being searing. It came off the same with or without food (the sausages mentioned with the Vermentino) and on the second night as well. I don't know that cellaring will temper the bite this one has, but time will tell. Find this wine
All in all, there's a lot to like from this obviously fine producer that, until a few months ago, had flown completely under our radar. Many thanks to Craig Camp for sending these our way; it's always fun to try things that are off the so-called beaten path.
Reporting from Day-twah,
Bastardo
Related posts:
2 Responses to "A Six Pack of Troon"