I host a weekly Friday night wine tasting at the retail outlet at which I am gainfully employed, and last week, I decided to abandon a more structured theme in favor of just sampling whatever odds and ends I thought our guests might enjoy. I also took the opportunity to pull the corks of a couple of things I hadn't tried yet myself, so everybody won. Here's the rundown on what we tried, starting with an old friend that we ran out of at Gang Central a few years back.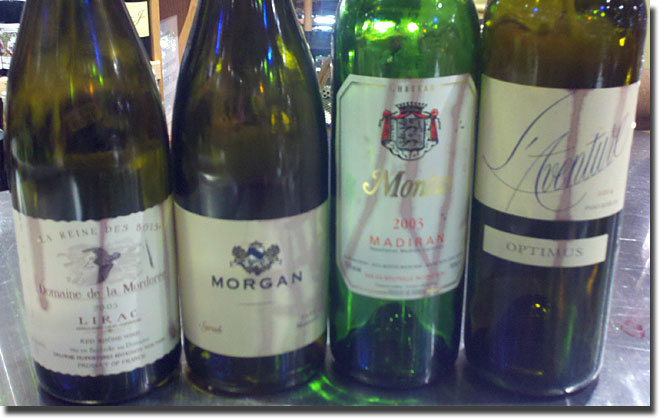 I still rue the fact that the last two distributors who carried Steve Edmunds' wines here in Michigan couldn't do them justice, for whatever reason. Both are good independent companies, not the two or three monstrosities that have formed over the last several years through mega-mergers, and to be fair to them, the problem is likely more the fault of area retailers who simply didn't know what to do with these great wines. Whatever the reason, I doubt that we'll see the Edmunds St. John label in Michigan again anytime soon, and this was undoubtedly one of the last bottles to be found at retail anywhere around here, so I thought it would be a perfect choice to start things off.
2005 Edmunds St. John Shell and Bone Paso Robles White Wine, 14.2% alc., $21.99: Medium-to-pale gold in color, and still very much alive and kicking since last we had it, with rich white tree fruit and plenty of mineral in the middle; full bodied, with good cut and totally dry on the finish. Well received, even by a few who don't care for white wine that much, which just proves that they've been drinking the wrong whites. A blend of Viognier and Roussanne grown in the hills west of Paso Robles. Find this wine
It's been quite a while since I've had anything from Trimbach, and that's too bad, because they make some excellent wines, though I've never been that enamored with their regular line. This one showed a bit better than the '99 that we tried back in '02, however, and was enjoyed by most in attendance.
2006 Trimbach Gewürztraminer Alsace, $25.99: Pale gold color, with a pretty nose of peach and litchi, which carries over nicely on the palate with plenty of mineral; medium-full bodied, with zippy acidity and a lingering finish. One taster added an impression of a "smoky" quality. Textbook Gewürztraminer, and if it's not a great one, it's certainly very good. It would have been fun to have had a few litchi nuts to share with the tasters to try along with this, but I'm told that they're hard to get around here. Find this wine
Imported by Diageo Chateau & Estate Wines, New York, NY
With no previous experience with Santa Cruz Mountain Vineyards, this one caught my eye simply because the wine was made from Mendocino fruit, rather than from SCM. The wine itself provided an interesting, if not entirely delightful, tasting opportunity.
2006 Santa Cruz Mountain Vineyards Mendocino Grenache McDowell Valley Vineyard, $23.99: Light ruby, Pinot-esque color, with a slightly earthy cherry-berry nose; takes on an added peppery note on the palate, which disappears with a bite of cheddar cheese, according to one taster. Medium body, with moderate structure, this actually puts on a little weight with some time in the glass. Nice, but needs the right setting and most here wouldn't spend the money. Find this wine
Charbono isn't exactly a household name in the wine world, and with only 80 acres of the stuff planted in California, this just seemed like an obvious choice for inclusion in this tasting.
2007 Summers Estate Napa Charbono Villa Andriana Vineyard, $26.99: About this deeply colored red, one taster uttered, "I don't want to drink this, I just want to smell it all night!" I get a not-at-all-unpleasant subtle note of dog fur along with a kiss of oak on the nose, followed by earth, black currant, blackberry and a touch of chocolate on the palate. Big and rich, but not too ripe, finishing totally dry. A nice wine, and well received; one person commented that he thought it would go well with veal. Find this wine
I found some of this languishing in a bin, and based on several from Brumont tasted a few years ago, it was another one that just begged to be uncorked and poured.
2003 Alain Brumont Chateau Montus Madiran, 80% Tannat, 20% Cabernet Sauvignon, $26.99: The last time I tasted Montus was in 2009; I tried both the '04 and '05 and liked them both. This one is really good as well. Inky colored, with earthy underbrush over a rich core of deep, dark black fruit on both the nose and in the mouth. Tannic, but not overwhelmingly so, this changes constantly in the glass as long as there's some left. Shows immense promise, and even drinks well now with air and/or food, but it will only improve with several years in the cellar. Find this wine
Imported by J & J Importers, Bloomfield Hills, MI
After tasting and enjoying some of Morgan's Chards and Pinots last summer, this was an easy choice.
2005 Morgan Monterey Syrah, $24.99: Clean, dark color, with subtle earth and barnyard on the nose that gains nice red and black plum and berry on the palate. Not huge and not too ripe; full bodied and beautifully balanced, with nice length on the finish. In a great place right now, so drink and enjoy. Find this wine
Another one that had obviously been lying around for a while (yes, it was reclining peacefully on its side), so, given positive experiences with previous vintages, I couldn't resist.
2005 Domaine Mordoree Lirac Cuvee de la Reine des Bois, $32.99: Clean, dark color; deep, dark and delicious, with a solid core of earthy black fruit. A lovely Southern Rhone, full bodied and well-structured, that hits all the right buttons for me, and it has a fine future ahead of it. It drew such wows as, "awesome," "best wine yet," "beautiful" and "that's incredible!" 1/3 Grenache, 1/3 Mourvèdre, 1/3 Syrah. Find this wine
Imported by Kysela Pere & Fils, Ltd., Winchester, PA
If I've ever had anything from L'Aventure, I can't recall it and haven't reviewed it, so, since there is plenty of this in inventory, I put it in the queue, and viola!
2004 L'Aventure Optimus Paso Robles, 57% Syrah, 35% Cabernet Sauvignon, 8% Petit Verdot, $49.99: Deeply colored, and obviously Californian, given its riper-than-the-Lirac character, but it's by no means a fruit bomb. Full bodied and well structured, with a black plum, berry and earth personality; one taster adds an impression of "a little blueberry on the back end." This wants several years yet to develop, but is still amenable to pairing up with some good grilled red meat tonight. Find this wine
Not a bad tasting for $10, eh? I was quite gratified after all was said and tasted that the Friday night regulars all agreed that this was one of our best lineups yet. Now, I just have to figure out how to follow it up tonight…
Reporting from Day-twah,
geo t.
Related posts: