March 26th, 2015 |

Author:
George Heritier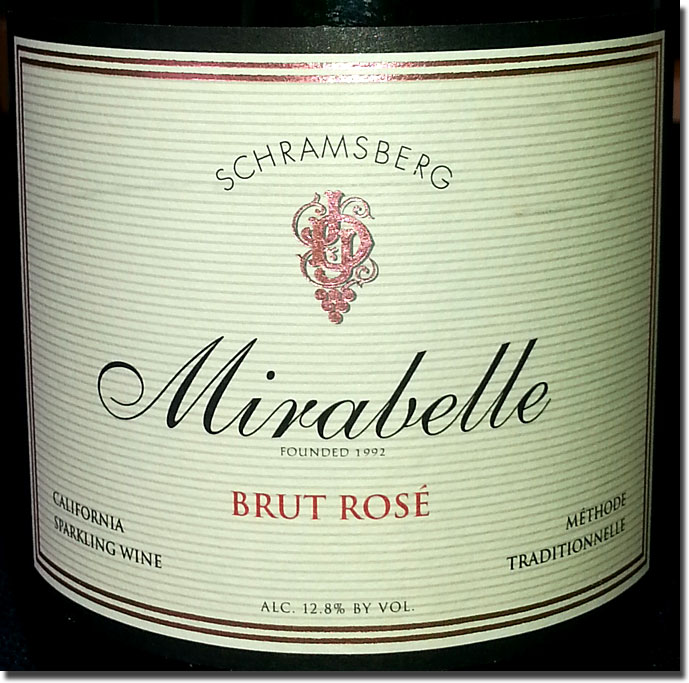 Considering the fact that this is my 4th blog entry about sparkling wine in a little over a month, one might get the impression that I'm getting somewhat obsessive about my bubbles. I don't know that it's gotten quite that bad (yet), but, truth be told, I am almost to the point where I prefer sparklers to still wines, even when it comes to my beloved red Rhônes or Mr. Ridge. Not quite, but almost. I will say that I'm now actively and regularly seeking out new things to try and to share impressions of here in this blog. (Click image to enlarge.)
Case in point: Last week, while perusing the wine selection at our friendly neighborhood Costco, I lamented the fact the two Rotaris I'd been so taken with for several months are no longer available there. Then, I took note of the Schramsberg Mirabelle Brut Rosé that had been waiting patiently to catch my attention during the same period, and this time I bit.
Mirabelle is Schramsberg's non-vintage label, and this was my first time trying one. My experience with this storied producer goes back to the late '70s, when I enjoyed a '76 Blanc de Noir with friends (you can see the actual label on this page). I also loved the '99 Blanc de Blancs Brut 5 County and '03 Brut Rosé 4 County in 2006, but have had nothing from them since, so I was quite looking forward to finding out just what was in this particular bottle. It turned out to be very nice indeed…

Schramsberg Mirabelle Brut Rosé California NV, 12.8% alc., $19.99 ($28.00 at the winery): Salmon pink, with a fine, very active bead; rich strawberry, raspberry, watermelon and red apple flavors and aromas underpinned with subtle minerality. Medium full bodied, with great acidity, delicious intensity and very good length. Worth every penny of the $20 price tag, and if that's a little higher than my "everyday" threshold, I'll certainly be picking up more of this for those "better" occasions. I've always had a slight preference for brut rosé when it comes to bubbly, and this blend of Pinot Noir and Chardonnay from cool-climate vineyards in Carneros, Anderson Valley, and the Sonoma and Marin coastal regions is one more very good reason why. Find this wine
Last time I was in my friendly neighborhood Trader Joe's, I noticed some late model Schramsberg Blanc de Blancs and Blanc de Noirs at good prices, so don't be surprised if you see those reviewed here sometime in the next week or two. It's not the product of obsession; I prefer to think of it merely as enthusiasm.
Reporting from Day-twah,
geo t.
Related posts:
2 Responses to "Mmm, Brut Rosé"