March 24th, 2016 |

Author:
George Heritier
We first heard about the Popelouchum Project during a talk given by Randall Grahm to the assembled group during his appearance at Cloverleaf Fine Wine and Craft Beer in Royal Oak last April. It sounded like the kind of off-the-wall endeavor that one might expect from Mr. Grahm and his wacky cohorts at Bonny Doon Vineyards; "the breeding of 10,000 new grape varieties, each genetically distinctive from one another – and blending them into a unique cuvée that the world has not tasted heretofore." The project is located at Bonny Doon's Popelouchum Estate in San Juan Bautista, California.
Not so very long after that, Bonny Doon announced that they had started an Indiegogo crowdfunding initiative, and Kim and I decided to make a financial contribution. A few months ago, we received our little perk for doing so in the form of 12 bottles of this very nice wine.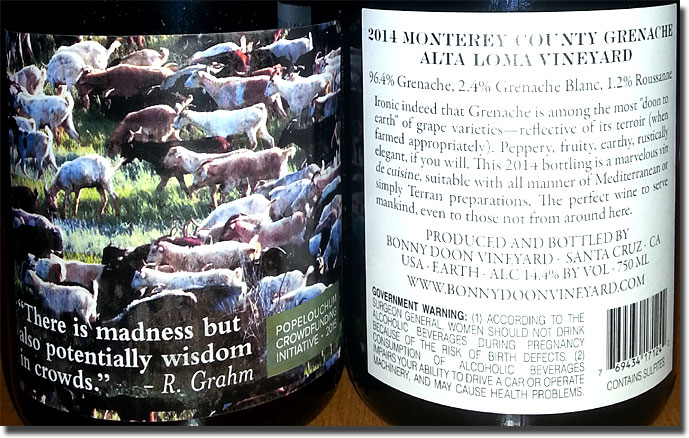 2014 Bonny Doon Monterey County Grenache Alta Loma Vineyard, 96.4% Grenache, 2.4% Grenache Blanc, 1.2% Roussanne, 14.4% alc.: Clean, dark color; not the most generous nose, but does give some earthy, tarry, peppery black plum and berry. Flavors echo with more fruit and more generosity, with the earth, tar, pepper and fruit all playing off each other nicely. Good weight, depth and structure here, and while it's more than drinkable now, it will develop and improve over at least the next five years or so. As you'd expect, this gets better with air, and the fruit turns "redder." Kim and I thoroughly enjoyed sipping on this, and I'm thinking of opening a couple more in the near term to get to know it better, then keeping hands off for a year or two to see just where it will go. Find this wine
Despite the fact that this wine is not for sale to the general public (there wasn't enough made to go further than rewarding contributors to the project), I have included a Winesearcher link in the event that some might turn up at an out-of-the-way secondary source somewhere down the road. You won't catch us flipping any of our bottles; however, if you catch us in a good mood during a visit to Gang Central, who knows, we might just twist a cap and share one with you.
Reporting from Day-twah,
Bastardo
Related posts:
One Response to "A Popelouchum Perk"