March 29th, 2016 |

Author:
George Heritier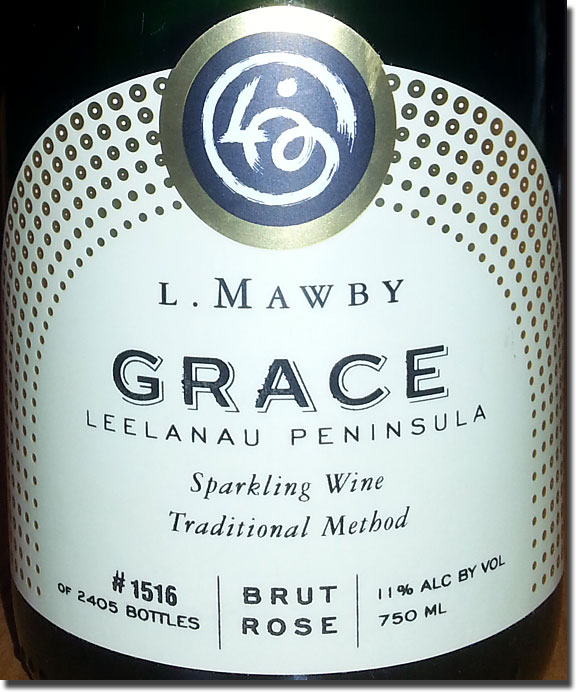 I need all the good grace I can get these days, so I was especially pleased to happen upon this little treat whilst leisurely sauntering through the wine department of Royal Oak's Holiday Market last week. I'm familiar with most of Mawby's delightful sparklers, but this was the first time I'd ever seen this particular model, so I just had to pick one up, bring it home, chill it down and pop the cork to see what it is all about. I'm pleased to report that it acquitted itself most admirably, and I have since been back for several more bottles.
L. Mawby Grace Leelanau Peninsula Brut Rosé NV Cuvee 221, en tirage April 2012, degorgement June 2015, 11% alc., $19.99: Pale salmon color, with a fine active bead and more than ample mousse; lots of yeasty bread dough (just the way I like it) in both flavor and aroma, with a slightly tart and decidedly appealing core of red and green apple and some cherry to boot. Medium-full bodied, with excellent acidity and good length, this is a satisfying glass of wine for a bubble-head such as myself, and worth every penny of the $19.99 price tag.
"Pinot noir grapes that are hand picked and carefully whole-cluster pressed. The juice is fermented in stainless steel tanks, then blended with reserve wines and fermented a second time in this bottle and aged en tirage before degorgement. At degorgement a small quantity of regent red wine is added." Find this wine
Every month is Michigan Wine Month.
Reporting from Day-twah,
Bastardo
Related posts: