Archive for February, 2013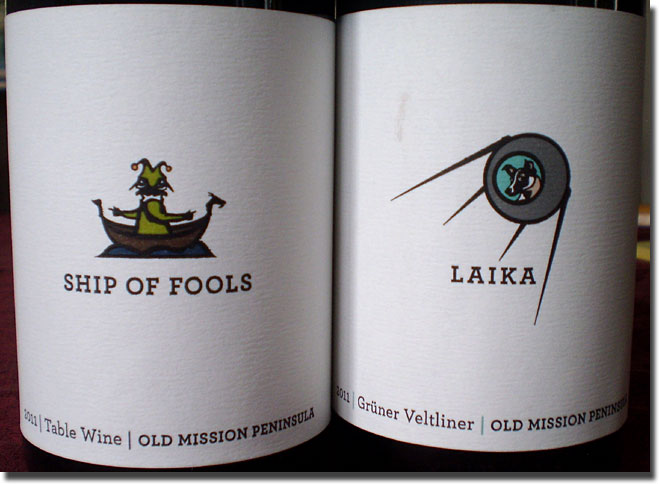 It's been a while since we checked in with the wines from our friends at Chateau Grand Traverse, so when I ran across a bottle of their Gruner Veltliner "Laika" recently, I had to find out how this project was progressing. I figured it was also a good opportunity to try the latest incarnation of an old favorite, CGT's Ship of Fools Pinot blend. Both of these tasty wines were made by Sean O'Keefe, and both employ Stelvin enclosures, which we keep liking more and more here at Adams, Heritier and Associates.
2011 Chateau Grand Traverse Gruner Veltliner "Laika" Old Mission Peninsula, 12.7% alc., $17: We first heard about CGT's Gruner Veltliner project from Sean O'Keefe when we interviewed him back in 2007. He had just planted the vines and was very anxious to see what kind of wines they could produce on the Old Mission Peninsula. This, the third vintage produced answers the question quite positively, if you ask Kim or this taster. It shows an ever-so-slightly hazy, medium straw color, and gives up appealing flavors and aromas of quince and under-ripe green apple, underscored with a chalky minerality that we both like. Bone dry, medium-to-medium-full bodied, with racy acidity and good length on the finish, this is a wine that really wants to be served with some freshly caught Michigan trout, walleye or even whitefish; it should pair well with baked or grilled chicken as well. It was fermented in stainless steel for eight weeks, and remained on the lees for another five months, to round out the mid-palate. We'll be most interested in seeing how this wine continues to develop with some time in the cellar, and how the CGT Gruner Veltliner progresses as the vines mature over the years. Given what we taste with this one, they're off to a great start up on OMC! Find this wine
2011 Chateau Grand Traverse White Table Wine Ship of Fools Old Mission Peninsula, 65% Pinot Blanc, 30% Pinot Gris, 5% Pinot Noir, 12.9% alc., $15: With clean, medium color, this one shows a bit riper fruit than "Laika," and that's just fine with us. It's like drinking a bowl of assorted, under-ripe apples, with a little grapefruit thrown in the mix and some mineral to keep its feet on the ground. Medium bodied and more, with excellent acidity and a nice, lingering finish, this one is every bit as lake-food friendly as the Gruner, maybe even more so. We've been fond of this bottling since we first tried it back on '07, and this one is as good as, if not better than, any vintage we've tasted so far. According to the good folks at CGT, "The goal for this blend is not to make an overtly "showy" wine, but rather to achieve the perfect proportions of a textured palate and balanced acidity to best accompany our Northern Michigan cuisine. Blanc for finesse, Gris for power and Noir for bouquet and ageability." We think that they've succeeded admirably in all regards! Find this wine
Reporting from Day-twah,
geo t.