Archive for the Alan Kerr Category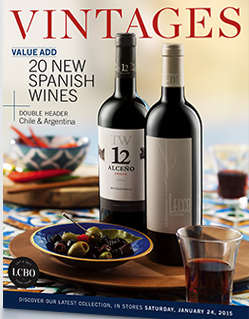 The wines of Spain take centre stage for the January 24th release. Spanish wines are usually fairly priced in the LCBO and many of these wines offer the consumer great wines at reasonable prices. Lots to buy so please read on……
Wines of Spain
392522 FINCA LOS ALIJARES GRACIANO 2009 Vino de la Tierra de Castilla $17.95
Very concentrated, laden with dark fruit, sweet rhubarb, caramel and nutmeg; plenty of blackcurrant flavours, with a touch of cherry, mineral, aggressive tannins and a touch of heat. Give it time. Find this wine
393140 DOMINIO DOSTARES ESTAY PRIETO PICUDO 2011 Vino de la Tierra de Castilla y León $15.95
Dark fruit, Fry's chocolate cream bar, a touch of mocha and mint; juicy plum flavours, earthy, great acidity and gentle tannins. Find this wine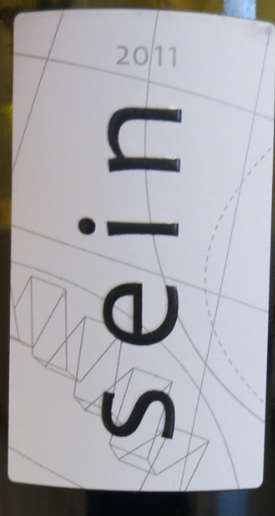 391896 VINESSENS SEIN 2011 Alicante $17.95
Sweet blackberry and currant, dark chocolate, thyme and Herbes de Provence; sweet chewy fruit, pings of anise and cardamom, good acidity and a decent finish. Find this wine
$17.95 SUEÑO TEMPRANILLO 2011 DO Ribera del Júcar $18.95
A lovely combination of blackberry, cherry and plum, mostly fruit focused nose, but the touch of lavender is pleasing; luscious chewy palate, good structure, some spice and mocha cream on the finish. Find this wine
392993 MACHO MAN MONASTRELL 2012 Jumilla $18.95
Chunky and clumsy, jammy black fruit, sweet oak and sandalwood; low acidity, sweet chewy texture, little hint of spice and an overly sweet finish. Find this wine
398685 BURÓ DE PEÑALOSA CRIANZA 2009 Ribera del Duero $23.95
A forceful mix of French and American oak, plenty of dark fruit, blueberry, tar, fresh flowers and coal dust; nicely balanced palate, some anise and bay leaf and a touch of heat on the finish, but overall a very good wine. Find this wine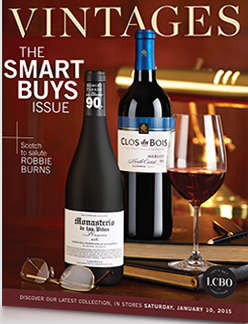 It's January, things are a little less hectic, the holiday haste is done and life is supposedly back to some sense of normality. Cellars tend to get depleted over the jovial season and if that is the case, one can stock up with a few of the wines from Vintages "Smart Buys" release.
WINES OF THE MONTH
256693 CONCHA Y TORO SERIE RIBERAS GRAN RESERVA CABERNET SAUVIGNON 2012 Marchigue, Central Valley, Chile $17.95
Blasts out aromas of Cassis, Ribena, polished wood, Asian spice, anise and bay leaf; strange soapy/cardamom taste, dark fruit does come through, with good structure and gentle tannins. Find this wine
657411 VIÑA REAL PLATA CRIANZA 2010 Rioja, Spain $18.95
Lots of mocha, dried flowers, black raspberry, bitter chocolate, black tea, and forest floor, but a musty note interrupts. Good chewy dark fruit, but the musty note hits on the finish. A bad bottle perhaps. Find this wine
SMART BUYS LISTINGS
234518 LAMADRID SINGLE VINEYARD RESERVA CABERNET SAUVIGNON 2012 Agrelo, Mendoza, Argentina $15.95
Very tight; some sweet spice, red fruit and raspberry start to show, light palate, with some currant flavours and low tannins. Just a simple wine. Find this wine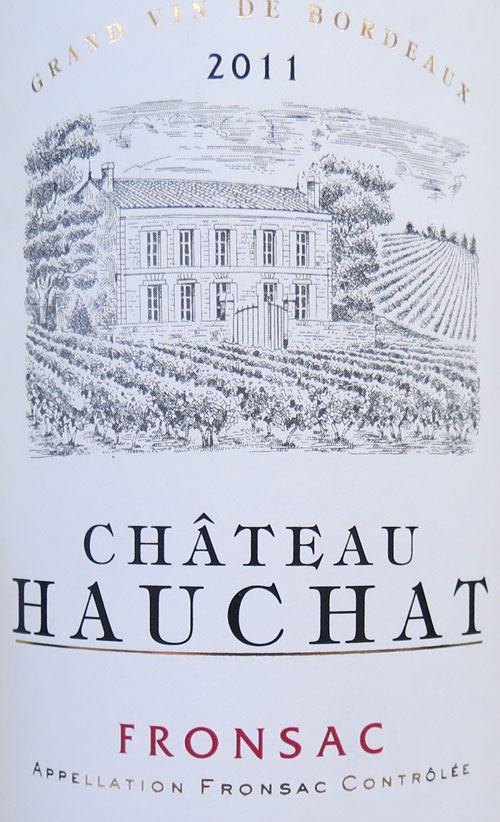 123489 CHÂTEAU HAUCHAT 2011 AC Fronsac, Bordeaux, France $15.95
Mushroom and a little earthy beet, with plenty of ripe dark plum fruit; low acid palate, where blackcurrant shines, with some grip and spice on finish. Find this wine
395053 12 E MEZZO PRIMITIVO DEL SALENTO 2012 Puglia, Italy $13.95
Juicy dark fruit, cough candy medicinal notes, black sweet licorice, dusty, pleasing sweet berry flavours; good acidity, a little cloying on finish. Find this wine
124883 CLOS DU BOIS MERLOT 2012 North Coast, California $16.95
Dark with some mineral notes, black cherry, chocolate shavings; palate shows black raspberry and dark fruit. Simple structure, gentle tannins. Find this wine
171025 PUIG-PARAHY CUVÉE GEORGES 2011 Côtes du Roussillon, Midi, France $16.95
Maltesers, creamy coffee crisp bar, Asian spice, tar and black fruit. The disappointing palate shows light in comparison to its nose; dark fruit is there, but pales and the finish is rather light. Find this wine
395236 LAFAGE CÔTÉ SUD 2012 Côtes Catalanes, Roussillon, France $14.95
60% Syrah and 40% Grenache, showing lovely floral aromas; layers of dark fruit and tar, blackberry and currant flavours are ripe and chewy, with a silky texture sweet spice on the finish. Find this wine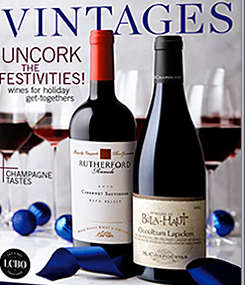 I am happy to write that this release is full of some very good wines at more affordable prices than the previous two I reported on. Rarely do we see good quality Beaujolais in this part of the world, but there are a couple that caught my interest and several Spanish wines show particularly well too. There is only a single release this month, but it is a big one, thus there will be a lot of wines on the shelf to sort through. Notes are brief, but to the point. Please read on, buy some good stuff for your stockings and have a great holiday season.
WINES FROM THE UNCORK THE FESTIVITIES RELEASE
130195 13TH STREET SANDSTONE GAMAY NOIR 2011 Niagara Peninsula $29.95
Lots of dried currant, licorice root, elderberry, dark cherry and a tar/smoky note, with good concentration and acidity; plum and red currant flavours, toffee and pure fruit on finish with a touch of peppery spice. Find this wine
276477 GEORGES DUBŒUF DOMAINE MONT CHAVY MORGON 2013 $21.95
Ripe, full of damson, sweet plum , pepper, a lovely hit of flowers and some juicy plum. Quite a fleshy palate, some tannins, but non offensive. Find this wine
643239 DOMAINE DE BILA-HAUT OCCULTUM LAPIDEM 2012 Côtes de Roussillon-Villages $24.95
A bold fruit driven wine, showing blueberry, blackberry, red licorice and sweet oak; the palate has a chewy texture, tight, creamy, silky tannins. A complex fruit bomb. Find this wine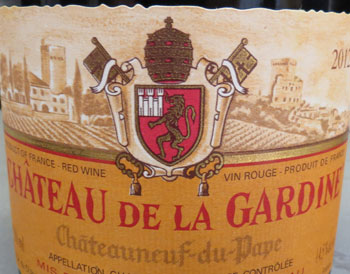 298612 CHÂTEAU DE LA GARDINE CHÂTEAUNEUF-DU-PAPE 2012 $39.95
Plenty of sweet spice, cigar leaf, barnyard, Dutch licorice and pure blackberry aromas. Chunky and creamy palate, a little disjointed now, but acids are perfect, tannins and serious, as is the level of fruit. Not to be rushed, needs much time. Find this wine
658351 CANTINE DUE PALME PRIMITIVO 2012 Salento $15.95
Sweet, zinberry aromas, black toffee, tar, maple syrup and blueberry; juicy and spicy, fruit laden great acidity and lovely creamy chocolate on the finish. Note to self-buy lots. Find this wine
388678 CASTELLO DI SPALTENNA CHIANTI CLASSICO 2011 $19.95
Earthy, eggshell aromas, raisins coffee grounds, balsa, solid red fruit, some plum and cherry aromas. Plenty of fruit on the palate, a note of anise and dried cherry on finish. Find this wine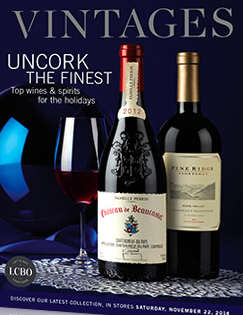 Yet another high end release is on the books for this Saturday's Vintages "Uncork The Finest". This coupled with the amount of snow in the area means it must be Christmas after all. Several good to very good wines, but the board was in a bit of Scrooge mood as they were not as generous with the amount of wines sent for tasting as they were for the last release.
315200 HENRY OF PELHAM CUVÉE CATHARINE CARTE BLANCHE ESTATE BLANC DE BLANC 2009 Traditional Method, Short Hills Bench, Niagara Peninsula, Ontario $44.95
Not presented at the tasting, but having the good fortune to taste this on a recent visit to the winery I can say to anyone wanting to pop a bottle of domestic bubby for the New Year, this will not disappoint. It has all the yeasty, straw and toasty aromas of a fine quality Champagne. The palate is dry, has superb acidity, with plenty of pear, mineral and bready flavours. Find this wine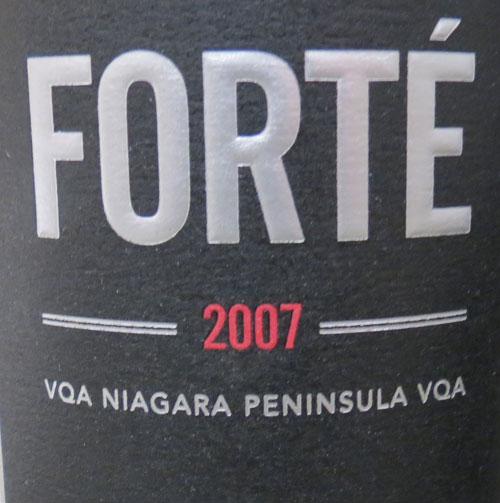 361758 UNION FORTÉ 2007 Niagara Peninsula, Ontario 500 mL $16.95
One of a couple of Port style wines up for grabs and this is really quite tasty. It oozes aromas of sweet plum, black toffee, sweet cherry and apple skin. It is a Tawny style wine made from a blend of Cabernet and Merlot from the region's excellent vintage of 2007. It's chewy on a palate and benefits from the explosion of blueberry fruit, and creamy dark toffee texture. Find this wine
548677 MASI CAMPOLONGO DI TORBE AMARONE DELLA VALPOLICELLA CLASSICO 2007 Veneto, $101.95
Quite lovely, enticing aromas of marzipan, chocolate egg, cardamom, root beer, mocha and cappuccino abound. Quite dense on the palate, great fruit flavours, slightly sweeter than its cousin below, with damson, blackberry and plum, somewhat spicy, finishing with dried blueberry and dusty tannins. Find this wine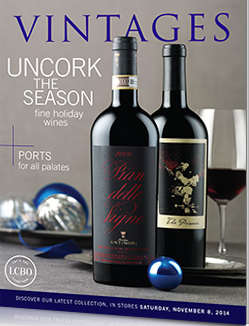 Tis the season to be jolly and Vintages is releasing some of their finest in the annual "Uncork the Season" release. As always there are good wines and not so good wines. Hopefully I can take the guess work out of some of them for you.
A selection of my opinions from the "Uncork" release.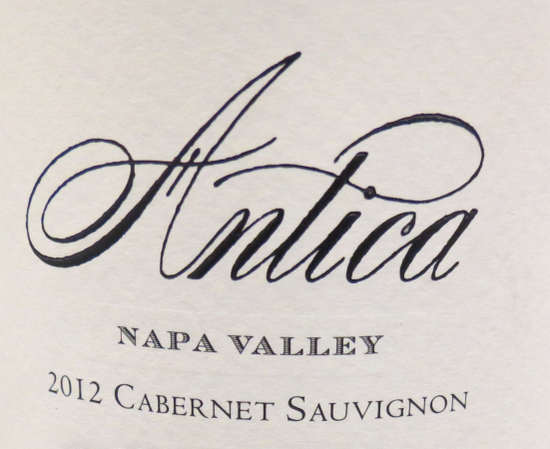 266551 ANTICA CABERNET SAUVIGNON 2012 Atlas Peak District, Napa Valley $53.95
Brimming with bursts of red jelly candy, cocoa, dried blackcurrant, licorice, tree bark, clove, anise and tar with luscious chewy fruit, featuring blueberry, plum and a touch of chocolate, well balanced, but firm tannins suggest time. Find this wine
652883 BELLE GLOS CLARK & TELEPHONE VINEYARD PINOT NOIR 2013 Santa Maria Valley, Santa Barbara County $44.95
Aromas of ripe red fruit, damson, black raspberry, rose petal, creamy cappuccino, Fry's cholate cream and cheap dollar store style sweet licorice. The palate is forceful, punching out blackberry and Asian spice flavours to no end. Great wine, but, fans of silky fined tuned Pinot beware, this is the anti-Christ of Pinots. Find this wine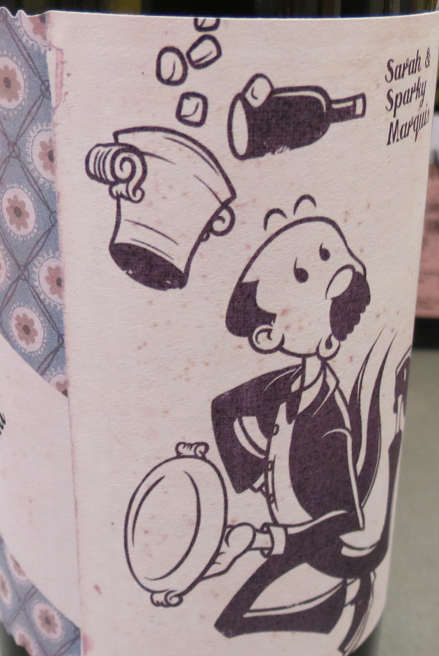 246629 MOLLYDOOKER THE MAITRE D' CABERNET SAUVIGNON 2013 McLaren Vale, South Australia $29.95 $29.95
I must confess to not enjoying Australian wines as much as I used to, but if they were all made like this, I would be a born again Ozzie- ite. This is a monster, but a gentle giant that oozes with aromas of iron, currant, mineral, dusty pine and eucalyptus. Its palate is powerful, but impeccably balanced, boasting flavours of currant, blackberry, Moroccan spice and Mocha. Think this is good; wait until the next release for my notes on its way bigger and brawny brother. Find this wine
104299 THE PRISONER 2012 Napa Valley $49.95
Murky, showing notes of dried leaves, hazelnut, sweet oak and dark red fruit, this vintage is toned down from last year's rendition, but the sweetness and the 15 plus level of alcohol both make their way to the surface . The blend of 46% Zinfandel, 22% Cabernet Sauvignon, 18% Petite Sirah, 12% Syrah, and a small amount of Charbono could be a fun wine to drink, but sadly the palate is globby and chewy with a finish of candy syrup and heat. Find this wine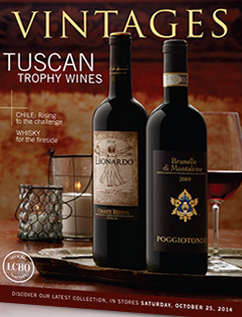 Tuscan wines are the feature this release and I can state there are good quality wines to be found at both ends of the pricing structure. Not too many other wines to report on as little else was sent to sample. There is a Chilean sub release, but my palate was done after tasting these big Tuscan beauts.
378257 BANFI BRUNELLO DI MONTALCINO 2009 $59.95
An enticing nose built of black raspberry, berry, dark caramel, espresso, polished wood and treacle. The palate has other ideas about drinkability though, it is tight, showing a little red fruit, bay leaf, sweet spice and plenty of gripping tannin on the finish. Find this wine
315150 CASTELLO D'ALBOLA RISERVA CHIANTI CLASSICO 2008 $22.95
Some pretty aromas of perfumed black fruit, thyme, cherry, tree bark and cigar leaf; sadly a little lean on the palate, tannins are dusty, but non aggressive. Find this wine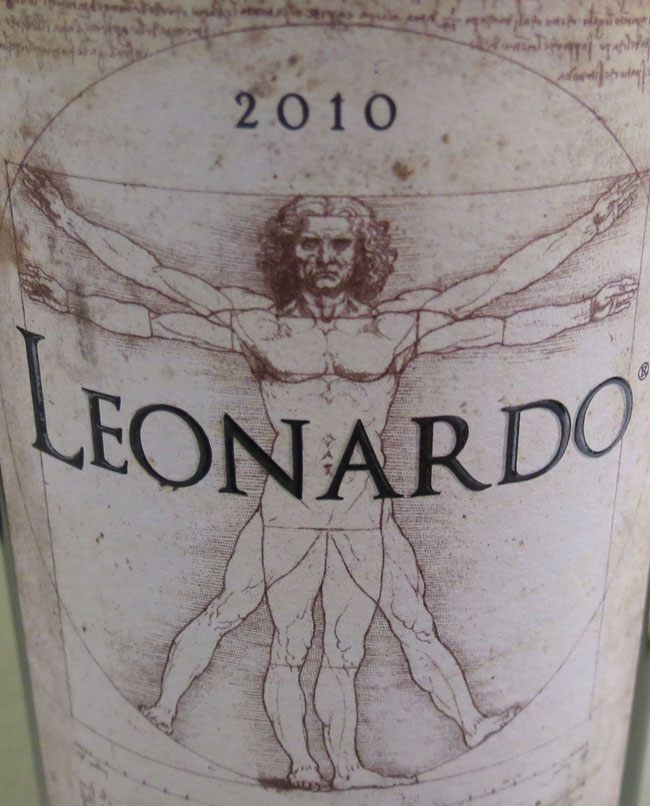 164707 LEONARDO CHIANTI RISERVA 2010 $19.95
Quite intense and stimulating, with a smoky/bacon note backed up with clove, plum, dried fruit and cave air. Fruit on the palate is quite dense showing off dark cherry and plummy flavours that render a decent wine for the price. Find this wine
222810 ROCCA DI CASTAGNOLI CHIANTI CLASSICO 2011 $17.00
A nice perfumed nose with heaps of plum, blackberry, fresh flowers and sweet spice leading to a slightly sweetish palate, but nonetheless, it has good solid dark fruit, gentle tannin and a soft texture. It is a tasty and nicely balanced wine. Find this wine
943670 AVIGNONESI VINO NOBILE DI MONTEPULCIANO 2011 $35.95
Laden with sweet fruit aromas, black cherry and fig take centre stage, but are supported well by notes of cured meat, Asian spice box and black tea. Chewy and ripe, the palate is full of flavours of damson, cherry and chocolate; there are some assertive tannins, but no bitterness whatsoever. Give this a couple of years and it will be a stunner. Find this wine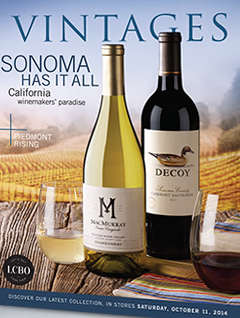 It has been awhile since I was able to get to Vintages pre-release tasting and I was so pumped to attend the latest one, as Sonoma is the feature and wines from my favourite part of California have long held a special place in my heart. There is a secondary release of Piedmontese wines that is another region I have great memories of, and much to my delight, the board sent most of the red wines from both. Please read on.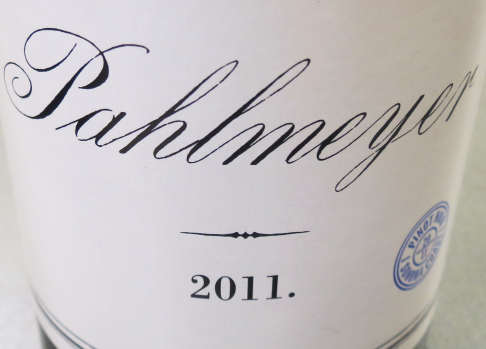 148536 PAHLMEYER PINOT NOIR 2011 Sonoma Coast $100.95
Sonoma Coast produces some of the silkiest and sensational Pinot in Sonoma and this is no exception. It starts out showing plenty of sexy red fruit combined with Dutch licorice, dates, coffee cream and creamy caramel. The palate is laden with plum and dark cherry, and has perfect balance, showing the right amount of sweetness and gentle, but supportive tannins. Find this wine
215210 FLOWERS SONOMA COAST CHARDONNAY 2012 Sonoma Coast $64.95
Beautifully crafted, showing cooler climate traits of Chardonnay, with layer of after layer of guava, citrus, mineral and pear. Oak is deftly administered; the acids are pristine and refreshing, the finish is sublime. Find this wine
982413 RIDGE LYTTON SPRINGS 2012 Dry Creek Valley, Sonoma County $52.95
Dark and deceitful, the noses allures one with aromas of warm brambleberry pie, Fry's chocolate cream bar, blueberry, dried cherry, iron and mineral. All is great, but the fun stops here as the palate is almost backward, dusty and forceful, the fruit is there, but the tannins have serious grip, suggesting cellar time will bring the wonders of this wine onto the playing field. Find this wine
203208 FRANCIS FORD COPPOLA DIRECTOR'S CUT ZINFANDEL 2011 Dry Creek Valley, Sonoma County $32.95
Not being a fan of Coppola's wine I am happy to find pleasing aromas of mocha, tobacco, dark currant, raspberry, underbrush and plenty of peppery spice. It carries a solid fruit laden palate with good acidity and a sound finish. Find this wine

Read the rest of this entry »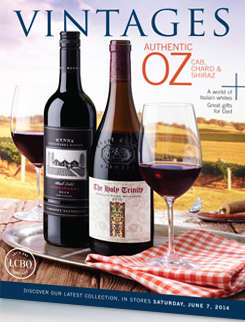 Australia is the principal feature of the June 7th release. I must confess to not buying a lot from down under recently, but there are a couple of tasty treats to be found.
675223 KILIKANOON KILLERMAN'S RUN CABERNET SAUVIGNON 2012 Clare Valley, South Australia $19.95
A little tight at first, but eventually it releases some dark fruit, cassis and mocha aromas, palate is tight too, but as it opens it leans towards being rather one dimensional focusing on currant and dark fruit. Find this wine
084996 WYNNS COONAWARRA ESTATE BLACK LABEL CABERNET SAUVIGNON 2010 Coonawarra, South Australia $27.95
Back in the days before the LCBO slapped their ridiculously high "Provincial Liquor fee" tariff on wines brought across the border, I used to buy this wine at Century Liquor in Rochester New York for about six bucks a bottle and I would bring back a case at a time paying a pittance on duties at the border. That was a while ago and the price has obviously increased since then, in fact it is now about $35.00 south of the border, making the asking price in the LCBO a great deal. It is so focused, the solid core of blackcurrant, polished leather, mint, eucalyptus and freshly ground black pepper is amazing. A big lift on the palate, laden with blackcurrant, cedar, chalky tannins, but well balanced, clean acidity and a long fruit focused finish. Find this wine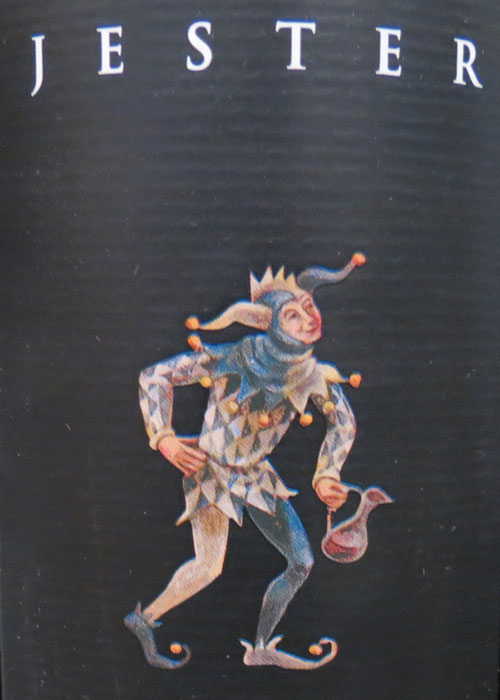 043224 MITOLO JESTER CABERNET SAUVIGNON 2012 McLaren Vale, South Australia $22.95
Quite stellar aromas of wet earth, chalk, leather, mineral and layers of dried dark fruits, lovely mix of currant and dark cherry on the palate, mixing nicely with milk chocolate, black raspberry to a finish with good length and structure. Find this wine
327395 DOMAINE TOURNON MATHILDA SHIRAZ 2011 Victoria $19.95
Black toffee, cedar, dried mushroom, tomato, bay leaf and red fruit roll up, a little chunky on the palate, lots of red fruit and a candy like sweetness on the finish. Another 94 point wine from Mr. P, so this will sell quickly. Find this wine
367425 HASELGROVE FIRST CUT SHIRAZ 2010 McLaren Vale, South Australia $18.95
Dusty and earthy, with layers of sweet dark fruit, vanilla, its palate has a sweet syrupy texture, there is plenty of acidity to balance, but it remains little jammy on the finish. Find this wine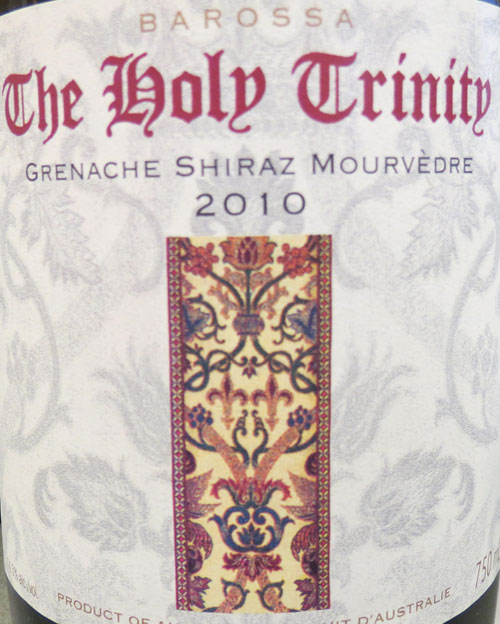 236257 GRANT BURGE THE HOLY TRINITY GRENACHE/SHIRAZ/MOURVÈDRE 2010 Barossa, South Australia $29.95
Tree bark, forest floor, pure velvety black fruit lead to a palate that is viscous, has tingly red currant flavours bound with caramel, Asian spice and red licorice. Find this wine
290874 DOMAINE TERLATO & CHAPOUTIER LIEU DIT MALAKOFF SHIRAZ 2011 Pyrenees, Victoria $55.95
Funky and full of such oddities as damp soil, coconut shell, wet fur, shitake mushroom, rosemary, thyme, barnyard straw and mocha and a little dark fruit. Structurally, the palate is lean and surprisingly light, showing cherry and plum that disappears quickly on the finish. Robert P bestowed 95 points to this wine, maybe I am missing something, but I tasted twice with similar notes. Find this wine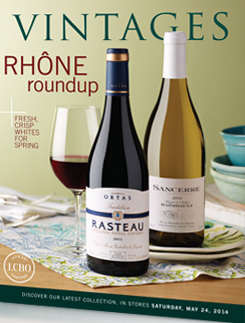 Fans of wines from the Cotes Du Rhone will be very happy on May 24th especially folks, like myself, that love great quality wines at reasonable prices. The board sent most of the red wines slotted for the release, made me happy, so read on, free up your credit cards and head to the store because you won't be disappointed.
370189 CHÂTEAU SAINT ESTÈVE D'UCHAUX MASSIF D'UCHAUX CÔTES DU RHONE VILLAGES $18.95
A beautiful nose laden with Christmas cake spice, coal dust and smoke, backed up with dark cherry, dark fruit and treacle. Super silky blueberry fruit and dried strawberry on the palate, very good concentration and good length on the finish. Find this wine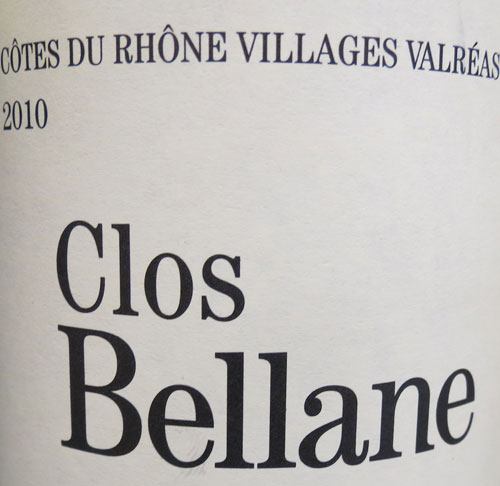 374991 CLOS BELLANE CÔTES DU RHÔNE-VILLAGES VALRÉAS 2010 $19.95
An interesting blend of cedar, smoked meat, Nori and dried cherry, showing super fruit flavours of redcurrant, raspberry and blackberry on the palate all bound with milky chocolate and clean acidity. Find this wine
374983 DOMAINE COURTOIS LA GRANGE VINSOBRES 2011 $20.95
Heady aromas of black raspberry, sweet smoke, Asian spice and a whiff of mandarin peel, solid structure on the palate featuring damson and plum, black tea and a hefty layer of bitter chocolate tannin. A wine soon to be very good, but needs a little time to do so. Find this wine
374280 DOMAINE DE LA VALÉRIANE VIEILLES VIGNES CÔTES DU RHÔNE 2012 $17.95
Very ripe, projecting aromas of tar, blueberry, black pepper grounds, dried mushroom and briar, quite smooth and round on the palate showing black cherry and currant flavours controlled by a gentle layer of tannin. Find this wine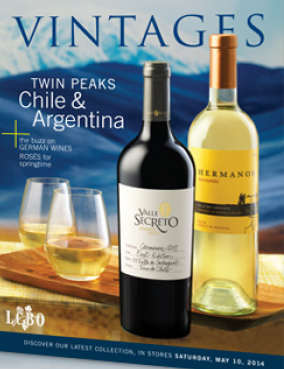 I do not have a lot to report on for this release. Believe it or not, my notes on the wines of Chile and Argentina, the feature of the release for May 10th, are M.I.A. While driving home from the tasting, the weather cleared and the sun came out. Thus I opened my windows and instantly my notes started to fly around the car and by the time I reacted, a couple of pages exited my vehicle and by now are in tatters somewhere on Highway 401. Therefore, here are the notes from the rest of the release.
145920 MARCHESI DE' FRESCOBALDI TENUTA DI CASTIGLIONI 2011 Tuscany $21.95
An inky enticing blend of moss, black licorice, treacle and blackberry aromas with an initial firm structure of tannin on the palate, but black cherry, currant and sweet blueberry flavours shine through. Perfect acidity, well balanced, just needs time. Find this wine
326710 LIRICA PRIMITIVO DI MANDURIA 2007, Puglia $18.95
Dark chocolate infused with black raspberry with a touch of mocha, pressed flowers and black pepper. Lovely flavourful palate, showing bright and fleshy flavours of blackberry, raspberry, lavender, cake spice and mellow tannins. A pleasing touch of sweetness on the finish along with a medicinal candy note, plus this wine is from the 2007 vintages, which indicates some bottle aging, rendering this very drinkable now. Find this wine
317313 CASALE DELLO SPARVIERO CHIANTI CLASSICO RISERVA 2010, Tuscany $19.95
Lots of aromas featuring dried cherry, underbrush, coffee grounds, prune and dark bitter chocolate lead to a mostly fruit focused palate of blackberry, damson, cherry and currant. Simple clean finish, balanced acids and minimal tannins. Find this wine
166512 VALDEMAR INSPIRACIÓN SELECCIÓN 2010, Rioja $17.00
I enjoy writing about a wine costing $17.00 that offers so much drinking pleasure at such a young age, but that also has potential to get even better with a couple of years in slumber. A dark fruit focused wine displaying great depth of black currant, black cherry, Dutch salty licorice and ground pepper. The palate hits with a whack of Ribena, dark chocolate infused with cherry liqueur, perfect acidity with a blackcurrant focused finish enhanced with mineral. Find this wine
287961 OSCAR'S ESTATE VINEYARD SHIRAZ/VIOGNIER 2011 Barossa Valley, South Australia $17.95
Sawdust, wet earth, violets, blackcurrant, Middle Eastern sweet spice and milk chocolate. Its palate is solid with plenty of dark fruit, a touch of tamarind, clean acidity and gentle tannins. Find this wine
097220 TORBRECK THE STEADING 2009 Barossa Valley, South Australia $53.95
A bit of a clumsy powerhouse right now, its nose is almost Port like, brimming with dark chocolate, blueberry, tar and candy floss. There is lively acidity, it is laden with chunky dark fruit, sweet toffee and has a finish of Fry's chocolate cream. Tannins are silky, but solid, however, this will be quite the wine given time, but nonetheless it's tasty albeit disjointed right now. Find this wine
948992 HEDGES CELLARS CMS 2011 Columbia Valley, Washington $19.95
A blend of Cabernet Sauvignon, Merlot and Syrah boasting aromas of dark fruit, chocolate covered raisins, Coffee Crisp candy bar, bacon/smoked meat and wet soil. It is a meaty wine, well balanced; the dark fruit shows well, a touch of pepper and spice lead to a clean and well balanced finish. Find this wine
951889 IRONSTONE OLD VINE ZINFANDEL 2012 Lodi $17.00
I like the crushed blackberry, blueberry, sweet cherry, black tea, lavender and linalool aromas. It is highly extracted, but no excessive heat, solid dark fruit flavours, some peppery spice, dusty blueberry, bubble gum and dried raspberry. Find this wine
186171 DECOY CABERNET SAUVIGNON 2012 Sonoma County $33.95
Duckhorn's second wine displays lots of dusty warm dark fruit, a little nutshell and plenty of mineral notes on the nose. A solid palate, with currant and raspberry, nice clean acidity, dusty chocolate tannins and spicy finish. Find this wine
That's it!
Cheers
CZ