Archive for the Alan Kerr Category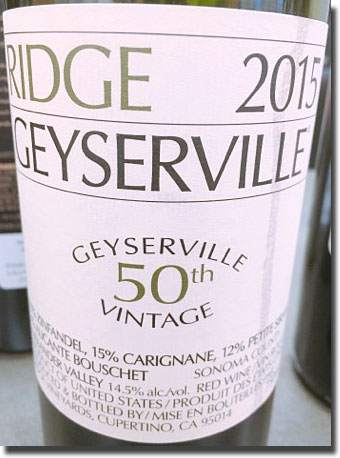 Sometimes it is good to be wrong.
I recently posted notes on Ridge's 2015 Geyserville Zinfandel blend and gave a not-so-favourable review. However, I did note that I thought the wine was possibly flawed. Geyserville and I have had a long time relationship and none consumed prior have ever tasted like this bottle did. The 2015 vintage celebrates fifty years of this coveted melange. Ridge's first zinfandels came from the Monte Bello vineyards in Santa Cruz in the early sixties, while Geyserville wines date back to 1966. What magic Paul Draper administered with this wine stills shows through the capable hands of Eric Baugher. Baugher is the current winemaker who deftly constructs the wines at the Monte Bello winery as well as the Geyserville wine.
My non-favourable notes were spotted by someone at Rogers and Company, Ridge's importer in Ontario. The company subsequently contacted me to inquire if I would like to taste another bottle! How nice and of course a no brainer. These are my thoughts on said new bottle.
723072 RIDGE GEYSERVILLE, Fiftieth Anniversary Bottling, 2015, Sonoma, California. $64.95
Immediately after the cork is removed, the luscious draper perfume oozes from the bottle. It's a densely coloured wine, inky in the centre and ruby at the edge. Aromas of Black raspberry, blackberry, plum and Cassis appear backed up by hints of Dutch licorice, tar, Cardamom, slate, sawdust, walnut shells, leather and pepper.
It is full bodied on the palate, layers of super sweet dark ripe fruit, perfectly balanced, the acidity tames the sweetness. Notes of couverture chocolate meld with the fruit, and there's minerality too. The finish has a lovely lift of acidity, plenty of dark fruit with a layer of blueberry coulis and silky tannins. Although this is enjoyable now, history has proven these wines need decades to show their best and this rendition will be in among the best. Find this wine
Cheers
CZ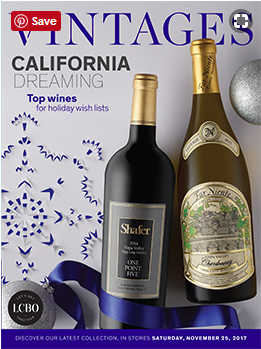 On November 25th, the shelves of Vintages will see an influx of the hierarchy of Californian wines and just in time for Christmas to boot. Having had the chance to try a few of them I can report that they are mostly good to exceptional, but the expense will be overwhelming for many.
936039 SILVER OAK CABERNET SAUVIGNON 2012 Napa Valley$184.95
A medium weight Cabernet blended with 10% merlot, 7% cab franc, and 3% petit verdot, showing a spicy nose of peppery vanilla and oak. Nice blackcurrant aromas along with mint, blackberry, sandalwood and biscuit. Soft and creamy on the palate, with some tannins, but not as weighty when compared to previous vintages, especially on the finish. Find this wine
142844 STAGS' LEAP ESTATE THE LEAP CABERNET SAUVIGNON 2013 Stags Leap District, Napa Valley $99.95
An incredibly bold wine full of aromatics, mineral and fruit, showing plum, blackcurrant, dark chocolate, dusty soil and Dutch licorice. Pure fruit hits the palate; it's meaty, fleshy, but well balanced. Although it tasty now, there is tannin that suggests that years down the road this will be a winner for those with patience. Find this wine
711663 CAYMUS SPECIAL SELECTION CABERNET SAUVIGNON 2014 Napa Valley $199.95
Whiffs of Moroccan spice, dark cherry, sweet vanilla, blackberry, blueberry and cherry cola are intriguing. With time in the glass it also shows a tarry note with milk chocolate and mocha. Voluptuous texture, a fruit bomb with class. Lot of silky tannin and a sweet fruity vanilla finish. Find this wine
Read the rest of this entry »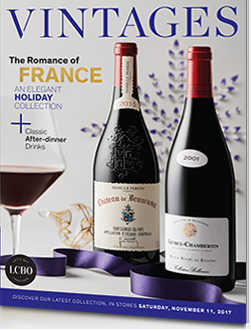 It seems so long since I was able to get to London to taste. Happy to say, for the November 11th Vintages release, I was able to taste a few of the wines due to hit the shelf on Saturday.
France
566844 FAMILLE PERRIN LES CORNUDS VINSOBRES, Rhone Valley 2015 $17.95
A mix of dark fruit, stewed plum, dark bitter chocolate and peppery spice. Quite chewy, some dusty tannin, nicely balanced and a decent finish. Good value. A year or two should prove this as a worthy investment. Find this wine
682617 CHÂTEAU LA GARDE 2010, Pessac Leognan, Bordeaux $51.95
Layers of violet, Dutch licorice, some earthy/mineral notes combine with those of black cherry and raspberry. Still youthful, but drinking nicely, with plenty of sweet fruit and juicy acidity. Find this wine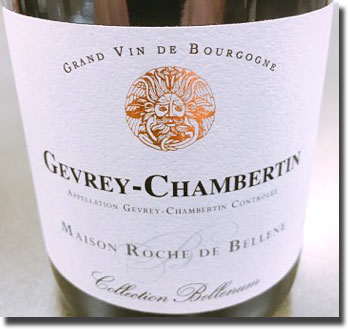 514257 MAISON ROCHE DE BELLENE COLLECTION BELLENUM PETITE CHAPELLE GEVREY CHAMBERTIN 1ER CRU 2001 106.95
This is a rich and sexy Pinot that still flaunts a garnet robe. It offers up aromas of red fruit, plum, Moroccan spice and dried herbs. The texture is smooth and silky, with a mix of plum, damson and sweet spice. Some tannins still, but time in a decanter will allow this wine to show even better. Not cheap, but compared to US prices, this is a steal! Find this wine
711317 CHÂTEAU DE BEAUCASTEL CHÂTEAUNEUF-DU-PAPE 2015 $89.95
The blend is 30% Grenache, 30% Mourvèdre, 10% Counoise, 10% Syrah, 5% Cinsault and 5% "other" varieties. Already it is developing complexity on the nose. Hints of cassis, mineral, coal dust, smoked meat and lavender all blend together creating an enticing aroma. The tannins are ripe, and the lovely flavours offer dark cherry, damson and plum, with dusty cocoa powder on the finish. Should age superbly well and again, well priced compared to the US market. Find this wine
132415 CHÂTEAU BOUSCASSÉ VIEILLES VIGNES MADIRAN 2006 38.95
Black and brooding, this is a tannic monster. Notes of ink, cured meats, dried mushrooms and floral aromas. The palate is very tight and overwhelmed by very aggressive tannins. A potentially interesting wine indeed, that will need plenty of time to show its best, if it ever does. Find this wine
USA
479055 FRANCIS FORD COPPOLA DIAMOND COLLECTION CLARET 2015 Sonoma County $29.95
A crowd pleaser, with simple tones of currant, plum, sweet spice and smoked meat. A little fleshy on the palate, and quite sweet especially on the finish. Find this wine
524223 PURPLE COWBOY TRAIL BOSS CABERNET SAUVIGNON 2015 Paso Robles $24.95
Plum, cherry cola, oak, cedar, tar, sweet spice and blueberry with very fresh almost jam like aromas. Sweet and globby on the palate, simply not for me. Find this wine
Cheers,
CZ
Save
Save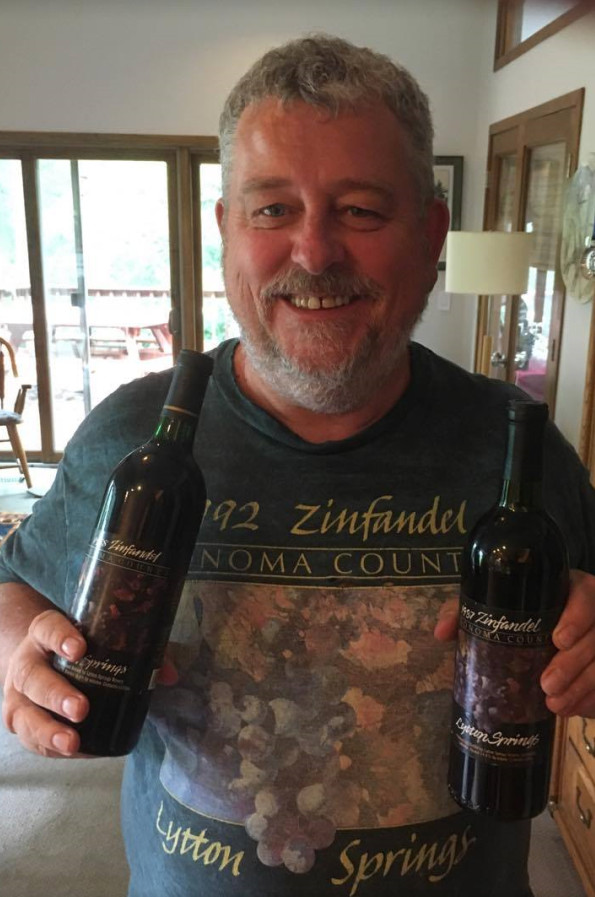 (Editor's note: On Saturday, July 22nd, our friends Joel Goldberg and Michael Schafer staged an amazing Zinfandel tasting at Chez Goldberg that Kim and I would have loved to have attended. Sadly, due to previously scheduled engagements, we couldn't be there, but our partner in crime, Alan Kerr aka Canadian Zinfan had the date open, and has dutifully filed the following report.)  Click images to enlarge.
"I love blush wines too," is an answer I commonly hear when I proclaim Zinfandel is one of my favourite varietals. Or, "Yeah, Zins are tasty, but they don't age well." Well as it turns out, thanks to the courtesy and kindness of both Joel Goldberg and Michael Schafer, I was able to taste some fabulously aged Zins, none of which had anything to blush about, and with the exception of one, were all really exemplary examples of how super tasty and age worthy this grape can be. I have deciphered some of my scribblings of the wines I tasted and here are my thoughts.
ZINFEST 2017: A Gold/Schaf Production
TABLE #1: ZINTO THE ABYSS
1986 Ravenswood Canard:
I have never heard of this Vineyard, but the resulting wine has lots of tomato and red fruit aromas, a solid palate with notes of plum, chocolate and some dusty tannins.
Find this wine1989 Topolos Rossi Ranch:
Mineral, parsley stems, plum, blueberry, cherry and leather all come together nicely and are holding up very well.
Find this wine
1993 Marietta Angeli Cuvee: Sweet spice and caramel, plenty of toasty oak; tasty, but the fruit is fading slightly. Find this wine
1995 Marietta Angeli Cuvee: Layers of youthful fruit featuring black fruit, black raspberry, some chocolate and a long creamy finish. Find this wine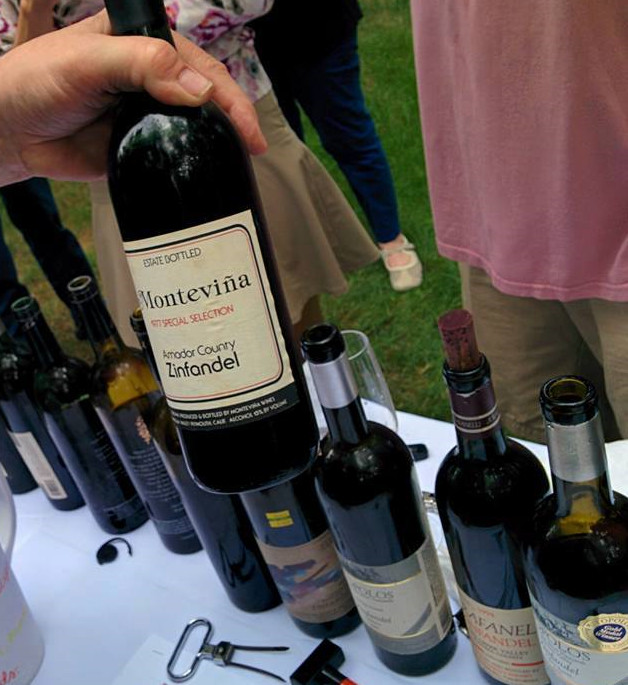 2000 Marietta Angeli Cuvee: Metallic and mineral aromas, massive tiers of fig, plum, black raspberry and black cherry. The finish is fruit driven and still showing plenty of tannins and spice. Find this wine
1993 Gary Farrell Collins Vineyard: A blast of pepper and stewed fruit balanced by clean acidity, but starting to fade on the finish. Find this wine
1993 Topolos Ultimo: Even though the colour is light, there are gutsy flavours of red cherry, blueberry, cake spice and forest floor. Nice brambly fruit on the palate, a solid finish and showing very well. Find this wine
1994 A. Rafanelli: Sadly corked. Find this wine
1995 Topolos Pagani Ranch: Wow, what a treat! An amazing blend of Asian spice, mineral, slate, licorice Allsorts, mint, mocha and a whack of dark fruit. It could live on for a few more years. Well done. Find this wine
Read the rest of this entry »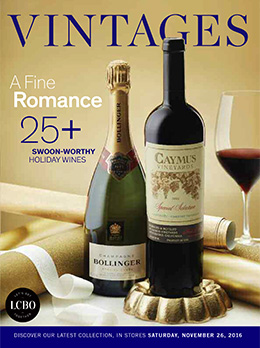 The onslaught of premium wines continues with this release showcasing more great wines from California, Italy and Australia. As with the last release, there are several wines priced for those with lower budgets so everyone should be happy. Niagara reds wines from the 2012 vintage are making their way to the shelves. After tasting a couple, I believe it is going to show it is clearly a benchmark vintage. Please read on…
ONTARIO

131037 STRATUS RED 2012 Niagara-on-the-Lake $44.20
A brilliant and skillfully crafted wine from Stratus that offers both power and elegance. The blend of 29% Cabernet Sauvignon, 26% Merlot, 26% Cabernet Franc, 13% Petit Verdot, 3% Malbec, and 3% Tannat is brimming with sweet cherry, blackcurrant, plum, Asian spice, star anise, vanilla and coal dust. It has a solid structure and is showing some peppery tannin. The texture is velvety texture, it has fine-tuned acidity and great length. Find this wine

142638 STRATUS PETIT VERDOT 2012 Niagara-on-the-Lake $38.20
Super ripeness, showing lovely dark fruit, blueberry, damson, mineral, clay and floral notes. Way more tannic than its sister red, but super concentration of fruit and again, perfectly balanced acidity. This is a serious wine that will be best laid down and forgotten about for a number of years. Find this wine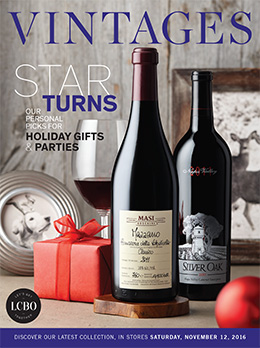 November's release always brings the big boys to the front line in readiness for Christmas and the holidays. Those looking for some special bottles, a simple stocking stuffer or a much-needed post-election drink/drinks, will have plenty to choose from. These are a few notes on some of the many splendid wines on offer that I was able to taste.
ONTARIO
505610 HIDDEN BENCH TERROIR CACHÉ MERITAGE 2012 Beamsville Bench, Niagara Escarpment $38.00
2012 was a stellar growing season for Niagara Meritage grapes and given the high-level sorting standards at Hidden Bench; one should expect wine from this vintage to be outstanding. This bottle exudes aromas of blackberry confit, blueberry, currant and vanilla backed with layers of mineral, leather and forest floor. On the palate, the texture is silky, despite the tannins that do their best to impede immediate enjoyment. It is intense, the acidity is lively, red and dark fruits go crazy, and the finish is long with a hint of cherry liqueur. Find this wine
127324 THE FOREIGN AFFAIR CABERNET SAUVIGNON 2012 Niagara Peninsula $39.95
Interesting notes of blackcurrant cordial, dark fudge, dark rum, brown sugar, cedar and bacon. Plum and blackcurrant are complimented by streaks of vanilla and chocolate. The Appassimento process used by Foreign Affair, when producing their wines, does leave the finish a trifle sweet, but no overly so. Find this wine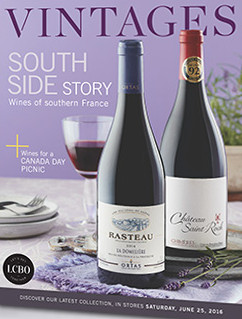 South Side Story; the wines of Southern France are the feature of the June 25th release and it's Canada day on July 1st. Thus there are a few (some exceptional I might add) wines from both Niagara and British Colombia up to toast the holiday.
Wines of the month.
450155 TAPIZ ALTA COLLECTION MALBEC 2013 Mendoza, Argentina $19.95: Pure essence of blackcurrant with support from the likes of black raspberry, blueberry and Dutch licorice. Juicy and ripe; the palate is creamy, echoing the fruit that runs all the way to the long and well balanced finish. Find this wine

325076 CAVES D'ESCLANS WHISPERING ANGEL ROSÉ 2015 Côtes de Provence, France $26.95: Lovely aromas of bright strawberry, citrus, white tree fruit and mineral. Dry styled, plenty of red fruit and nectarine flavours with enough acidity to keep it in tune. Find this wine

SOUTH SIDE STORY WINES

177584 DOMAINE LES YEUSES LES EPICES SYRAH 2013 Pays d'Oc, Midi $15.95: Very fruit forward at first, but with some encouragement, aromas of cave air and wet forest floor appear. Ribena streaks across the palate, and some cherry notes are present as well. It has good structure, nice blackcurrant acidity and enough tannin to hold it for a year or two. Find this wine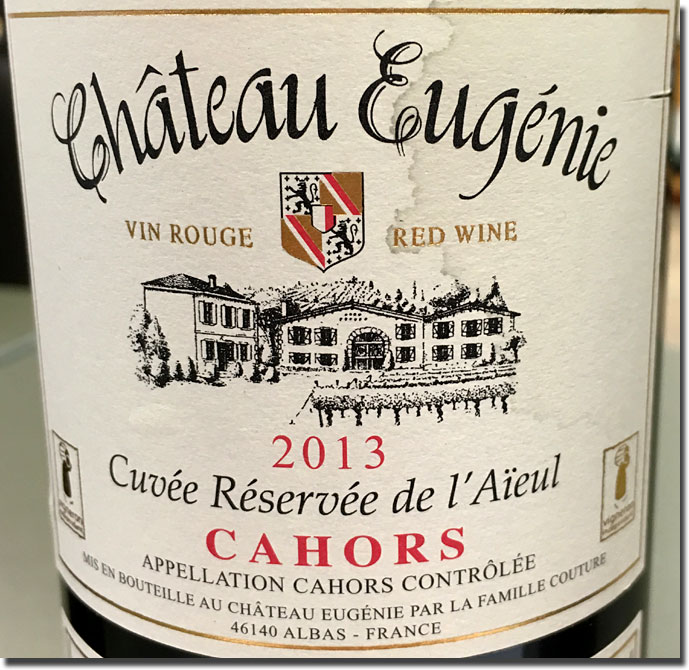 295949 CHATEAU EUGENIE CUVEE RESERVEE DE L AIEUL CAHORS 2013 $22.95: Black toffee with dirt, dust, mocha, plum, blackberry, clove and star anise. The palate has a creamy texture, filled with mocha, plum and dark fruit. There are tannins to deal with too, but give it time, it will be tasty. Find this wine

446138 DOMAINE DE L'ALBA L'ERMITE 2013 Corbieres, Midi $17.00: Little if any fruit on the nose. Instead it shows off tree bark, sweet black licorice, wet earth and a strange metallic note. However, the palate is different; it has plenty of juicy plum and sweet cherry flavours, while the earthy side still shows its presence. Acidity is clean and the finish has all the fruit plus a helping of Christmas cake spice. Find this wine

712174 MAS DES BRESSADES LES VIGNES DE MON PURE CABERNET/SYRAH 2013 Vin de Pays du Gard, Midi $21.95: Blackberry takes centre stage and is supported well by a cast of both Szechwan and black pepper, charcoal, damp soil and mineral. It is ripe, the fruit is a powerhouse, but acids are low, the texture is globby and heat on the finish is discernable. Find this wine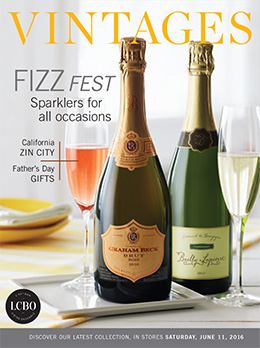 California Zinfandel has been an addiction of mine for many years; thus I was excited to see Zinfandel being the focus of this coming release at Vintages, due to hit the shelves this coming Saturday June 11th. Sadly there are no new Zins being showcased here and other than the Lytton Springs from Ridge and the Sonoma Zin from Seghesio, there is little to warrant setting an early alarm to be the first in line to shop.
Zinfandel is produced across California in a variety of styles. Some emphasize a softer more elegant character while others can have alcohol levels that can spiral out of control. Balance is the key here and when in tune, a powerhouse Zinfandel can be out of this world. Please read on to get my take on a few of them.
396168 CA' MOMI ZINFANDEL 2014 Napa Valley $22.95: Sweet and overpowering at first, but tree blossoms, tar, dried berry and lavender start to show. A pleasing mix of tart cranberry and sweet cherry hit the palate followed by a touch of chocolate and dusty tannin. Find this wine
942151 SEGHESIO ZINFANDEL 2014 Sonoma County $29.95: Full of fleshy ripe blackberry and dark cherry fruit enhanced by notes of mint, cake spice, black pepper, coal dust and Xmas pudding. Super concentration on the palate, it is chewy, the fruit is lively, there are teasing's of sweet black licorice and dusty cocoa. Tannins are discernible, but early decanting will help to soften. My pick of the release. Find this wine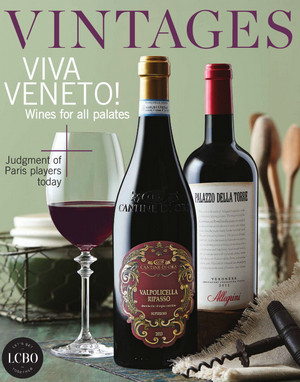 Hello, here are some notes on several of the wines being released on Saturday May 28th. The release features wines from the "Viva Veneto" and there are some solid Californian wines in the secondary release, the "Judgement Call".
The latter is honouring the wine tasting of 1976 known as the Judgment of Paris. A wine competition organized on 24 May 1976 by Steven Spurrier, who, at the time was a wine merchant in the city.
French judges carried out two blind tasting comparisons: one of first rate Chardonnay from California and Burgundy and the other, red wines from Bordeaux and Cabernet Sauvignon from California.
Much to their dismay and disbelief, the Californian wines rated best in each category. This was unheard of back then as France was regarded as being the foremost producer of the world's premium wines.
The American vintners beating the French at their own game is akin to Leicester City wining the EPL. That too was an achievement that most footie fans would have believed impossible.
The repercussions of the Paris Tasting were far-reaching as it seriously raised interest levels for California's wines in both domestic and international markets. And furthermore, The Judgement of Paris happens to be this year's theme for the twenty fifth anniversary picnic of MoCool. The date for this extemporary event is August 13th and sign up information is soon to be released. This release showcases current wines from some of the original players who put California onto the world wine map.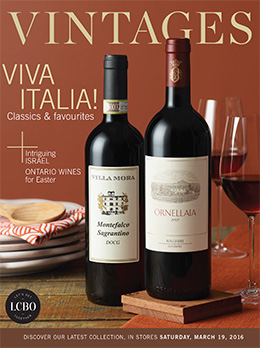 Italy is split up into twenty principal wine regions with each one producing many diverse and alluring wines. Italy's vineyards are home to some two thousand grape varieties, but for the most part, the countries more popular wines are made from Sangiovese, Barbera, Nebbiolo and Montepulciano. However, more recently French varieties such as Cabernet Sauvignon, Merlot and Chardonnay have found themselves at home in Italian vineyards. "Viva Italia" will put some of these captivating wines onto the shelves for the March 19th Vintages release. Also featured are some unique wines from Israel in the "Passover Perfect" segment that are worth exploring.
324160 NOZZOLE CHIANTI CLASSICO RISERVA 2011 Tuscany $19.95
Dusty with lots of cave air, sweet red fruit, strawberry, dried shitake and cinnamon aromas. Quite chewy on the palate, where redcurrant comes forth, with cocoa and mocha on the finish. Find this wine
722470 ORNELLAIA 2012 Bolgheri Superiore, Tuscany $195.95
Not much has changed since I last reviewed this wine in November of 2015. It is still very tight, but it is showing more dark fruit, the violet aroma is more pronounced and mineral and slate aromas are abundant. Plum, blackcurrant and blackberry liqueur appear on the palate, but the prickly tannins seem to propagate the longer the wine sits in the glass. It is still chewy, laden with dark berries, dusty chocolate and pure goodness. A long way from being even remotely ready to drink though. Find this wine
396382 ZACCAGNINI DAL TRALCETTO MONTEPULCIANO D'ABRUZZO 2013 Abruzzo $19.95
Blueberry and blackberry aromas combine nicely with hints of caramel, nougat, sweet spice and coffee grounds. The palate carries some sweetness, and the caramel and stewed fruit flavours are interesting. A touch of chocolate on the finish. Find this wine