May 8th, 2014 |

Author:
George Heritier
My first experience with the wines of Chateau Virgile, located in Costiere de Nimes, was back in the spring of 2009, when I tasted that estate's white from the 2006 vintage with the US importer, Patrick Allen, of United Estates Wine Imports, Ltd. We liked it so well that we blew through all we could find in short order, and didn't get a chance to try anything else from them until September of 2010, when I happened upon their 2008 rosé; it was good, but not as good as the blanc, so we didn't buy as much, and didn't give it any more thought until I ran into Patrick again, this time, at a Rhône trade tasting put on by our friends at AHD Vintners this past February.
Patrick is every bit as affable and informative as he was five years ago, and once again, everything from his portfolio that he was pouring was excellent. The two from Virgile were the ones that really caught my attention, both for their tasty demeanor and their excellent QPR (Quality-Price-Ratio). We liked them so much, that we picked up a half-case of each. Here are my impressions of each, starting with the 2012 rosé, which I'm pleased to report is much more to our liking that the '08 model.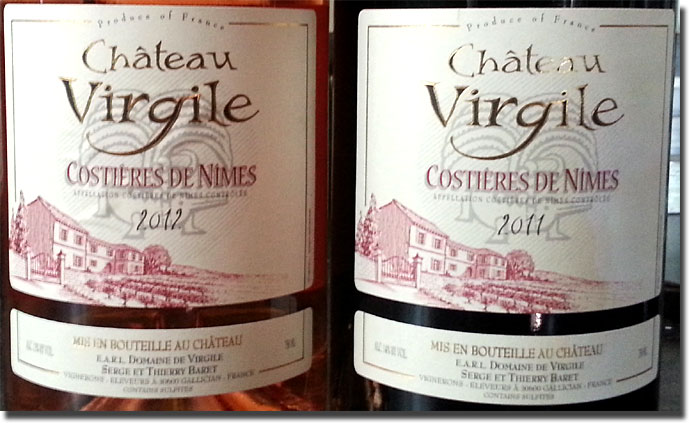 2012 Chateau Virgile Costiere de Nimes Rosé, 90% Grenache, 10% Syrah, 13% alc., $11.99: Pale salmon pink in color, with a stony watermelon/strawberry personality; neither fruit nor mineral dominate the other, but, rather, integrate beautifully in the greater whole of the wine. Medium-to-medium-full-bodied, with ample acids, this is one that perhaps you have to be careful with, because, as Kim points out, "It goes down so easy, you want to keep going back for more." We both like this one a lot, and yes, we'll be going back for more. Find this wine
If we've had a red from Chateau Virgile before, I can't remember it, nor can I find any notes to that effect, so I'm pretty sure this is the first one, and what a solid effort it is!
2011 Chateau Virgile Costiere de Nimes Rouge, 60% Syrah, 30% Grenache, 10% Mourvèdre, 14% alc., $12.99: Opaque purple garnet in color, with a mineral-driven black plum nose shaded with a bit of the barnyard and some raw meat; rich, earthy flavors of black plums, berries and currants, underscored with a note of iron, and, again, a certain meaty quality. As it opens with air, a hint of chocolate emerges, but not like that of too many new world atrocities. Full bodied and structured for several years in the cellar; tannins clamp down some on the finish. This is approachable now, with extended air and/or some grilled red meats, but after drinking three of these over the first week and a half that we had them, I put the other three down, and I'll try to hold off on the next one for a good three years or so to see where they are at. Find this wine
Imported by United Estates Wine Imports, Ltd., Columbus, OH
Reporting from Day-twah,
geo t.
Related posts: