These days, I don't do as many big tastings as I used to. I'm not engaged in wine retail on a daily basis, so I don't have to be as up-to-the-minute on all the latest releases as I once was, and, frankly, I just don't like spitting. From the very beginning, Gang of Pour's motto has been "Nunquam Spuemus," faux-Latin for "never spit," and while I fully understand the importance of expectoration at these events, it just doesn't spit…, I mean sit well with me.
Furthermore, when I do attend one of these events, after a certain point, something like "palate fatigue" sets in. It's not that my buds stop working, exactly, it's more a case of simply getting tired of tasting multiple selections on the fly over a period of a few hours, so more often than not, I simply say "No thanks," stay home and play music.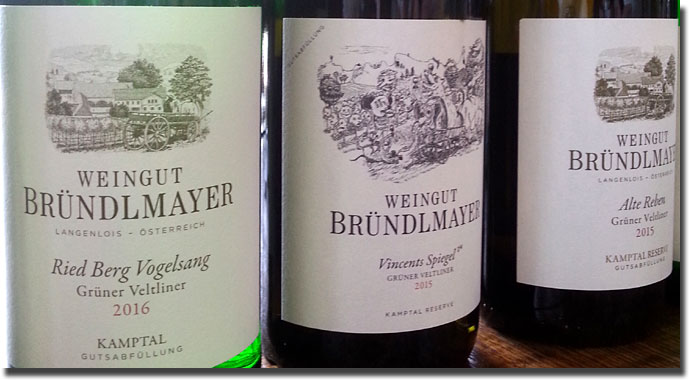 Every once in a while, however, something comes along that's just too good to miss, kind of like when one of my very favorite bands, Elephant Revival, blew in to play Otus Supply in Ferndale a few months ago. If these folks come anywhere near where we live, I'm there to hear them, because they're just so good.
Such was the case last week, when the Terry Theise Estate Selections 2017 Fall Offering was held at, how about that, Otus Supply in Ferndale! Theise is a wine author and a leading importer of high quality wines from Germany, Austria and Champagne. In previous years, one had to travel to Chicago for this event, so a lot of his local fans and followers were really pleased to have this opportunity to try the latest offerings much closer to home. I heard about this tasting from my friends Kimberly Hartnett Bricker of Imperial Beverage and Western Market's Jarred Gild, and after giving it just a little consideration, I decided this was one that was not to be missed. I've had just enough experience with wines from the Theise portfolio to have a good idea of what was going to be poured, and the venue offered a great setting for this walk-around.

(As a brief aside, I should mention that Otus Supply has become our new favorite restaurant in the greater Day-twah area. We've been there four times for dinner in the past few months, and the food is always top-notch. The wine list is small, but focused, the excellent craft beer selection is rather larger, rotating on a regular basis, and while I don't do cocktails, I have it on good authority that they have that area covered really well too. They also have the very cool ongoing music series that brought in the aforementioned Elephant Revival, so these folks are doing a lot of things right.)
My intention was to not even try and taste through everything being poured, but rather, to try some very specific selections from certain producers and look for a few surprises as well. As it turned out, that was the perfect plan for my two-hour investment, and yes, I spit everything I tasted. Pretty much…
All prices given are based on presale listings, with standard markup from my retail days. Your mileage may vary. I've also taken the liberty of using Theise's own comments about producers and individual wines to flesh out this report. (I love his use of musical analogies to describe some of the wines.) I decided to start with a German sparkler, then move on to some Austrian wines. My notes and impressions are necessarily brief, because of time limitations and the number of selections tasted.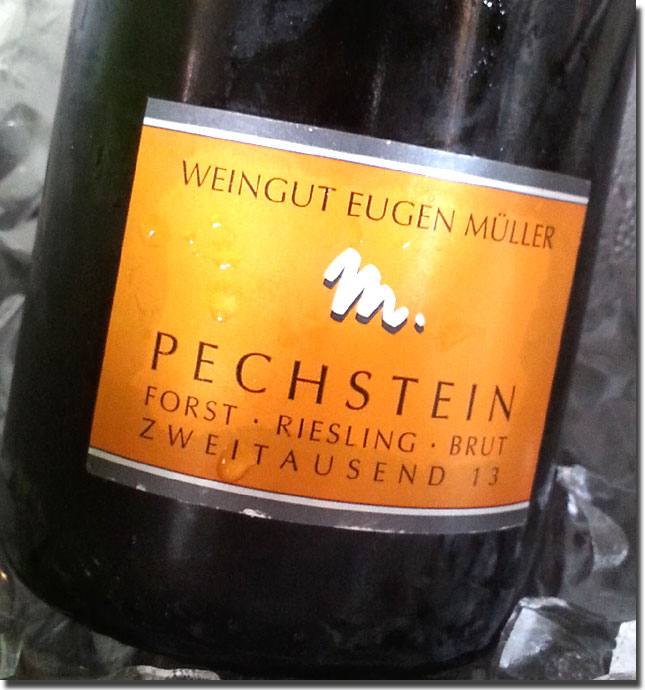 2013 Eugen Müller Sekt, Forster Pechstein Riesling Brut, $28.99: Crisp, rich and lively; nice depth and good underlying mineral. I could drink this on a regular basis. Find this wine
TT: Müller is an old-school German estate selling mostly to a base of private customers, and to local taverns and restaurants. They aren't "trendy." But the current proprietor Stefan Müller's father, Kurt, was also cellar master at a venerable Forst estate, long out of business (but whose wines I sold in my early days) called Wilhelm Spindler, and when the old gentleman died his widow leased the best vineyards to Kurt as a reward for his service and loyalty.
It helps to have truly exceptional land. And when you find a grower like this, you can score terroir-saturated wines of impeccable aristocracy, yet the prices are most gentle and the folks are super down to earth.
We are familiar with HuM Hofer thanks to a delightful Grüner Veltliner sold here in liter bottles, so I jumped at the opportunity to try this one, which Theise describes as "the best wine Hofer has ever made."
2015 HuM Hofer Grüner Veltliner Kirchlissen, $25.99: Mineral and citrus on the nose; rich, round and fairly ripe in the mouth, with green apple, citrus and mineral flavors. Good acids and length. Find this wine
TT: Auersthal is just barely beyond Vienna's northern suburbs, in a dead-still little wine village. It's rather odd to drive there and see lots of wee little oil derricks, but such little oil as Austria produces comes from these parts, deep below the löss. I had either forgotten or had never known the estate was organic; they belong to a group called Bio-Ernte which has standards above the EU guidelines. In speech, by the way, "bio" is pronounced to rhyme with "B.O." which can lead to some drollery as you hear references to "B.O. wine" unless, unlike me, you have left behind your adolescence.
The vineyards lie in a rain-shadow and have to endure hot summers. In fact Hofer plants his Riesling in a fog-pocket as he gets so little rain. The wines are pressed conventionally (no whole-cluster) with skin contact, and all whites are done in stainless steel.
I've tried a few wines from Ott with Jarred Gild in the past, and while I liked them, I wasn't in note-taking mode at that time.
2016 Ott Gemischter Satz, $26.99: More than subtle floral hints on the nose; "yummy," according to the taster across the table from me. Crisp, with pretty fruit dosed with underlying mineral, making for a perfect summer wine.
TT: …mostly Ott's own fruit plus some (organic) fruit he buys from colleagues whose vineyards are worked and harvested by Ott's team. Find this wine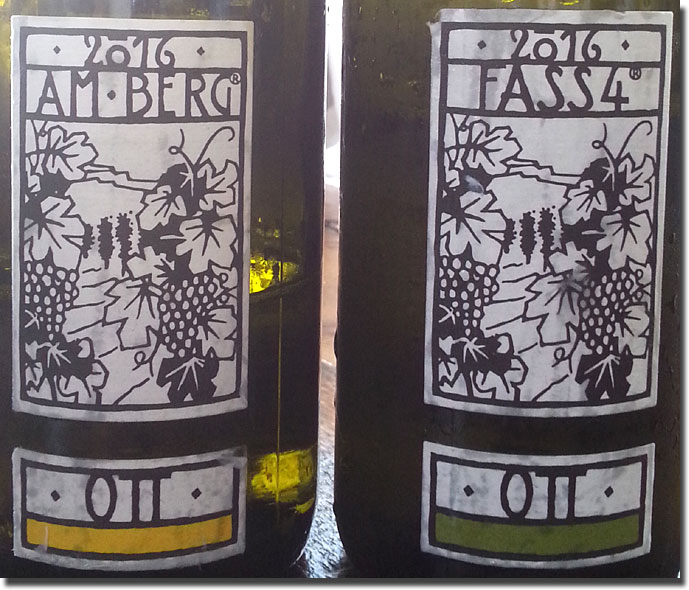 2016 Ott Grüner Veltliner "Am Berg," $21.00: More floral than mineral on the nose, but the mineral takes over on the palate, with plenty of fruit filling it all out. Very nice, with balanced acids, good length and excellent QPR (quality/price ratio).
TT: As before it's mostly Ott's own fruit plus some (organic) fruit he buys from colleagues whose vineyards are worked and harvested by Ott's team. Find this wine
2016 Ott Grüner Veltliner "Fass 4," $28.99: Mineral-driven nose leads to more of the same in the mouth, with a solid core of green apple and citrus fruit; an obvious big step up from the "Am Berg."
TT: This is considered by Ott to be his first "serious" GV for the table, and it is masterly in 2016. Find this wine
TT: Bernhard Ott's wines join the wines of Heidi Schröck, Ludwig Hiedler and Nikolaihof (in this portfolio at least) as being what I call "analog," that is, marked by a certain warmth in contrast to the chiseled surgical clarity of other kinds of wines. Analog wines take longer to understand because they're not explaining everything to you. They articulate in different ways. You need to let them build up over several years before they accumulate into a narrative you can repeat. In the interim you call them "rich" or creamy" or, in Ott's case, corpulent, capacious and generous. Dionysian, not Apollonian.
Being with Bernhard at his estate in Feuersbrunn is a little like being with the Saahs' at Nikolaihof, in that it isn't just another "winery-visit," but rather an immersion into an entire environment that has a larger context than you expected, seeming to encompass not only the human world, but all of the world. You're invited to participate, not only to observe, and certainly not only to act as an audience. Instead you walk into a family's vision of life, a microcosm of the world they desire and have made for themselves.
Having had some experience with three of Willi Bründlmayer's entry level wines, I wasn't about to miss trying some of his better stuff, starting with two excellent sparklers.
Bründlmayer Sekt Brut, N.V., $46.99: Crisp and intense, with lots of fine, bubbly action; bone dry and decidedly dee-lish.
TT: 2013 base, it's CH-PBlanc-PGris-GV; the closest to a "Champagne aroma" among these. Find this wine
Bründlmayer Sekt Brut Rosé, N.V., $46.99: Even more impressive than the Brut, but then, I am a sucker for rosé, with the Pinot Noir component being very apparent.
TT: Deg. 12/2016, base vintage 2014. Find this wine
2016 Bründlmayer Grüner Veltliner Ried Berg Vogelsang, $32.99: Crisp, intense and bone dry; very mineral-driven and really tasty.
TT: This '16 is as fine a wine as I've ever tasted from Vogelsang. Find this wine
2015 Bründlmayer Grüner Veltliner "Vincent's Spiegel," $76.99: Almost flinty on the nose, an impression which follows through on the palate with great intensity, zippy acids and very good length. Serious stuff here, made from reserve late harvest grapes that see some French oak, according to the member of the winemaking team who was pouring these. Not exactly what I'd call good QPR, but then, it isn't meant to be.
TT: The flat vineyard is basically gravels over a loess bedrock, tending to give solid stony wines. Find this wine
2016 Bründlmayer Riesling Ried Zöbinger Heiligenstein, $41.99: Mineral-driven nose, with big, rich, stony Riesling character. Lively acids and very good length.
TT: The entry to a lofty world of greatness, this "basic" wine from a truly great Riesling vineyard. (It's sort of like going to the best concert ever but sitting in the back…) In any case, I buy it for my own cellar and find all that I need for rejoicing. Find this wine
2016 Bründlmayer Riesling Ried Zöbinger Heiligenstein "Lyra," price not listed.: Not quite as expressive on the nose as the Ried Zöbinger Heiligenstein, but the flavors are another matter entirely. A little less mineral-driven, but offering a rich core of pure Riesling fruit. Damned good!
TT: A special cuvée from only lyre-trained vines, showing in Willi's words that "You don't need old vines to give great Riesling." He adds, "The greater leaf surface gives increased photosynthesis, protects the grapes, and besides, it looks like the vine is throwing its arms up toward the sun. Find this wine
TT: I often talk about things like "class" and "timbre" when I write about Bründlmayer.
Class is indefinable. It bears upon a certain simplicity, but it isn't simple. It feels effortless but it isn't. It's richly satisfying but it's hard to say why. It may seem to have little to do with the reasons you buy this wine and not the other one, or with what you choose to drink, but at last you stumble upon it and find you can't resist any more. Class will give you pleasure deeper than joy or amusement.

Timbre is the way an instrument sounds, or more accurately, the way a given player makes it sound. The great players seem to release an almost fluid sonorousness from an instrument. It purrs for them. I often receive this image spontaneously when I taste Willi's wines. And I think if you put these things together you arrive at elegance, which is another wine-word you can't deconstruct. When you taste them, you'll find you respond from the richest aspect of your temperament, or else you'll barely respond at all. These wines won't put on a show for you, but they will deliver a calm grace and a genial loveliness.
I had never heard of Setzer previous to this, but since I was trying a bunch of Grüner Veltliner…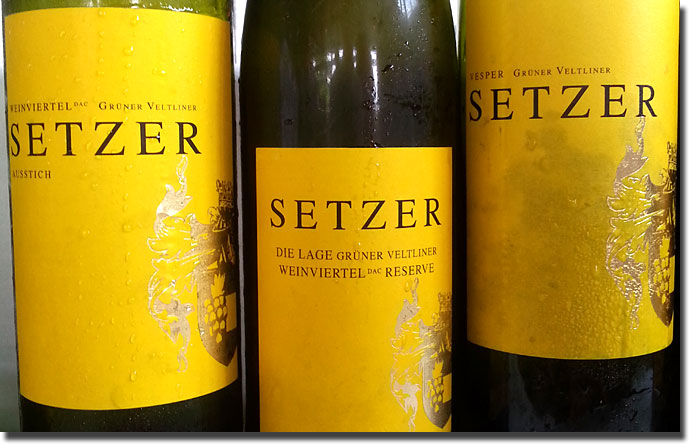 2016 Setzer Grüner Veltliner "Ausstich" (DAC), $19.99: One of the paler wines poured on this occasion, but by no means lacking in distinctive character, all green apple, citrus and white pepper; ample acidity here, but round in the mouth, and not too "sharp," for lack of a better term. Very harmonious.
TT: This for me is Setzer at their best. Not, mind you, invariably the "best" wine, but the one that best expresses the welcoming charming spirit of the domain. And again, if I (or anyone) wanted to use just one wine to demonstrate why Grüner Veltliner belongs among the classics of the wine world, I'd take this one and say—"Here is the variety in a normal, unexceptional form; medium weight, nothing too showy, just pure flavor and typicity. Find this wine
2016 Setzer Grüner Veltliner "Die Lage," $36.99: Fruit, mineral and floral notes play off each other nicely on the nose, with the fruit stepping it up in the flavors. Delightful stuff.
TT: In most years this is Setzer's best GV. Hans will not agree, because he is faithful to his big-boy the "8000," but I find that wine, not always but often, to be too musclebound, whereas this one is always intense but graceful and balanced. It is also the most mineral wine in the collection. Find this wine
2016 Setzer Grüner Veltliner "Vesper," $17.99: Stony on the nose, and all river rocks and citrus in the mouth, with lively acids and excellent length. Perhaps inexplicably, I'm reminded of a fast moving river; great QPR! Find this wine
TT: Hans and Uli Setzer are a husband-wife team of wine-school grads maintaining a winery imbued with intelligence and purpose.
Though Setzer was a discovery for me, the estate is conspicuously successful, exporting to three continents and showing up on many of the top wine lists inside Austria, not to mention being a sort of house-estate for the Vienna Symphoniker orchestra.
At this point, I was almost "tasted out," but wanted to try a few German wines before taking my leave. My old partner-in-crime, Putnam Weekley, suggested the following small producer.
2016 A.J. Adam Riesling Trocken, $$23.99: Dry, but full of rich Riesling fruit, with not-too-subtle mineral underneath.
TT: All steel, just 10.5% alc (yay!) without chaptalization; dark slate and marjoram; it's good and juicy but still a wine for real drydrinkers, albeit there's intricacy and balance in its particular frequency. Find this wine
2016 A.J. Adam Dhroner Riesling Trocken, $33.99: Floral hints on the attractive nose; richer and a little riper than I might have expected, and happily so.
TT: 50-50 steel-cask; a fine classic '16, nice fluff of cask, and (yet) again what was brash and vulgar in the Zalto was creamier in the Riedel—simply nicer to drink. The wine has verve and zip but is still companionable. Find this wine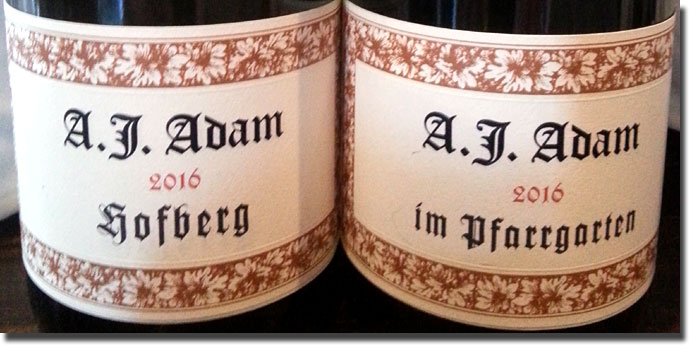 2016 A.J. Adam Hofberg Riesling Trocken, $64.99: The floral herbaceous nose follows through to accent rich green apple, lime and mineral flavors. Lovely wine, but at this price, it's just too expensive, in my not-so-humble opinion.
TT: …whatever is the opposite of "supple," this is it. Find this wine
2016 A.J. Adam "Im Pfarrgarten" Riesling Feinherb, $21.99: The mineral with a hint o' flint nose echoes in the semi-dry flavors; nice, but not as nice as the Trockens.
TT: Now the 3rd vintage from a 52-year old vineyard planted in a flat-ish site by the stream; it means "the garden of the rectory" and suggests a contemplative temperament. Find this wine
2016 A.J. Adam Dhron Hofberg Riesling Kabinett, $29.99: The stony nose leads into semi-sweet character that really wants a spicy plate of Kim's saag paneer.
TT: It's the sexiest among three Kabs (one of which I didn't select) and there's more visible acidity than in any '16 I've seen. The incipient aromas are tantalizing, but it's too early to unpack the adjective sack. Find this wine
2016 A.J. Adam Dhron Hofberg Riesling Spätlese, $44.99: A hint of sulfur on the nose carries over onto the palate, marring slightly the sweet Riesling personality; I'm guessing this will resolve itself with some time in the cellar.
TT: More juice here, but like the Kab this has a tense rope linking acidity and fruit… This was the most backward and reticent of any '16s I'd tasted, but the texture made me optimistic. Find this wine
2016 A.J. Adam Dhron Hofberg Riesling Auslese, $126.99: Rich, sweet and luscious, with a somewhat oily texture, lively acids and a long finish. I understand why late harvest wines like this are so expensive, but this one is, sadly, priced beyond my willingness to purchase. Find this wine
TT: The place is a true idyll, sitting along the reedy shushing Dhronbach, and I am poignantly aware it's a peace not easily won. Andreas started nearly from scratch, was a hair away from packing it in on more than one occasion, and has prevailed by determination and sheer talent.

The man is a master of dry and almost dry Mosel Riesling. That is to say, a master at a genre that was barely tolerable until not very long ago. To do this, you have to have an excellent palate, plus the know-how to enact your vision. Mosel Trockens will never have the generous bodies and amenable acids of, say, Pfalz wines, and they have to locate a fullness and a mid-palate buoyancy that's not so often found. Johannes Selbach is the only other vintner I know who seems to have The Touch with dry Mosels.
Afterword: Another one of the reasons that I don't do many trade tastings any more is the preponderance of the same old "usual suspects" that are being poured. That's not to say that a lot of them aren't of high quality, but they just leave me with a "so what" kind o' feeling. There was none of that going on here, however; just about everything I tasted was exceptional, the kind of stuff I want to drink all the time. This tasting gave ample evidence to what I already knew intellectually (and from a few things enjoyed previously); the Terry Theise portfolio is chock full of amazing wines. Maybe next time, I can see my way to taste a few of the reds being poured!
Terry Theise wines are imported by Michael Skurnick Wines, Syosset, NY.
Reporting from Day-twah,
Bastardo
Save
Save
Save
Save
Save
Save
Save
Save
Save