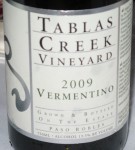 This month's dinner/tasting with my regular group, the X-pensive Winos, gave us the opportunity to compare wines from two very different, but related estates, Chateau de Beaucastel and Tablas Creek.  Of course, everyone knows that Tablas Creek is a partnership created by Beaucastel and its importer, Robert Haas.  The estate was created with the declared intent to create a wine with the heritage and quality of the great Chateauneuf du Pape, but reflective of its American terroir.  Most of us had tasted numerous examples of both estates, and at least Beaucastel is very highly regarded by most of us in the group.  But I know that I had not really been all that impressed by Tablas Creek, which seemed like a very well-run winery with big ambitions, but whose wines, while quite good, had never seemed particularly distinctive, except that they are clearly different from a lot of other Rhone-style wines in Paso Robles.  With all the big, ripe mo-fo's out there in Paso, Tablas Creek just seemed a bit underwhelming.  But maybe that's the point?  Tablas Creek is clearly not making the "typical" Paso Robles red, so this tasting gave us the chance to see if Beaucastel's genes had really found their way into their Paso offspring.  
On hand was Jason Haas, Tablas Creek General Manager, and son of the founder, who contributed several of the wines and gave us the benefit of his insights into both Tablas Creek and Beaucastel.  The dinner took place at LA's Bistro LQ, a small bistro owned by chef Laurent Quenioux, and they stepped up with an exceptionally creative menu that paired with the wines very well, even if it challenged the stomachs of a few of the participants at the table.  We were aided in the wine service by wine consultant Gregg Greenbaum, who helped put together Bistro LQ's wine list.
Three whites from Tablas Creek preceded our sitting down to dinner.  A pre-release 2009 Tablas Creek Vermentino was crisp, minerally, and delicious, a terrific dry white with none of the heaviness I used to associate with whites from Paso Robles.  I asked Jason why they named the wine Vermentino, the varietal's Italian name, rather than Rolle, its French moniker.  He explained that Vermentino was first commercialized by Ken Volk at Wild Horse, and that he had obtained TTB approval for the varietal wine using its Italian name.  According to the TTB's regulations,  once a varietal has been approved under one name, no other name can be used for that varietal, so it is not possible to call the wine Rolle in the United States even if that name is commonly used elsewhere.  A 2008 Tablas Creek Grenache Blanc was fuller bodied and richer, also a bit softer with slightly lower, but still very good acidity.  It showed a bit more complexity and depth as well.  I didn't know that they made a Chardonnay, but Jason had brought the 2008 Tablas Creek "Antithesis" Chardonnay.  To my taste it did not compare well with the white Rhone varietals, seeming simpler and a bit dull with low acidity in comparison.  Probably this would show pretty well in a flight of other Paso Robles Chards, but in this company it just seemed less interesting and well balanced to me.  Jason indicated that they may be tearing out their chardonnay vines in the future.
Find Tablas Creek Vermentino ~~ Find Tablas Creek Grenache Blanc ~~
Find Tablas Creek Antithesis Chardonnay
Serious White Flight I (Beaucastel), served with Geoduck Clam in sea urchin tapioca pudding, yuzu kosho kumamoto oysters in lobster gelée.  A fascinating flight of three older Beaucastel Rousannes.  The 1987 Beaucastel Blanc VV was amazingly fresh, crisp and complex.  Very bright yellow with toasty oak notes and pinpoint acidity, this tasted more like a great White Burgundy from a top producer.  Medium-bodied with more crispness in the texture than Rousanne's usual viscosity, this seemed like almost like a new release, not a 23-year-old wine, except that the complexity and full-throttle aromatics gave the maturity away.  Awesome wine.  Not so the 1997 Blanc Beaucastel VV, which was orange and showed strong maderized/sherry aromas and flavors.  This seemed liked a cooked or badly sealed bottle, although Jason seemed to think that the wine was simply in a phase that it would pull out of at some point.  I dunno the wine just seemed DOA to me.  The 2003 Beaucastel Blanc VV was very fat, seemingly a bit sweet, with strong pineapple and mango notes, soft and rich.  This tasted more like a lot of domestic Rousanne's and seemed a bit heavy-handed and unbalanced to me, but I felt the flavors were exotic and delicious, if a bit tiring and hard to match with the food.  The hotness of the 2003 vintage was on full display in this wine.  WOTF:  1987 Beaucastel VV.
Serious White Flight II (Tablas Creek), served with Monkfish 2 ways, fresh morels, monkfish liver terrine, zucchini basil smear, maple syrup vinaigrette.  The oldest Tablas Creek wine I have yet tasted, the 2002 Esprit de Beaucastel Blanc a blend of 70% Rousanne, 25% Genache Blanc, and 5% Viognier.  Bright yellow color; it's rich, creamy, almost oily in texture, but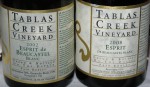 with bright fruit and decent acidity for balance and not at all flabby.  Notes of peach, herbs and cardamom with good depth and a long finish.  This is very good, and very fresh still with seemingly years to go.  The 2008 Esprit de Beaucastel Blanc is 65% Rousanne, 30% Grenache Blanc, and 5% Picpoul.  Brighter in color and balance with better acidity and crisper texture, but with plenty of richness lurking under the structure.  More peach, and pit fruits at this point, but seemingly capable of developing for quite a while.  Both of these wines were impressive and not at all a step down from the Beaucastels.  WOTF:  2002 Esprit, but the 2008 might be better in the long run.
Find Esprit de Beaucastel Blanc
Older Beaucastel Flight, served with Paparadelle and Rabbit Meatballs, salsify, cipolini onions, confit rhubarb.  This flight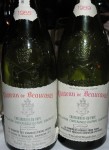 consisted of four mature (or nearly so) vintages of Ch. de Beaucastel rouge.  The 1985 Beaucastel had a hint of barnyard at first, but this quickly blew off revealing a deep core of fully mature fruit with great complexity, full of garrigue herbs and stones, and a long finish.  Almost Burgundian in texture and the fullness of the aromatics, just a great CdP at its peak.  The 1989 Beaucastel was even more stinky at first, but again the barnyard cleared up after only a few minutes in the glass.  With deeper fruit than the 1985, the '89 is a bigger wine overall with some primary flavors still lingering, but overall seeming nearly mature (maybe 1-3 years more?) and profound.  This could eclipse the 1985 in time.  The 1998 Beaucastel was much younger and more fruit-forward, with some tannins still evident and more blackberry and other fresh fruits dominating over the mature garrigue and minerality.  This needs a good 2-5 years and should last a lot longer.  The 1995 Beaucastel "Hommage a Jacques Perrin", from a lighter vintage, was pretty dense with blackstrap/licorice/tar notes and plenty of dry extract, but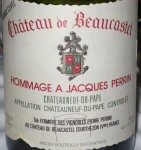 enough fruit for balance, quite ripe and seemingly almost mature.  Excellent, but not clearly superior to the "regular" Beaucastels from better vintages.  WOTF:  1985 Beaucastel, but all of these wines were outstanding.
Find Beaucastel Chateauneuf du Pape
Find Beaucastel Hommage a Jacques Perrin
Middle-aged Flight, served with Stuffed Veal, braised with black olive reduction, ratatouille.  This flight put some Beaucastels and Tablas Creek wines together.  Jason told us that the 2000 Beaucastel was the most Grenache-dominated Beau in years, with around 50% of the blend.  More mature than the 1998, and more garrigue and spice flavors.  Quite ripe and softer than the other Beaus but with good density, this is almost ready to drink.  The 2000 Esprit de Beaucastel (Mourvedre, Grenache, Syrah and Counoise) paired very well with the Beau; rich, complex, lots of blackberry and licorice, softer and richer than the Beau but with good balance and real CdP flavors, just a bit low in acid by comparison.  The 2001 Beaucastel is a great wine in the making, very deep, rich, spicy, just a classic great-vintage CdP that's perfectly balanced enough to drink now but really deserves another 5-10 years.  Really fabulous depth and complexity, a complete wine.  The 2002 Tablas Creek "Panoplie" is their top-of-the-line blend, made up mostly of Mourvedre (80%), with a bit of Grenache and Counoise.  This showed its Paso origins in the very ripe,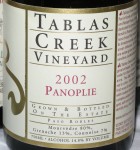 almost jammy blackberry/Chambord fruit profile, very dense and ripe, with decent acidity and balance.  Not overdone, but much more domestic/Paso in flavors, this would not fool anyone into thinking it was a CdP (except perhaps a 2003).  A good wine and holding together well, but my least favorite of the flight.  WOTF:  2001 Beaucastel.
Find Beaucastel Chateauneuf du Pape
Find Tablas Creek Esprit de Beaucastel
Find Tablas Creek Panoplie
Youngster Flight, served with a Lamb Composition with a roasted chop, sautéed kidneys, and poached tongue, with swiss chard gratin, jus roti with lemon and star anise.  The 2005 Tablas Creek Esprit de Beaucastel was very rich, ripe (but not as ripe as the Panoplie) and dense but with good acidity, smooth tannins, and more of the typical CdP flavors of garrigue and spice than the riper blackberry flavors of Paso.  This has good potential.  The 2007 Esprit de Beaucastel was quite similar but even deeper and richer.  I was again impressed with how this wine shows more traditional CdP-style flavors and balance as compared with most Rhone blends from Paso Robles.  I would age this for a few years.  The 2007 Beaucastel lives up to the hype of the 2007 vintage in CdP.  It's every bit as ripe as the Tablas Creek wines, but with slightly firmer structure and more acid and tannin.  It seems a bit disjointed right now, and a bit raw, more like a barrel sample than a finished wine, but the potential is there in spades.  Let this sleep for 10 years, at least.  WOTF:  2005 Esprit for drinking now, but the 2007 Beaucastel for potential.
Find Tablas Creek Esprit de Beaucastel
For dessert, Jason brought two Vin de Paille-style wines from Tablas Creek, both from the 2006 vintage.  The Mouvedre VdP was sweet and exotic, but the sweetness was in that "grey zone" where it seems either too sweet to be a dry wine, or too dry to be a sweet wine.  Maybe time will help?  I preferred the Rousanne VdP, very sweet and exotic but with plenty of balancing acidity, packed with exotic tropical fruit and spice notes, reminiscent of some of the Mr. K stickies but with better acidity.
Find Tablas Creek Mouvedre VdP ~~ Find Tablas Creek Rousanne VdP
This was a tremendous dinner and the wines were really quite remarkable.  I'd been a bit underwhelmed by Tablas Creek in the past, but tasting the wines with the Beaucastel, and especially seeing how the older wines were evolving, makes me want to reconsider these wines, especially the Esprit de Beaucastel.  Thanks much to Jason for contributing many of the wines, and his insightful and interesting comments.
Related posts:
11 Responses to "Exploring the Beaucastel/Tablas Creek Connection"