Archive for the Jim Cowan Category
The 2014 archive is presented by date the notes were compiled and submitted. Prior year's tasting notes may be found here.
February 18, 2014
All wines purchased at Total Wine, St. Petersburg, Florida.
2009 Marquis de Monistrol, Cava Brut Winemaker's Select:
12% abv; energetic bead, nice creaminess but still bright and lively in the mouth; charming and the equal of many N/V Champagnes. Buy more. $15. Find this wine
2012 Terramore, Nero D'Avola:
12.5 % abv, organic grapes, screwcap; correct to its variety with hints of an herbaceous side; a bit of a puzzle as I like it and at the same time I'm not sure of it. I'll buy another and try again. $10. Find this wine
2012 Greek Wine Cellars, Assyrtiko Santorini:
12.5% abv; aromas, textures and flavors that reference Chenin blanc with the addition of some sappy fruit that is both sweet and bright (the wine, however, is dry); best at refrigerator temperature as it becomes oddly cloying at room temp. Probably not. $13. Find this wine
2011 Poderi di Carlo, Ribolla Gialla Venezia Giulia:
12.0% abv; no evidence of skin contact as this is acidic and not especially intense, but it does have the characteristic scent of peach and nutmeg just at a lower intensity; quite clean and very bright, dry. I like it but I seem to crave more flavor. Maybe more. $13. Find this wine
2012 Hugues de Beauvignac, Picpoul de Pinet Coteaux du Landguedoc:
12.5% abv, screwcap; floral and citrus nose; clean and crisp in the mouth with light fruit flavors; nicely persistent. Interesting both cold and warmed to room temp. Maybe more. $11. Find this wine
The 2013 archive is presented by date the notes were compiled and submitted. Prior year's tasting notes may be found here.
December 24, 2013
2012 Idlewild, Vin Gris Dry Creek Valley:
13.6% abv; light copper color; mostly the bass notes of rosé wine as this is based on syrah (and since I see no regular syrah in their line-up, I assume this is direct press); bright and lively on the palate, some viscosity but nothing cloying, flavors have a sauvage note; mouth-watering finish. $22 retail.  Personally, I prefer lighter and more treble-noted rosés, but the earthy/wild notes here are intriguing and the acidity is clearly in charge overall. That's in my wheelhouse.  (With pupusas and pastillos, it paired well and the acidity kept the rather piquant salsa at bay.) Find this wine
2012 Idlewild, Arneis Fox Hill Vnyd.:
14.2% abv; expansive aromas of lime and flowers; texturally smooth with flavors that echo the nose and bright acidity; good balance and length. As it warms and gets air, everything becomes more intense and focused. A beautiful wine but I can by Giacosa, Arneis for $5 less; that's not a deal breaker because this is so pretty but it does make me think twice. Find this wine
2012 Idlewild, Carignan Testa Vnyd.:
13.2% abv; mulberry and earth scents; tannic and concentrated with flavors like the nose and some bitterness on the finish. While I like the depth and character here, it's a bit disjointed, so back in the decanter and into the cellar for another time. Day two: Find this wine
Aside: I have now tried the Cortese, Dolcetto, Grenache Gris, Carignan, Arneis and Vin Gris (all 2012's, their first year in release) from Idlewild. I am convinced that these wines are worthy of attention; they are geared to food and taste so much better in accompaniment that I think they should be severed at no other time. They have no overt oak flavors; the alcohols are mostly under 14%, the wines rely upon their acids (as would be expected) and they NEED time in the bottle. The price range is $22-$32 per bottle and that seems reasonable based on quality.
In addition, the varieties they are working with lend diversity to my cellar and their production is so small that I am pretty certain that only the owners are involved in the process; and no one looks after their "babies" like the owners.
Today, I will sign-up for their mailing list; it has been a very long time since I have signed-up for any list. Kudos to Sam and Jessica; an auspicious start. Find Idlewild wines
Best,
Jim

This was my third (or maybe fourth; CRS, 'sorry) visit to Rhys. As always, Kevin and Jeff are the consummate hosts; gracious, generous and always ready with answers to both the easy and hard questions. The winery is like no other and the philosophy is clear; 'let the vineyard speak.'
I could go on at length about all of this, but I've done it before.
I would rather tell you a little about what I learned today.
The vines in their vineyards are becoming old enough to have an influence on the wines. Each of the wines we tasted, whether from bottle or barrel, were distinct, character driven and reflected not only the vineyard but the vintage; clearly. I am not talking about some subtle or esoteric differences; these were noticeable differences, even for the novice taster.
A quick description of how they make chardonnay: press immediately upon receiving the grapes; barrel down, put a fermentation bung in the barrel. Leave it alone. Don't add anything, don't stir it, don't rack it and don't do anything except top up once the primary fermentation has finished.
Whole cluster fermentations (which are pretty much the norm here) can produce aromas that smell a little green or vegetal at first. If you give these wines time, those aromas will become more like rose petals.
Some wines do not complete malolactic fermentation. They may get part way through, they may finish; but nothing is done to push them through to completion except putting the barrels in a warmer area of the caves. When the wine stops, no matter the amount of malic left, that's it and that's the way it gets bottled. Without filtration. And they have never had a wine re-ferment in bottle.
The 2012 archive is presented by date the notes were compiled and submitted. Prior year's tasting notes may be found here.
November 25, 2012
2002 Dom. Michel Voarick, Corton-Renardes:
Very pretty cherry, horehound, beet root aromatics that are a little sweet and a little savory but not very expansive; tastes of Corton as it is firm, structured and edgy in the mouth. But half way through the evening the wine turns to black fruit and the tannins become quite prominent and somewhat drying. By the end of the night this is all iron and tannin and not something I want more of. I am guessing we got to this just before it falls off a cliff . . . or maybe I just don't get its aging potential. Find this wine
2004 Giacosa, Nabbiolo d'Alba Valmaggiore:
Tasted very generic at this point; not bad but without depth or character. Hold. Find this wine
2005 de Villaine, Côte Chalonnaise Les Clous:
Pretty chardonnay half leaning toward Chablis and with good length. Needs bottle age to be more but also nice now. Find this wine
2009 Calluna Vineyards, Merlot Aux Raynauds:
Simply wonderful; rich but not flamboyant, structured yet with plenty of savory fruit, lively in the mouth and very long. The depth and nuance of this wine are approaching world class even at this young age. As good a merlot as I can remember – from anywhere. Find this wine
2010 Edmond et Anne Vatan, Sancerre Clos la Néore:
Tart and too young to show much of anything; hold. Find this wine
2007 Dom. Saint Siffrein, CdP:
Delicious, and this from someone with little use for Grenache. Smooth, nuanced, tactile and long. Quite nice. Find this wine
2004 Lagier-Meredith, Syrah:
Of whole cloth now with layers of flavor and a lovely texture in the mouth. Not the most complex syrah I ever had but one of the easiest to enjoy. Drink now. Find this wine
2002 Ridge, Mataro Pato Vineyard:
Satin textured, forward fruit, no mataro funk (which I miss), and decent length. A good wine but not a great one. Find this wine
1990 Ridge, Geyserville:
A biological disaster that may also be cooked and corked. DNPIM. Find this wine
2010 Chester's Anvil, Gewürztraminer:
I am not a fan of this grape but this was pleasant. A little perm solution of the nose but pretty in the mouth, if a little thin. And yet, something about this wine made me take another glass – I have no idea why. Find this wine
2007 Hanzell, Chardonnay:
Another chardonnay that leans toward Chablis but not far enough. Good minerality, clean fruit, some depth, good length. I hear these age quite well so we may be too early to this bottle. Nonetheless, easy to drink. Find this wine
Best, Jim
Jim Cowan introduces you to a new varietal called Ribola Gialla. Master Farmer Chris Bowland talks about why he planted Ribola Gialla at his Tanya's Vineyard.
The 2011 archive part 2 is presented by date the notes were compiled and submitted. Part 1 may be found here. Prior year's tasting notes may be found here.
December 10, 2011
A very nice dinner with friends included the following:
2006 Overnoy, Arbois Pupillin:
Crisp, clean and deep – perhaps not typical descriptors for Overnoy but in this vintage, certainly appropriate. A unique flavor profile to any other poulsard I have tasted and a wine I never tire of. Lovely. Find this wine
2006 Allemand, Cornas both the Chaillot and Reynard:
The Chaillot is pretty open and forthcoming for being so young and it is complex, even now. The Reynard is a coiled spring and made of sterner stuff; clearly we are too early to this bottle, but its promise is evident. Both are obviously Cornas and obviously Allemand. And both accompanied my steak very well indeed. Thanks Justin. Find Allemand Cornas Chaillot and Find Allemand Cornas Reynard
I have given up writing any notes on my wines except those not yet released. There are only about 15 cases of the 2008 Skin-Fermented Sauvignon Blanc and I tried a bottle recently.
I am pleased with where this has gone; it's darker than when first bottled (think burnished copper), softer and has developed some ginger and sauvage notes while maintaining its balance and skin-fermented character. Starting, I think, to tend into Gravner-esque territory. I do hope our 2010 Isa does this with age.
Beautiful with squash soup.
I also recently tasted the as yet unreleased 2009 Calluna Vineyards, Merlot Aux Raynauds and was surprised by how European it came across. This one needs several years in the bottle but promises to be the kind of merlot I actually like, that is to say, merlot without the chocolate, oak signature so many CA merlots have. No "booty" here, just a focused and layered wine. Impressive and dandy with beef stroganoff. Thanks David. Find this wine
Calluna is located in the Chalk Hill AVA here in Sonoma County.
The 2008 Occipinti, Frappato is a thing of beauty; smells a bit like gamay but reminds me more of something from the Jura when tasted. I have never had this grape before so I apologize for the comparisons but it was excellent wine with good grip and sustain. Thanks Garrett. Find this wine
And one last comment; for those of you in the Oakland area, do not miss the wine bar called Punchdown at 2212 Broadway. They have two wine lists; one by the bottle or carafe, and one by the glass. Both are extraordinarily well chosen, filled with things esoteric and unusual, and loaded with quality. The service is provided by the owners (always a good thing) and the noshes are delicious. Finally, a good reason to go to Oakland.
Best, Jim
Read the rest of this entry »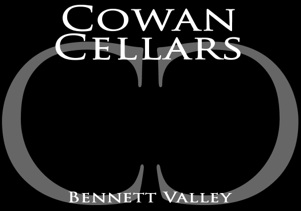 With much anticipation, Cowan Cellars has announced its first release. Way to go, Jim and Diane!!  We wish you both much success in this and upcoming releases.
The wines are:
2010 Isa (skin-fermented white)
2010 Pinot Noir, Bennett Valley
2010 Pinot Noir, Sonoma Coast.
You can read about these wines on here.
You can read a little about the history behind these wines here.
You may purchase these wines here.
The 2011 archive is presented by date the notes were compiled and submitted. Prior year's tasting notes may be found here
April 24, 2011
2001 F.X. Pichler, Riesling M:
13% alcohol; this wine has shed the fat and viscosity of its youth to become both more balanced and less powerful. Clean scents of fruit and spring water; balanced in the mouth with solid flavors, some nuance and excellent balance; good length. In its youth, one could see this developing a richness and depth that would stun; instead, it has become more feminine and contained. Not what I expected but very good with "bubble and squeak." Three days later: after being re-corked and refrigerated, this came out with the texture of Welch's White Grape Juice mixed with pineapple syrup. I liked it better upon opening. Find this wine
2008 Bedrock, Cuvée Caritas:
14.1% alcohol; fairly expressive nose with fruit and mineral tones, some resin; a pretty good flavor profile that shows a bit too much new wood influence, there aren't any oak flavors nor does it smell of wood but the mid-palate texture is amped up (as new wood will do) and the fruit is noticeably deadened; medium finish. Later vintages of this wine seem to be more dialed in as far as the oak goes and have better balance. Find this wine
1999 Lafarge, Volnay Vendages Selectionées:
13% alcohol; substantial VA on the nose with an impression of tannin but, even still, the cherry (both black and red) comes through; brooding, tannic and moderately unbalanced in the mouth but the Volnay texture is there and the tannin is not too drying; medium length. A flawed wine but, curiously, an interesting one. Find this wine
Best, Jim
The 2010 archive is presented by date the notes were compiled and submitted.  This is Part 2 of the archive.  Part 1 may be found here.
December 22, 2010
2005 Luneau-Papin, Muscadet Pueri Solis:
12% alcohol; smells close to corked; tastes similar; not much here for me although, with the proper food this is better than something that really is corked. Find this wine
2002 Verget, Chablis Vaillons:
13% alcohol; rich on both the nose and palate with a full-ish delivery and good sustain. A damn nice wine – and I| don't usually give Verget the props. Find this wine
2004 de Vilaine, Mercury Les Montots:
12.5% alcohol; pretty green to start with but this came alive with a spicy corn dish. Probably less than what I want (at least, right now) but has its place. Find this wine
(See August, 2010 update below)
In the fall of 2005, Russell Bevan gave me a call. Russell and I had been friends for almost a decade, wine buddies from the start. I had visited countless times and been a guest at his house on several occasions. But this call wasn't about a party or a tour; this was a request to come out and help work the harvest for his new enterprise, Bevan Cellars. I am retired so I had the time. As it turned out, it was the beginning of my interest in starting my own label, Cowan Cellars.