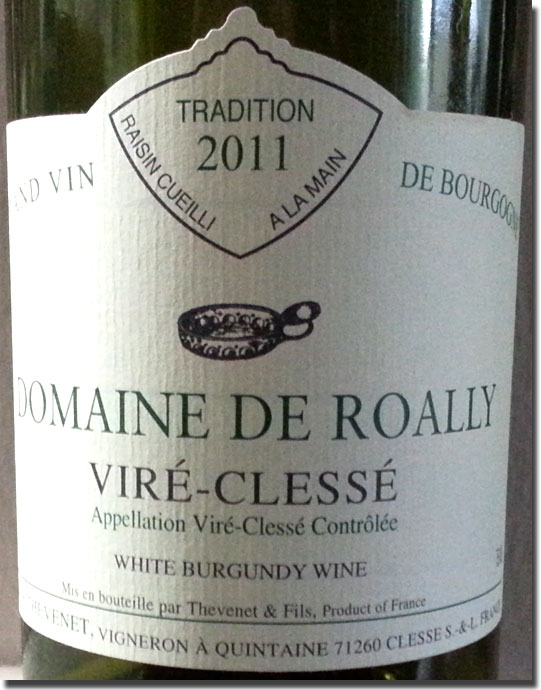 Last week, Kim and I, along with our good friend Ken Hebenstreit, were most pleased to attend a Louis/Dressner tasting at the West Bloomfield Plum Market. We really like what Madeline Triffon MS has done with Plum's wine program, and we've been big fans of the Louis/Dressner for many years. The event also gave us the opportunity to renew acquaintances with LD National Sales Manager Josefa Concannon. I was not really surprised to see that I have at one point or another reviewed every one of the wines being poured. As Josefa remarked, "Yup, these are all our best sellers here in this market."
Every selection was excellent, but after tasting through them all, there was one that really stood out for us, and it was, perhaps surprisingly, a Chardonnay, different vintages of which I've reviewed on at least three previous occasions.

2011 Domaine de Roally Macon Vire-Clesse, 14% alc., $24.99: Clean and pretty to look at, with pale golden color. The fruit is rich, and fairly ripe, showing pure Chardonnay fruit, unfettered with any oak, and shaded with lovely notes of mineral, bees wax and, what really sets the tone of the wine's character, a herbaceous streak that I find utterly beguiling. Full bodied, without being fat in any way, with excellent acids and very nice length on the finish. This makes a great pairing for seared scallops sauteed with chanterelles, corn and basil. Thank you Sharon Bowman!  The nicest Chardonnay we've had in quite a while; this might just become our house Chardonnay for special dinners that call for an exceptional one without spending lots of cash. Find this wine
As I said, every one of the wines poured was excellent, and while I didn't take extensive notes, here are some impressions that I did jot down.
2012 Domaine de la Pepiere Muscadet Sèvre & Maine Sur Lie: Classic Pepiere Muscadet; so fresh, with great acids and wonderful minerality. Where were the oysters?! Find this wine
2012 Jean Manciat Mâcon-Charnay Franclieu: Like the Domaine de Roally, this in one that we've really enjoyed in the past, and the current vintage is every bit as tasty as previous models. Clean, pure Chardonnay, mineral-driven, with a subtle floral note on the nose. Find this wine
2011 Domaine des Terres Dorees/J.P. Brun Beaujolais l'Ancien Vieilles Vignes: This was Ken's first exposure to this old friend, and he was surprised to find a much deeper wine than any Beaujolais he'd had before. To be sure, this ain't no banana fruit loop; it's serious stuff, funky earthy good, deep, dark and not quite mysterious. Find this wine
2010 Eric Texier Côtes du Rhône: This had initially been placed further down in the tasting order, but because it's a bit lighter in body than the following three, it was bumped up. It does seem lighter than previous vintages, but it's good, never-the-less. I was surprised to note that the wine includes 15% Grenach Blanc and Roussanne, along with 85% Grenache. Find this wine
2011 Chateau d'Oupia Les Heretiques Vin de Pays de l'Herault: Always solid, this does more than yeoman's service, and it's a regular among our daily drinking reds. Find this wine
2010 Chateau d'Oupia Minervois Tradition: This kicks things up a notch from Les Heretiques, offering a deeper, more substantial wine. My one slight disappointment is that the past couple of vintages have lost the black olive quality that made previous models so distinctive, but that's a minor complaint. Another regular in our daily drinking lineup. Find this wine
2010 Mas des Chimères Coteaux du Languedoc: Among the earliest wines I reviewed on the old Gang of Pour site, and just as good these days as it was when we last had it in 2007, with a nice balance of earth and black fruit. Find this wine
I like to describe both of these Ports as "dangerous good," because we've been known to open a bottle and finish it on the same occasion, they are that delicious. Both the Ruby and Tawny stand head and shoulders above similarly priced entries from the better known Porto houses. We love 'em!
Quinta do Infantado Ruby Port NV: Find this wine
Quinta do Infantado Tawny Port/NV: Find this wine
Reporting from Day-twah,
geo t.
Related posts:
4 Responses to "Our Kind of Chardonnay From Louis/Dressner"