December 26th, 2015 |

Author:
George Heritier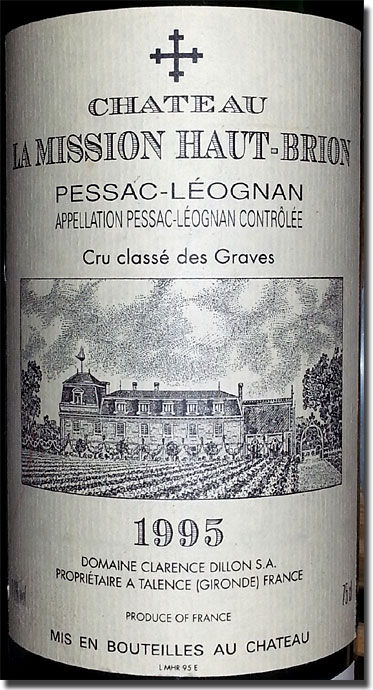 I don't know what a perfect wine is, and these days, I don't much give a damn. I do know that this "reclassified" First Growth, gifted to us by our friend, John Blackwood, more than 10 years ago, is as fine a wine as we could want to enjoy with Christmas dinner. I knew when John gave this to us that it would need considerable time in the cellar, and I decided last night that, at 20 years of age, it was time to see what it had to offer, and it proved to be a lovely match for perfectly grilled (I get it right every once in a while) medium rare Niman Ranch rib eye steaks, mashed potatoes with mushrooms in a red wine sauce and a mélange of multi-colored organic carrots, haricot verts and garlic.
1995 Chateau La Mission Haut-Brion Pessac-Leognan, 13% alc.: Still clean and dark in color, showing no bricking as of yet, and exuding copious amounts of saddle leather and mahogany aromatics, which follow through beautifully on the palate with subtle earth underneath. Rich, intense and still on the way up, this gives immediate pleasure from the moment it's poured after half an hour in a decanter, and it continues to open and become ever more generous as long as there is some left (I savored two and a half glasses over four hours or so). Harmonious and immensely satisfying, yet structured for many more years of further development. If you have some of this, it's more than safe to drink now, but I'd love to try another in about 5 years to see where it's at. Thanks a million, Blackie, this baby rocks, and so do you, my friend! Find this wine
Imported by Wine Markets International, Inc., Woodbury N.Y.
Reporting from Day-twah,
Bastardo