Every so often over the past few years, I've been struck by the following thought: we don't drink enough Pinot Noir at our house, not nearly as much as we did back in the late '90s and on through the turn of the century. For whatever reason, we just kind of drifted away from the variety, which is a shame, because it can be so very, very fine.
So it was that, when I celebrated a certain annual milestone last week, I pulled the first wine in this report from the cellar, almost as an afterthought. I eat almost no red meat these days, but I look more favorably upon good seafood and decided that wild caught salmon would make for a nice dinner, and so we procured a nice filet that fed both Kim and me very well. I could have chosen a nice Morgon, since we have several of those down in the Cellar from Heck, but I decided to go with one of the very few Pinot Noirs in our possession instead. I had no idea how fortuitous my choice would be.
As far as I can tell, we haven't talked about any of the wonderful wines from Joseph Swan Vineyards since late 2007, which is too bad, because, A. they're SO good, and B. that means we've been missing out on a lot of mighty fine drinking.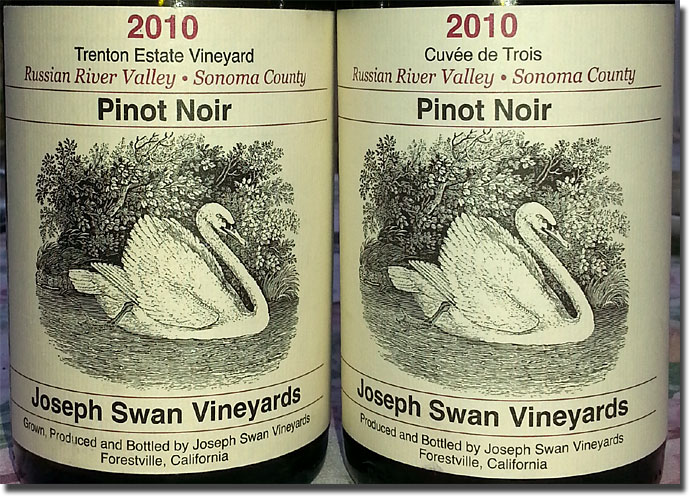 Joseph Swan Vineyards is one of the legendary wineries of California. Since Joe Swan passed away in 1989, his son-in-law Rod Berglund and daughter Lynn have carried on his tradition most admirably. These are wines that are made to age gracefully and enjoy with food, rather than win tastings and garner 90+ point ratings. That's not to say that they aren't worthy of high ratings, it's just not their intent. We've actually enjoyed a few of these over the last few years, we just never took notes or filed reports.
Sometime over the last several months, I picked up this one, and I wish I could remember where, because it's just so damned good, I have to get more. I'll be lucky if I can still find it for this price, though…
2010 Joseph Swan Vineyards Russian River Valley Pinot Noir Trenton Estate, 14.2% alc., $37.99: Clean ruby garnet color, with a gorgeous, effusive Pinot Noir bouquet; rich, intense and perfectly ripe in the classic Russian River Valley style. Medium-full bodied, and structured for several years of further development, yet drinking beautifully right now, with nice earthy undertones and the faintest hint of mushroom. Absolutely luscious, and as fine a Pinot Noir as I've had in many, many moons. If you enjoy Russian River Valley Pinot Noir, you'll love this wine. Amazing QPR for 38 bucks! Find this wine
As mentioned above, we've enjoyed this next one a few times over the last year or so, but I neglected to take notes. When I found another bottle on a local merchant's shelves a few days ago, I figured it would be a perfect companion to the previous selection for the purposes of our report, and I wasn't wrong.
2010 Joseph Swan Vineyards Russian River Valley Pinot Noir Cuvée de Trois, 14.2% alc., $37.99: Ever-so-slightly ruby garnet color, with a smoky tinge to it. Earthier and not quite as overtly gushing with fruit as the Trenton Estate, but there's still a rich, beautiful core of pure Pinot Noir fruit at the heart of this. Offering flavors and aromas reminiscent of smoky black cherry and cranberry, with hints of mushroom and a wee bit of rhubarb and cola, this is rich and intense; it gives even more mushroom and some forest floor as it opens in the glass. Medium full bodied, and structured for some years in the cellar, it's noticeably better than it was a year ago, which bodes well for its future. Find this wine
Neither of these are light, or even middle-weight Pinots, but they're not over-extracted, Syrah-like imposters, either. For my tastes, there is nothing heavy or overdone about them. They represent some of the finest of what Russian River Valley Pinot Noir is all about, in my not so humble opinion, and I love 'em both. There are more of these lurking in the greater metro Detroit region, and I am now on a mission to find as many as I can and give them a good home until such time as corks need to be pulled. The days of our drinking too little Pinot Noir at Gang Central are hereby over and done with, I none-too-solemnly do declare.
Reporting from Day-twah,
Bastardo
One Response to "A Pair of Swans"