March 24th, 2010 |

Author:
George Heritier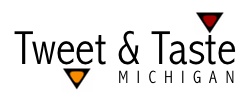 It seemed like a great idea when Michigan by the Bottle's Shannon Casey first announced the inaugural "Tweet & Taste Michigan," held on March 8th, conducted on Twitter and featuring three wines from Black Star Farms, but I doubt that even he and his wife/sidekick Cortney had any idea of just how successful and well "attended" it would turn out to be.  With 66 unique participants tweeting 863 times about the three Black Star Farms wines, it was everything the Caseys, Black Star's Lee Lutes and Coryn Briggs and the rest of the tweeters and tasters could have hoped for and more.  The chatter percolated for over an hour, focusing not only on the wines, but also the food we paired with them and even the music we were listening to, and by all accounts, a great time was had by all.  Interested readers can find the full transcript (including preliminary comments posted the two previous days) here.
So, since the first time out was so much fun, it only seems right to do it again, and this time, the 2nd "Tweet & Taste Michigan" is scheduled for Tuesday, April 13th at 8 p.m. EST, featuring three wines from Shady Lane Cellars.  Click here for full details.
We were mucho impressed with Shady Lane when we tasted there in the Leelanau last November with winemaker/vineyard manager Adam Satchwell, and we enthusiastically recommend this tasting to any and all interested parties.  Wines to be tasted include the 2008 Shady Lane Cellars Dry Riesling, the newly released 2008 Shady Lane Cellars Blue Franc and the 2007 Shady Lane Cellars Pinot Noir.  It's bound to be another great night of cool climate Michigan wines, and I can't wait to see what kind of culinary concoctions Kim creates to pair with each of the selections.
Be there or be square!
Reporting from Day-twah,
geo t.
Related posts:

Posted in
Blog Watch
,
George Heritier
2 Responses to "Tweet & Taste Redux with Shady Lane Cellars"