Yes, it's that time of year, and about the only two things I really like about October is Detroit Red Wings hockey and those big red Rhônes that we drink while rooting for the boys with the winged wheel on their jerseys. We started this tradition almost 20 years ago, and I'm happy to report that it's still going strong, as we kicked off the new season with some solid mojo.
The two Châteauneuf-du-Pape selections were enjoyed during pre-season games. (Click images to enlarge.)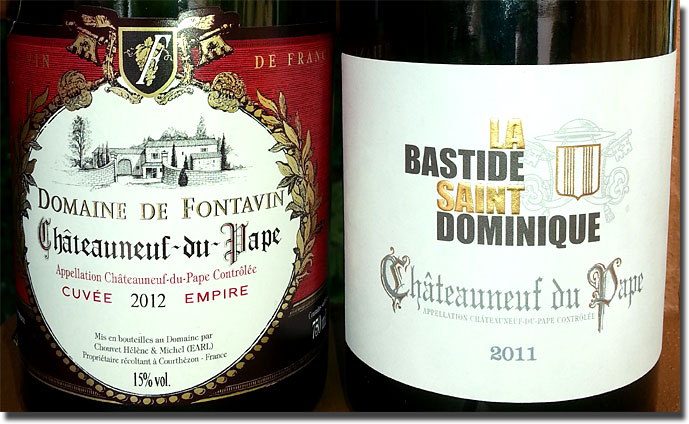 2012 Domaine de Fontavin Châteauneuf-du-Pape Cuvee Empire, 80% Grenache, 20% Syrah, 15% alc., $22.99: Clean and dark in color, with earthy black plum and hints of the barnyard and some iron on the nose; the flavors echo, with a rich, chocolaty texture and earthy chocolate overtones. Deep and very well structured, and despite the big tannins, this has tons of flavor too, and there's already plenty to like here. It really opens nicely after an hour or so, becoming even more enjoyable, so decanting is a good policy for near term drinking. With extended air, it takes on characteristics not unlike a theoretical blend of saddle leather and cocoa powder; strange, but true, and quite tasty! Our friendly local Costco sold out of this before I could get more, but it may still be available at other outlets. Find this wine
Imported by Misa Imports, Inc., Dallas, TX
2011 La Bastide Saint Dominique Châteauneuf-du-Pape, 80% Grenache, 10% Syrah, 5% Mourvèdre, 5% Cinsault, 15% alc., $42.00: Clean, dark color, with an almost liqueur-like blackberry/black plum nose, following through with lots more of the same on the palate. Rich, intense, and, dare I say it, extracted, it finishes with earth and dark chocolate; it'll be better in 5-8 years, but it's already kickin' out the jams here in Detroit. Kim and I both like this one a lot. It's not exactly "typical," but it sure is fun! Find this wine
Imported by Europvin USA, Van Nuys, CA
I don't think I could have picked a better young wine for the season opener, but then, it's from a producer that has long been a favorite of ours.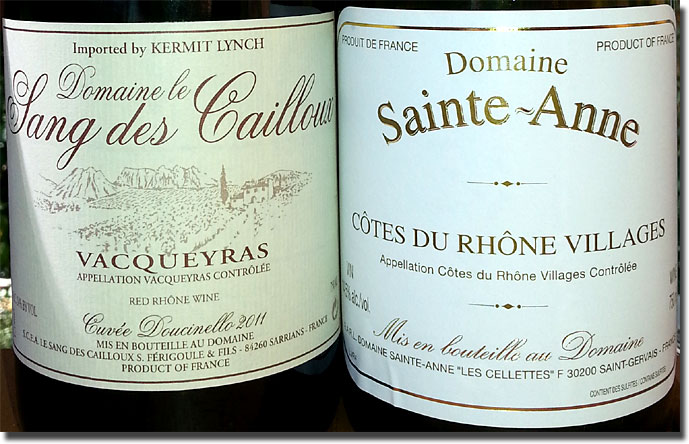 2011 Domaine le Sang des Cailloux Vacqueyras Cuvée Doucinello, 70% Grenache, 20% Syrah, 10% Mourvèdre/Cinsault, 14% alc., $29.99: Showing a clean dark garnet color, this gives up those signature Sang des Cailloux aromatics of earthy black fruit and briar/bramble; it's not as generous as I might like, but it's there. Big, full and rich in the mouth, it gets better and better with air, opening to offer black fruit shaded with earth, leather, briar/bramble and a hint of dark roasted coffee. Obviously a young wine with a long life ahead of it, it has a serious bite right now from tannins and acids, but then, these always show best at about their 10th birthday and beyond, so buy a few and tuck 'em away for a while, you'll be well rewarded. Find this wine
Imported by Kermit Lynch Wine Merchant, Berkeley, CA
Our choice for Game #2 was from another of our favorite producers.
2011 Domaine Sainte Anne Rouge Côtes-du-Rhône Villages, 14.5% alc., $14.99: We bought a case of this close to two years ago to put it down for a while; it showed tons of potential, but the serious structure really put a crimp into trying to getting much enjoyment out of it any time soon. While it has come around some since then, there's still a pretty good bite on the back end from tannins and acids, but the upfront fruit is drop dead gorgeous, with copious amounts of earthy black plum, blackberry and violet character. I'll wait another couple of years to open the next one and report back then, because this one can only get better and better over the next several years. Find this wine
Imported by AHD Vintners, Ltd., Warren, MI
OK, so the next two aren't from the Rhône Valley, but both blends are comprised of Rhône varieties, so that qualifies as mojo here in Day-twah.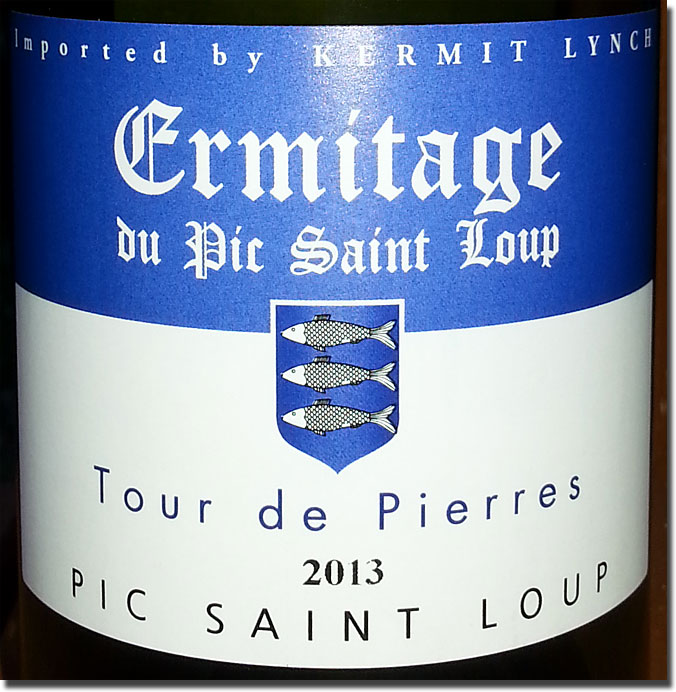 2013 Ermitage du Pic Saint Loup Coteaux du Languedoc Pic Saint Loup Tour de Pierres, 50% Syrah, 40% Grenache, 10% Mourvedre, $14.97: About this deep, dark blend, Kim exclaimed, "Wow, peppery!" It is that, and earthy too, with a nice core of red and black plum and berry fruit shaded with a hint of black olive as it opens. The pretty nose is almost floral, and enough of that carries through on the palate to make for an attractive glass of wine that still finishes totally dry. Full bodied, balanced and structured for a minimum of five years of development, it's very good now with a Nieman Ranch Angus burger, but its best days are ahead. Very good QPR at this price. Find this wine
2012 Domaine de la Bastide Blanche Bandol, 76% Mourvedre, 16% Grenache, 8% Syrah, Cinsault, & Carignan, 14.5% alc., $27.99: Inky in color, with intriguing and attractive aromas of mixed black fruit, subtle black olive and a hint of something floral. The big, rich, earthy flavors echo with thick, mouth-coating intensity and significant tannins that take over and clamp down on the finish. It turns a bit leathery as it opens, and while it's approachable now, it promises plenty of future development, so be patient. This is a good price for Bandol in these parts, too. Find this wine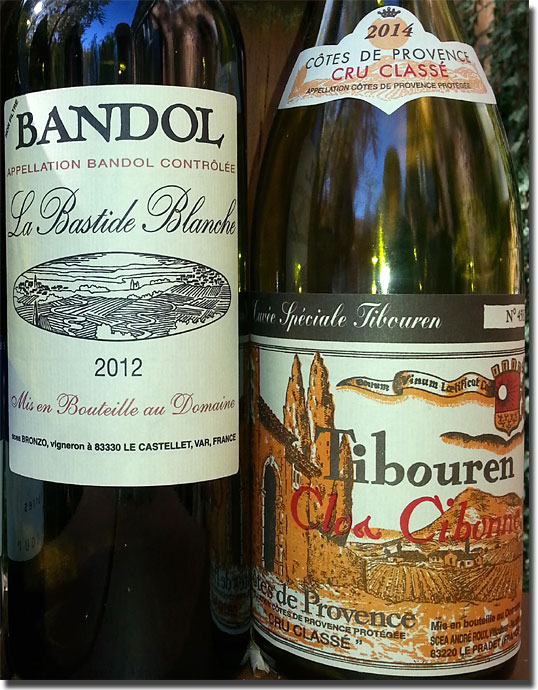 Imported by Weygandt Metzler, Unionville, PA
Finally, Tibouren isn't a Rhône variety, but it sure tastes like one, and, besides, I don't have anywhere else to post notes on this one, and it's most worthwhile.
2014 Clos Cibonne Côtes de Provence Cuvée Spéciale Tibouren Rouge, 90% Tibouren, 10% Syrah (sourced from 40 year old vines), 14% alc., $25.99: Clean and dark in color, with an earthy, briary barnyard nose, this delivers rich, earthy, peppery black fruit on the palate, being big, brawny, rich, intense and very primary, but air helps it a lot. Very much like the 2012 I reported on recently, minus the extra two years in the bottle. Drink it now with some air, or better yet, put it down for 3-5 years or more. Find this wine
Reporting from Day-twah,
Bastardo
Related posts: