As mentioned in our last two reports, Ridge Vineyards VP of Vineyard Operations, David Gates and Ridge Regional Sales Manager, Christina Donley visited southeastern Michigan quite recently on business. It's no secret that we love Mr. Ridge, so Kim decided that it would be great fun to host a dinner party for them both. We consider Christina to be part of the family here at Gang Central, but this was our first meeting with David, who turns out to be a really easy-going, mellow kind o' guy. We were also joined by our good friend and wine biz colleague, Rebecca Poling. She's family too!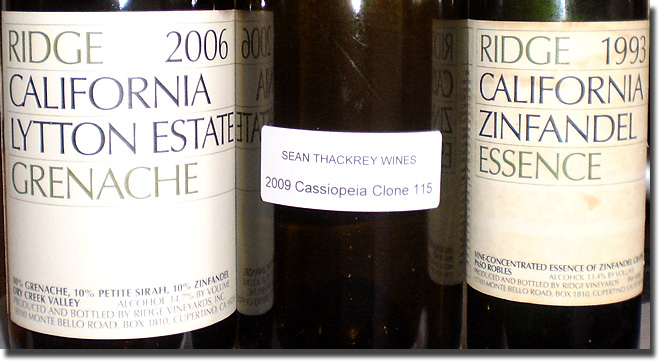 The theme was an all pork dinner with Kim and Anne's cured products, starting with a charcuterie platter with coppa, prosciutto and lonzino (loin), prosciutto wrapped asparagus with truffle butter, grilled eggplant/loin/cheese sandwiches and a stinky cheese. The second course was pasta carbanara with guanciale (cheek). The third course consisted of pressed pork belly with king trumpet mushrooms, sauce and cannellini beans dressed in a black olive vinaigrette with spinach and basil. Dessert was dark chocolate and a 1993 Ridge Essence.

(A quick explanation is appropriate here: late last November, Kim and her MFF (Meat Friend Forever), Anne Keller Klumpp, purchased a 200 pound hog, then proceeded to learn how to butcher it Italian style for all things salumi, with instruction provided by Chef David Gilbert and our own Chef Alan Kerr. Anne's husband Brian recorded the entire process, and the video-documentation can be viewed here. The prosciutto was from a 2011 hog leg but all of the remaining pork in this dinner came from the November 2012 hog.)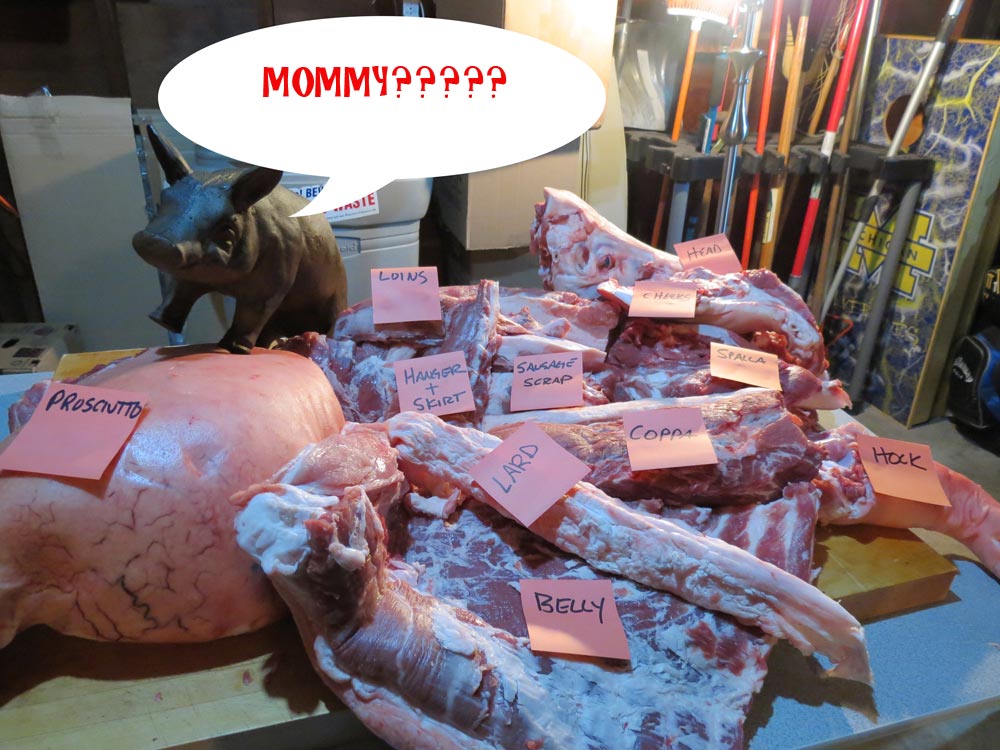 The same dinner would be repeated a few weeks later at Anne and Brian's house with David (Gilbert) and Alan as the honored guests so this was Kim's practice run.
We got things started with the 2010 Cornerstone Oregon Willamette Valley Chardonnay, which is drinking pretty much exactly as we remember it from about four months back. It's a solid, cool climate Chardonnay, and was well received by all. Find this wine
2009 Sean Thackrey Cassiopeia Pinot Noir Clone 115 Anderson Valley Wentzel Vineyard: Bearing one of Thackrey's minimalist labels, this seemed like a good choice to pair with the pasta carbanara, but, in fact, it needs at least another five years to resolve the still significant tannins. Still, it is not without charm already, as David commented, "I love the nose; funky, earthy…" It offers smoky plum and black cherry flavors and aromas, but a creamy note on the palate gets some insubordination from the acids and tannins. Patience is advised with this. Find this wine
2006 Ridge Lytton Estate Grenache Dry Creek Valley, 80% Grenache, 10% Petite Sirah, 10% Zinfandel, 14.7% alc.: It's been a while since we've had any Grenache from Mr. Ridge, so Christina opened one that she had brought along to pair with the pressed pork belly. It shows clean, dark color, and exudes a lovely nose of spicy black fruit graced with a kiss of sweet oak, and the flavors echo nicely, finishing totally dry. Sleek, full bodied and still on the way up, but drinking so well already, there's no reason not to open one tonight. Speaks more to Ridge's house style than to specific varietal characteristics, and that's just fine by me. Find this wine
2005 Peter Lehmann Mentor Cabernet Sauvignon Barossa, 14.5% alc.: This one came courtesy of Rebecca, and brought back fond memories of the summer morning back in 2005 that I spent tasting through every wine from Peter Lehmann available in Michigan with winemaker Ian Hongell and Brian Batridge, who at that time served as Hess Collection Central Region Sales Manager. It had been quite some time since we'd had any wine from Australia, so I was interested in seeing what it was all about. Deep and densely dark in color, it has a slightly green quality to it, though, in this case, it's not really a detraction. Rich, intense and fairly ripe, with dark currant and berry character shaded with some subtle oak and a note of olives, it's a solid wine that doesn't really speak Cabernet to me. Find this wine
Imported by The Hess Collection, New World Wines, Napa, CA
2001 Ridge Geyserville, 74% Zinfandel, 18% Carignane, 8% Petite Sirah, $30, 14.4% alc.: I had stood this one up a few days before, reasoning that it might come in handy for the festivities, and I guess I was right! By this time, however, I was singing songs from my CD instead of taking notes, so I can only tell you that David nailed it when he commented, "This is so silky!" It's drinking beautifully right now, but as any Ridge-rite knows, these are built to develop well past eleven years, so drink or hold. Find this wine
1993 Ridge Essence Paso Robles, 13.4% alc.: Labeled as "Vine-Concentrated Essence of Zinfandel Grapes," and David confirmed that Benito Dusi finally said "No" to subjecting his vines to the kind of stress needed to produce this wine some years back, but what a lovely wine it is. Deep and dark in color, and still quite ripe, primary and sweet, this is just starting to develop some secondary characteristics, and I would expect that it will continue to do so for years and years. It was delightful with some good Trader Joe's Organic Dark Chocolate, and, interestingly enough, the sediment that it threw had a soft, chocolate-like texture. David remarked, "The finish is really melted together right now," while Christina and Rebecca both described it with a single word, "Awesome." Many thanks to Allan Bree for this remarkable gift. Find this wine
All in all, it was a great night of food, wine and friendship. In fact, everyone had such a good time, we neglected to take any food porn photos. It's just a good thing I kept the dead soldiers for the label shot above!
However, here is a shot from the same dinner we had a few weeks later. This is the charcuterie platter Anne put together of the meats she and Kim cured from the hog parts above. Photo by Alan Kerr.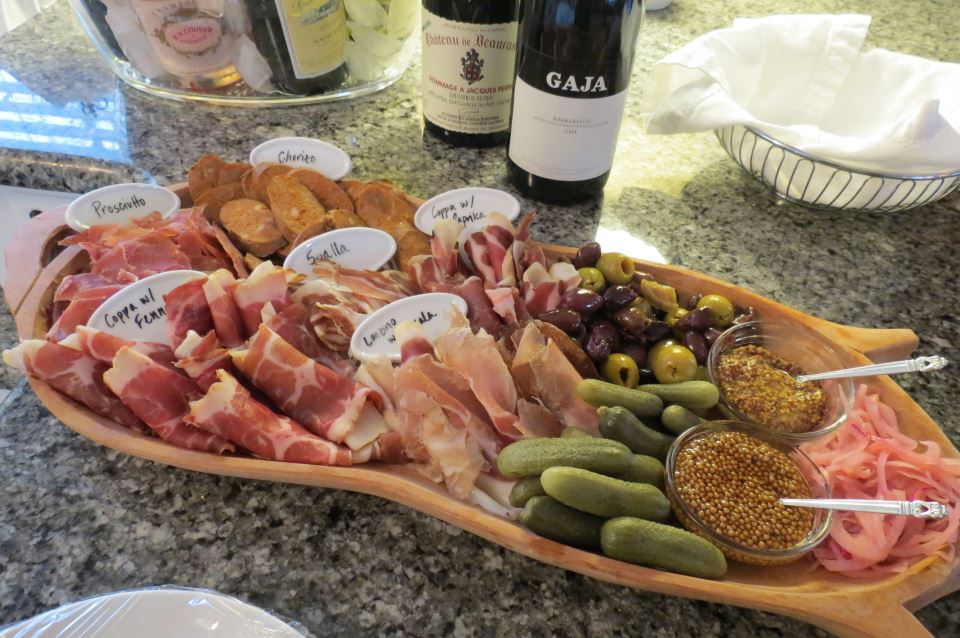 Reporting from Day-twah,
geo t.
Related posts:
2 Responses to "An All Pork and Wine Dinner"