I had the great pleasure of playing music again at Left Foot Charley Winery a few weeks ago. It's always a treat for me to play at any of our fine Michigan wineries, tasting rooms and breweries, but LFC is special for me, because we've followed their progress from the very beginning and we're big fans of their wines and ciders. It was a good night of music and a great night for trying different LFC wines. I strayed from my usual choice, the Island View Pinot Blanc, opting instead for the 2012 Dry Riesling, a glass of which I nursed over my two set performance. I didn't manage to record any impressions, other than the fact that it's a delicious example of just how good Michigan Riesling can be.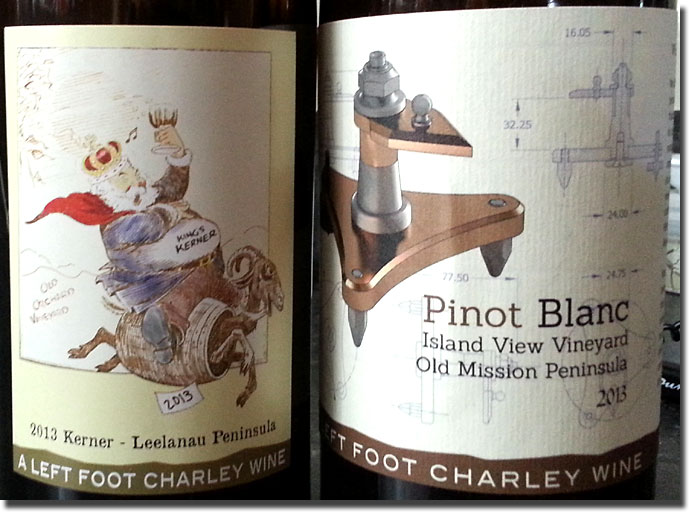 A few months before this, LFC announced on their Facebook page that there wouldn't be a lot of the Island View Pinot Blanc to go around this vintage, and that the savvy customer would be wise to take advantage of a six-pack pre-order priced at $18 per bottle, which I jumped on immediately. The fine folks in the tasting room held it for me to pick up at the gig, and, of course, we tried one as soon as we got back home. Here's what we found.

2013 Left Foot Charley Old Mission Peninsula Pinot Blanc Island View Vineyard, 13% alc., $18 (pre-release 6-pack order, regular price $23): Clean pale-to-medium color, with a nice citrus and green apple nose that carries over onto the palate with some subtle mineral lurking in the background. Rich and round, medium bodied, with zippy acids and good length on the finish, this seems to fall somewhere in between the ripe character of the 2012 model and the leaner, more citrus-driven 2011. We enjoyed this with grilled smoked chicken, haricot verts sauteed with mushrooms and grilled baked potatoes. All in all, another very fine LFC Pinot Blanc that we'll continue to enjoy over the next three or four years. Find this wine
After my first set, Kim asked me to get her another glass of Kerner, which she was really taking a liking to, so much so, that she purchased a few bottles to bring home (along with a nice jersey for me). I obliged her, somewhat surprised at hearing that LFC makes a wine from this cross of the Trollinger and Riesling grapes. As it turns out, it is actually the second vintage they've produced, and it's damned good stuff!
2013 Left Foot Charley Leelanau Peninsula Kerner Old Orchard Vineyard, 11% alc., $20: Clean pale-to-medium color, with floral aromatics that also show a slightly petroleum-like note lurking in the background; the latter quality is more like a lubricant (WD-40) than gasoline or diesel, but it works, given its subtle character. Medium bodied and crisp, with green apple, quince and mineral flavors that show very good intensity and good length on the finish. Kim thinks it would be fun to include this in a Riesling tasting as a "ringer," but I'd rather keep it to serve with some of our regional lake or stream fish. The grapes for this wine are sourced from Old Orchard Vineyard, in Glen Arbor; the property is owned by the daughter and son-in-law of the great political cartoonist, Joseph Parrish, whose work is featured on the label. Find this wine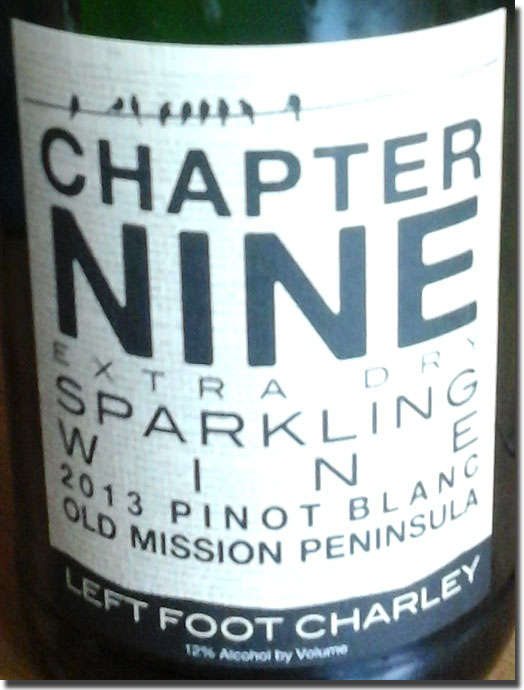 The day after my show at LFC, we were sharing a ride on a Leelanau Peninsula Vintners Association sponsored tour bus with our friends Cortney and Shannon Casey, of Michigan By The Bottle, and they asked me if I'd had the Left Foot Charley Sparkling Pinot Blanc. Again, I told them that I was unaware that they made such a critter. Since we weren't going to have a chance to stop back in the tasting room, I asked if they'd pick a bottle up for me, which they very kindly did. We popped the cork this week to celebrate a visit by Ridge Vineyards Regional Sales Manager, Christina Donley aka "The Donley." It was just the ticket to start a late spring evening of fine food and wine and great friendship.
2013 Left Foot Charley Chapter Nine Old Mission Peninsula Sparkling Pinot Blanc Extra Dry, 12% alc., $20: Clean, medium color, with an active bead ranging from fine to fairly sizable bubbles and ample mousse; explodes in the mouth with rich, ripe red and green apple flavors, great effervescence and zippy acids, all on a medium-bodied frame. Very enjoyable and easy to drink, this is perfect for the coming hot summer days and nights. Find this wine
Reporting from Day-twah,
geo t.
Related posts:
3 Responses to "Three Late Model Left Foot Charley Libations"