July 10th, 2016 |

Author:
George Heritier
That rascal "Backroad" Bob Summers showed up at Gang Central on his motorcycle at 8 AM in the morning on July 4th, looking for some breakfast and a place to lie low for 24 hours or so. We had an idea he might be coming, since he'd sent a box of wine the week previously, so we couldn't very well turn him away. I should clarify that the "box of wine" was a 6-pack of really good shit, not a Franzia 3 Liter; Bob's pretty good about those kinds of things.
We first met Bob back in 2004, at a memorable "offline" tasting in Cincinnati; we renewed acquaintances three years ago when ol' Backroad showed up at my gig at The Bluebird in Leland, and then again two years ago around this same time of year when he spent a few dazzling days with us here in Day-twah.
It turned out to be a fine 4th of July indeed. We enjoyed a succession of fine foods, we drank our share of amazing wines and we drank some of your share too. There were two that stick out in my mind; both were northern Rhônes, 17 years old and were retrieved from Backroad's 6-pack. Here are my impressions of each.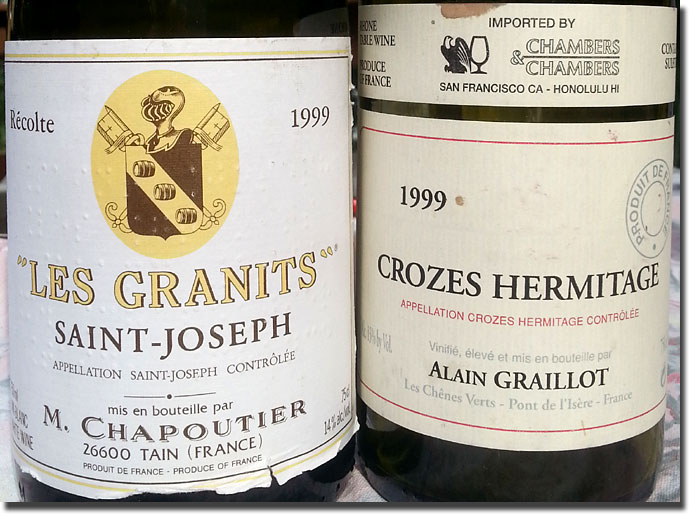 1999 M. Chapoutier Saint-Joseph "Les Granits," 14% alc.: The front label of this pretty gold colored wine says it 14% ABV, while the back label says it's 11-14%; I'm betting that the front label is more accurate. This is beautifully mature, and showing no real secondary notes to speak of at this point. It exuded a lovely nose of beeswax, herbs, honey and mineral, all of which follow through on the palate. Almost unctuous, this is really in a fine drinking window right now, soft and harmonious, yet with more than enough acidity to do everything you want it to right now, with or without food. It paired very nicely with Bob's marinated grilled shrimp, and has many years of pleasurable drinking ahead of it, especially for those who want the aforementioned secondary development that will surely take place. 100% Marsanne, from Chapoutier's oldest Saint-Joseph vines. Find this wine
Imported by Premier Cru, Emeryville, CA
1999 Alain Graillot Crozes Hermitage, 14% alc.: We've been fans of Graillot Crozes Hermitage for quite some time now, so when I saw this one, I requested that we pull the cork, and Bob was only too happy to oblige. It gives vivid testimony as to just how good fine northern Rhone Syrah can be with extended cellaring, and, in fact, well stored bottles of this one will continue to develop and improve. Showing little if any bricking to the clean dark color, it's almost floral on the nose, with briar/bramble garrigue in support. Big and intense in the mouth, with deep black plum black olive and garrigue, it is a beautifully balanced, classic Graillot, and if you don't know what that means, you really need to find out. What a beauty! Find this wine

Imported by Chambers & Chambers, San Francisco, CA-Honolulu, HI
Reporting from Day-twah,
Bastardo
Related posts: