The first thing that caught my attention about the wines of Clos Cibonne were the lovely labels, with their classic old style and grace. I saw one on a retail shelf last autumn, but didn't get around to trying any until late May, and since then, we've become more and more delighted with them. We're no strangers to the wines of Côtes de Provence, but we'd never tried anything (that we know of) that was so predominantly composed of the Tibouren grape. More usually employed as a blending grape with such varieties as Grenache and Cinsaut to make rosé, it takes on a much more dominant role in the wines of Clos Cibonne.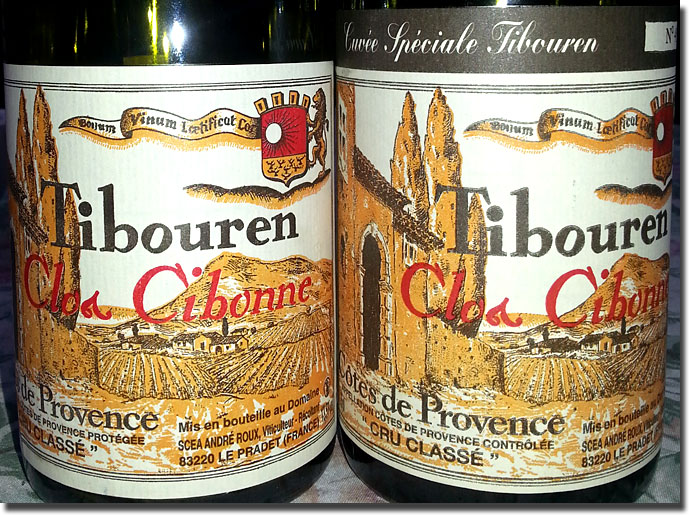 The character of both of these wines is obviously a direct reflection of the character of the Tibouren grape itself, and we really like what we taste in them. We got our first taste of the rosé courtesy of our way cool wine buddy Rebecca Poling.
2013 Clos Cibonne Côtes de Provence Cuvée Tradition Rosé, 90% Tibouren, 10% Grenache (sourced from 30+ year old vines), 13.5% alc., $25.99: Pale rose petal pink with a tinge of orange; mineral driven peach and watermelon flavors and aromas, and, at first, you can almost taste those 100-year-old foudres. As it opens and warms in the glass, more of the old wood and old school character emerges, and I like it even better. Fairly rich and ripe, more so than some we've had from Provence; medium-to-medium full bodied, with ample acids and good length. This is priced at the upper limit of what we're willing to pay for rosé (we don't buy Tempier anymore), and it's worth every penny. We'll drop a few more in a mixed 6-pack for the discount and enjoy again. Tasted three times with consistent impressions. The wine was aged on the lees for 1 year in those 100-year-old foudres. Find this wine
This next selection is described as "Clos Cibonne's easy drinking red," but, as much as I enjoy it now, it seems to show good aging potential as well.
2012 Clos Cibonne Côtes de Provence Cuvée Spéciale Tibouren Rouge, 90% Tibouren, 10% Syrah (sourced from 40 year old vines), 14% alc., $25.99: Clean medium dark garnet color, with barnyard first and foremost on the nose, and rich earthy black fruit at the heart of the aromatics. Slightly astringent on the palate initially, with big, rich earthy black currant, black plum and blackberry shaded with hints of iodine and black olive. Full bodied and well-structured for several years in the cellar, with good length on the finish, despite tannins clamping down some. This is really our kind of red wine, deep, dark and kind o' funky. The barnyard never does blow off the nose (and that's fine with Kim and me), but never shows up much on the palate. More of this will definitely be appropriated and brought back to Gang Central, some for now, and some for later. I want to try this again in five years and see how it develops; I'm betting it'll just get better and better. I may be totally wrong, but I'm a dancing fool… Find this wine
The Clos Cibonne story itself is quite interesting. Here's what importer De Maison Selections, Inc. has to say about this singular producer in their portfolio:
"The property of Clos Cibonne dates back to 1797 when the Roux Family purchased it from Jean Baptiste de Cibon, captain of the royal marines of Louis XVI. In 1930, André Roux modernized the winery in order to pursue his goal of producing top quality wines at the estate. This revival ignited an era of fame for the rosés of Clos Cibonne.

In the 1980s, hard times fell upon the estate and it drifted without clear direction until Bridget, André Roux's granddaughter, and her husband, Claude Deforge, took it over in the late 1990s. Their immediate goal was to bring the estate back to its former grandeur. By renovating the cellars while preserving the tradition of aging in old foudres, the family began to reestablish the vaunted reputation of the domaine. Thanks to their efforts Clos Cibonne once again lives up to its standing as one of the 18 Cru Classés in Côtes de Provence.

The heart of Clos Cibonne is Tibouren. The Roux family are great fans of this native varietal and believed it to be the ideal grape for the region. As part of the estate's revitalization in the 1930s, André Roux replaced all of the estate's Mourvèdre with Tibouren. Clos Cibonne soon became synonymous with Tibouren and received special permission from the A.O.C. to list the grape on its labels.

The estate's 15 hectares of vineyards are located a mere 800 meters from the coast and are surrounded by hillsides in the base of a bowl that faces the sea. This topography creates air circulation that allows for perfect maturation of the grapes and helps to reduce vintage variation. After harvest, the wines are fermented in stainless steel and then aged under fleurette (a thin veil of yeast) in 100-year-old, 500L foudres.

Clos Cibonne crafts a wine that is completely its own through combining a rare grape with a unique aging process."
Reporting from Day-twah,
Bastardo
One Response to "Two from Clos Cibonne"