December 27th, 2009 |

Author:
George Heritier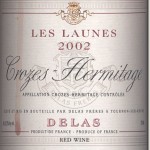 We have Gang of Pour charter member Scott "The Geek" Tobias pretty well trained these days. He knows that when he comes to visit and hang out on a night when there's a Detroit Red Wings game on the tube, he should bring an appropriate wine to observe the traditional "Red Wings and Red Rhônes" theme. He did just that a few days ago, when he showed up with a bottle from one of our favorite value orientated appellations from the south of France.
2002 Delas Crozes-Hermitage Les Launes, 12.5% alc., $21.99: Medium dark color, medium full bodied and of medium intensity, this is a wine that very much reflects the vintage which produced it. It throws a nice nose of leather and black fruit that echoes on the palate, but with a bit of a vacancy in the middle, never quite delivering on the promise of the aromatics and lacking the kind of depth and concentration that Crozes-Hermitage usually exhibits. Traditional in character and pleasant enough for what it is, this is about as ready as its going to get and should make a decent match for the usual culinary suspects, such as grilled meats, hearty stews and such. I just wish that there was more to it. I've never been a big fan of this producer, and this particular bottle does nothing to change that. Find this wine
Imported by Maisons Marques & Domaines USA Inc., Oakland, CA
Reporting from Day-twah,
geo t.
Related posts: