Recently, we received the following email:
I'm Amber Hoxha from The Thomas Collective, a wine and spirits public relations firm in NYC. I'm writing to inquire if you had any interest in being added to our database so that we can send you updated wine information. Just an email address would be fine.
Thanks!
-Amber
Now, we're always happy to get any "updated wine information," and when we replied as such to Amber, she suggested that we might like to sample a couple of wines from one of their clients, Pernod Ricard USA, paired with regional dishes from Spain and Argentina. We like samples at Adams-Heritier and Associates, so, of course, we said , "Sure!" Sure enough, not long afterward, we took possession of two bottles of QPR red wine that, coincidentally, sell quite well at the establishments where I am gainfully employed, but which we had yet to try. These were accompanied by recipes for deceptively simple, yet quite tasty food pairings for each.
We started with a late-model Malbec and an Argentine carbonlia (recipe listed below tasting notes), a chili-like dish, spiked with cinnamon and prepared artfully by Kim.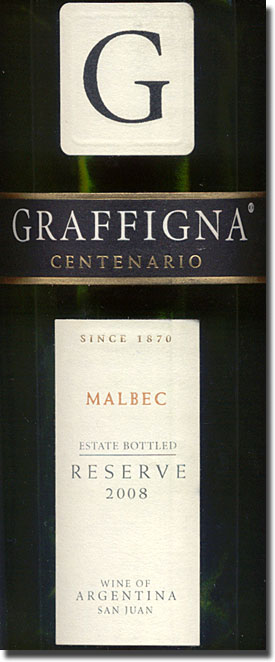 2008 Graffigna Centenario Malbec Reserve San Juan, 14% alc., $10.99: Deep, dark color; rich and appealing, with a cedar and black currant nose that leads into spicy black currant and blackberry flavors graced with slightly creamy oak. Ripe without going over the top, and full bodied, with good structure, balance and length, and just look at that price! Great QPR here, so buy by the case. Aged 50 % in oak (50% in French oak and 50% in American oak) for 12 months. The Malbec and carbonlia complement each other beautifully; the cinnamon plays a restrained supporting role in the flavor profile, rather than a dominating one, and deliciously so, making for a delightful variation on a chili-like theme. Find this wine
Click image to enlarge. Imported by Pernod Ricard USA, Purchase, NY
Next, we tried a Spanish almond soup made with ground almonds, garlic and parsley (recipe listed below tasting notes) and paired with a Crianza from a solid Rioja producer.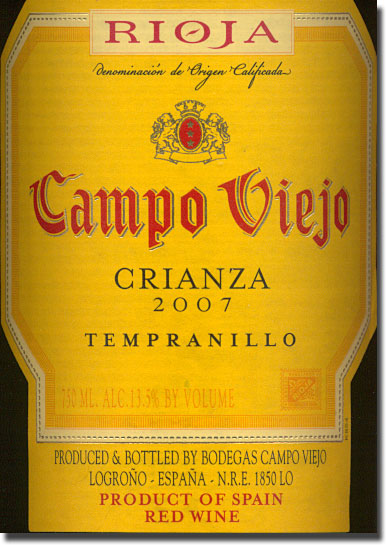 2007 Campo Viejo Rioja Crianza Tempranillo, 13.5% alc., $8.99: Clean, dark color, with a pleasant nose of black cherry, blackberry and some subtle cedar that echoes and expands on the palate with more cedar and more obvious oak. Full bodied, with good structure and length, this seems as much old school as new, and that's fine with us. A very good value at the price listed.The almond soup is creamy smooth and delicious; Kim added some of her excellent home-smoked bacon bits as a garnish, and perhaps that had an unintended effect, because while the wine and soup didn't clash, they did seem somewhat inconsequential to each other.  Find this wine
Click image to enlarge. Imported by Pernod Ricard USA, Purchase, NY
Many thanks to Amber Hoxha and The Thomas Collective for this most interesting tasting experience! Here are the recipes for the two excellent dishes noted above.
Carbonlia
Ingredients:
1 tablespoon olive oil
2 pounds fresh ground beef
1 onion, chopped
2 cloves garlic, minced
1 green pepper
1 red pepper
1/2 teaspoon garlic salt
1 teaspoon paprika
Pinch of cinnamon
3 whole peeled tomatoes, chopped
15 oz (1 can) red kidney beans
15 oz (1 can) black beans
2 cups water
Salt and pepper
Shredded cheese
Preparation:
Heat olive oil in a large heavy pot over medium heat. Add beef and sauté for several minutes until cooked through, breaking it up with a wooden spoon as it browns.
Add the onion, garlic, green and red pepper, garlic salt, paprika and cinnamon. Cook for about 5 minutes until the onions begin to brown.
Add tomatoes, beans, and water. Season with salt and pepper to taste and bring mixture to a boil.
Reduce to a simmer, partially cover pot and cook for 30-40 minutes, stirring occasionally, until mixture is thick and flavors are concentrated.
Remove from heat and adjust seasoning if necessary. Serve with shredded cheese, if desired.
Almond Soup
Ingredients:
5 cups milk
5 tablespoons sugar
5 ounces almond paste
2 tablespoons bread crumbs
2 cloves of garlic
3 saffron threads
3 sprigs of parsley
2 pinches white peppercorns
3/4 cup extra virgin olive oil
Coarse salt to taste
For Garnish:
12 small thin slices of bread, fried in olive oil
2 ounces toasted chopped almonds
Preparation:
Bring the milk to a boil.
In a mortar, mash together the coarse salt, saffron, pepper, garlic and parsley.
Mix the almond paste, sugar and the mixture from the mortar into the boiling milk.
Lower the heat and let cook gently for 8 to 10 minutes. Serve garnished with the slices of fried bread and the toasted chopped almonds.