With the memory of the delightful 2013 Chateau Thivin Brouilly "Reverdon" still fresh in my mind (yes, I keep purchasing more and enjoying it again and again), I've been keeping an eye out for other Cru Beaujolais with which to whet our proverbial whistles and I've been pleased with the four in this report. The Foillard and Breton Morgons are two that we've quite enjoyed a number of times previously, but hesitated to purchase until recently because of price issues. They're both worth every penny of the tags on the bottle, but I've been focused more on budget-friendly selections for the past couple of years. I finally decided that it was time to see what the current models has to offer, and wasn't disappointed in the least with either.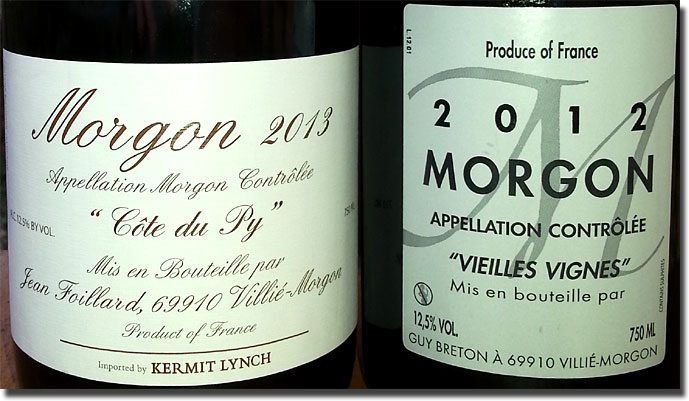 The Château des Jacques, a Louis Jadot property, is something that I happened upon in a Costco bin. While not a big fan of the parent négociant, in this case, I figured "how bad can it be," and was pleasantly surprised with what I found in the bottle. But the best find has undoubtedly been the Domaine Moulin d'Eole, which was recommended by Jason Kugel at Plum Market.
2013 Jean Foillard Morgon Côte du Py, 12.5% alc., $35.99: Clean, dark garnet in color, and exuding those classic, effusive Foillard aromatics, perfumed, exotic and beguiling. Intense flavors and aromas of rich and fairly ripe cherry and pomegranate, underscored with restrained earth. The silky smooth structure belies the ample structure that will take this several years down the road of development and improvement. In a way, the perfumed nature of this wine almost reminds me of Ken Schramm's Heart of Darkness Mead; I've had very few wines like this in that regard, making for a singular tasting experience, and a quite pleasurable one at that. As good as this is now, especially with air, it'll get even better with several years in the cellar, so… Find this wine
2012 Guy Breton Morgon Vieilles Vignes, 12.5% alc., $29.99: Slightly smoke tinged ruby garnet color, with a perfumed character decidedly reminiscent of the Foillard noted above, and quite different from the 2011 model. It's all wild cherry cough drop in the mouth, with shades of earth and just a hint of the barnyard, and as it opens, more earthy undertones emerge. Silky in texture and deceptively well-structured; I have no experience with extended cellaring of these, but I'm confident that it has five years minimum ahead of it, and probably a good deal more, but so nice now, it's hard to keep hands off. A very pretty red wine. Find this wine
Jean Foillard & Guy Breton Morgons are imported by Kermit Lynch Wine Merchant, Berkeley, CA.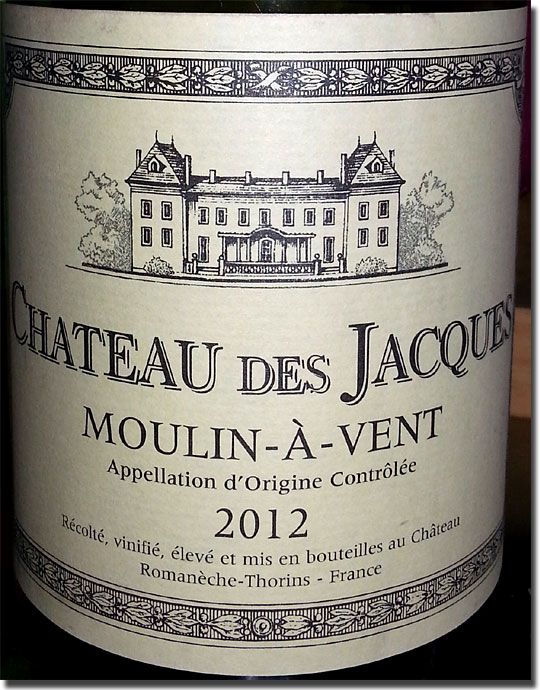 2012 Château des Jacques Moulin-à-Vent, 13% alc., $19.99: Clean ruby garnet color; earthy cranberry cherry nose doesn't exactly jump out of the glass, but does make itself known. Flavors are considerably more generous, however, echoing and expanding on the reticent promise of the nose, showing its earthy character more as it progresses toward the finish. Medium-to-medium-full bodied, and structured for at least 3-5 years in the cellar. Nothing flashy here, just a solid, food friendly wine that's worth picking up a few more of at this price to put down for a few years and eventually open with duck and turkey dishes. Shows no barrel character to speak of (80% of the wine was aged 10 months in oak barrels, 30% new), and ultimately opens nicely with air, giving more and more in flavor and aroma. A nice wine, but the Chateau Thivin Brouilly Reverdon is better for less money, in my not-so-humble opinion. Still, variety is always a good thing, right? Find this wine
Imported by Kobrand Corporation, Purchase, NY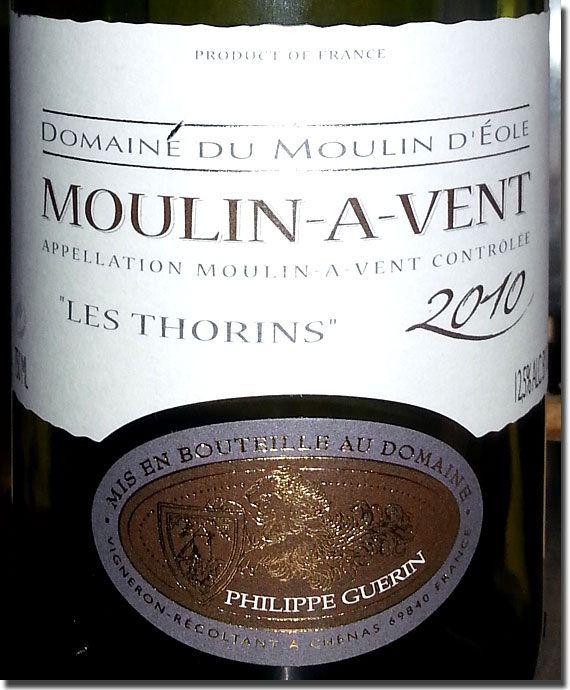 2010 Domaine Moulin d'Eole Moulin-à-Vent Les Thorins, 12.5% alc., $15.97: Surprisingly dark in color, with a bright, attractive cherry berry nose, with plenty more of the same on the palate, along with a subtle earthiness. Rich and delicious, and more high-toned than the Château des Jacques, there's lots going on here. At five years of age, this is in a really nice place, all silky, balanced and harmonious. Of the four wines noted here, this is easily my favorite, and it's the least expensive of the bunch. You can bet I'll be getting a whole bunch more. Find this wine
Imported by A.H.D. Vintners, Warren, MI
Reporting from Day-twah,
Bastardo
Related posts: