August 1st, 2013 |

Author:
George Heritier
Last week, I happened upon an interesting blog entry in the Midwest Wine Press, written by Matt Maniscalco. In his article, Maniscalco proposed that Pinot Blanc "could be the wine that provides Northern Michigan with an opportunity to create a global brand name." He goes on to quote Verterra Winery owner Paul Hamelin, Bowers Harbor Vineyards director of operations Kristy McClellan, Hawthorne Vineyards' Marie Dalese and Brys Estate winemaker Coenraad Stassen regarding the advantages and appeal of the variety.
I found this proposition particularly interesting for a couple of reasons; first, I just filed a report on July 17th regarding my favorite Michigan Pinot Blanc producer, Left Foot Charley, and second, I tried the Bowers Harbor model mentioned in Mr. Maniscalco's piece, with its grower and winemaker, the seemingly ubiquitous Shawn Walters (also responsible for making the Verterra PB, the current vintage of which I have yet to try), during a visit in June. Walters also gave me a bottle to take home for further consideration, so I was able to spend some time with it and get to know it. Here's what I found.
2012 Bowers Harbor Leelanau Peninsula Pinot Blanc Twyris Vineyard, 11.5% alc., $20: Twyris Vineyard is named after Shawn's delightful daughters, Twyla and Iris, and produced 100% of the grapes for this wine; 2012 was only its 3rd leaf, which would seem to bode well for future vintages. Showing pale-to-medium color, it offers green apple, quince and grapefruit flavors and aromas, with nice minerality underneath. Medium bodied, with zippy acidity and good length, it's a little tight now, and while an hour or two of air helps it to open, a year or two in bottle will be even more beneficial. Good stuff that I'd like to try again somewhere down the road, and I'll be looking forward to tasting what this vineyard produces in coming vintages. Find this wine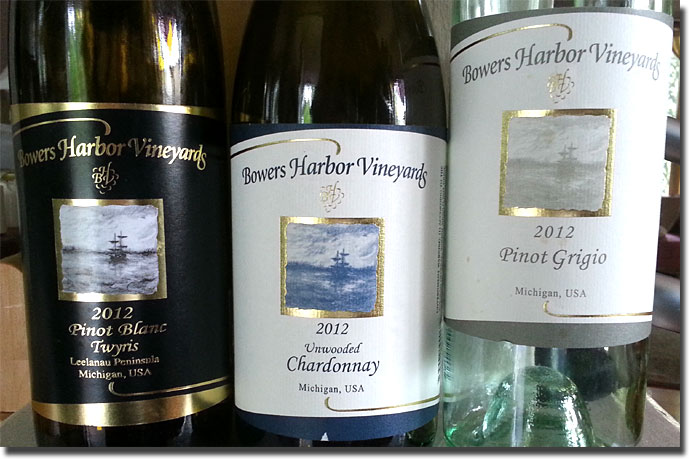 Whether or not Pinot Blanc can become Michigan's signature grape remains to be seen. The prevailing viewpoint is that Riesling has a firm hold on that distinction, and I doubt it will be supplanted any time soon. However, Pinot Blanc does have the advantage of being a cool climate, early ripening variety, and produces good wines in difficult vintages. What the future will bring should be very interesting indeed, and I will be following up with more reports.
Shawn gave me a couple of other Bowers Harbor wines that he made to try as well, so here are my impressions of them.
2012 Bowers Harbor Michigan Pinot Grigio, 11.5% alc., $15: Clean, medium color; I was somewhat surprised by the fruit forward, almost sweet nature of this, even after Kim told me she didn't care for it for just that reason. Medium bodied, with melon, peach and tropical fruit flavors and aromas, and less acidity that I might have expected, though ample for food pairings. My feelings towards this are a bit kinder than my wife's, and if it's not the best Michigan Pinot Grigio I've had by any means, it's not a bad wine for what it is. Bowers Harbor says it's their number one selling wine and the number one selling Pinot Grigio in Michigan. Find this wine
2012 Bowers Harbor Michigan Unwooded Chardonnay, 12% alc., $15: Clean medium color; it smells like Chardonnay and tastes like Chardonnay, so it must be Chardonnay! Rich and ripe; like the Pinot Grigio, perhaps a little riper than I care for, but fans of California Chardonnay will probably find it to their liking. Round in the mouth, with apple and pear-like flavors (more apple than pear), medium-full-to-full bodied, with good acidity and the most intensity of the three wines tasted for this report. Find this wine
The Pinot Blanc is still my favorite though.
Reporting from Day-twah,
geo t.
Related posts:
2 Responses to "More on Michigan Pinot Blanc"