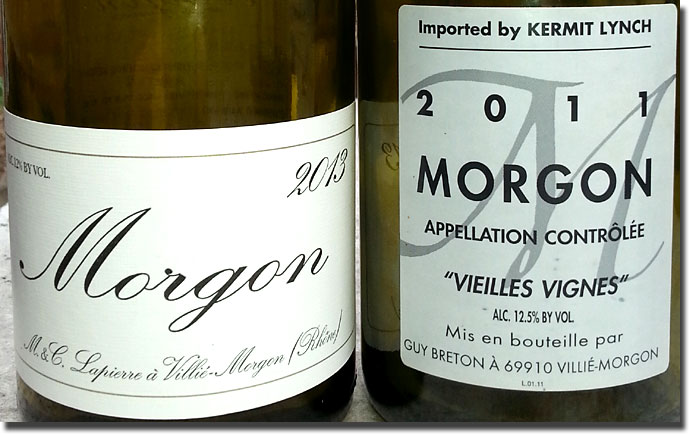 Alan Kerr aka Canadian Zinfan rode into town to hang out with us at Gang Central for some Easter "holiday hijinks," a weekend that Kim would describe afterwards as "epic." It was certainly all that and more. Before his arrival, Madame L'Pour (Kim's old Gang moniker) asked Chef Kerr what he wanted to do during his stay, and he replied, "Eat lunch at Johnny Noodle King, and cook, eat and drink wine with you guys," and so we did. (Click images to enlarge.)
Our exercise of glorious excess took place over two days and nights; on Friday, it was just the three of us, and on Saturday, we were joined by our rad girlfriend, Rebecca Poling. My original plan had been to couple similar pairs of wines with whatever plates Alan and Kim might come up with and do not-so-quick-and-dirty snapshot blogs of each, but once the dust cleared, it seemed obvious to me that only two reports need be filed; this one with the pairs and what, if anything they were paired with, and, in the next few days, the single bottles that we insinuated into just the right spots throughout both evenings. This was a classic Gang of Pour weekend, and we wouldn't have had it any other way.

Johnny Noodle King was mostly quite good. The service wasn't the quickest, in fact, several diners who were seated long after us were served first, but the food was excellent. Kim had dined there previously, and was not particularly impressed, but then, we've heard since that this can be a hit-and-miss kind o' place. Happily, we came on a good day. The Seafood Melody, Shredded Pork Shoulder, Pork Belly, Honeycomb Tripe et al bowls were delicious, as were the Pork Belly Buns, and the Zinfan and I relished our table side Torched Mackerel, which was "too fishy" for her nibs.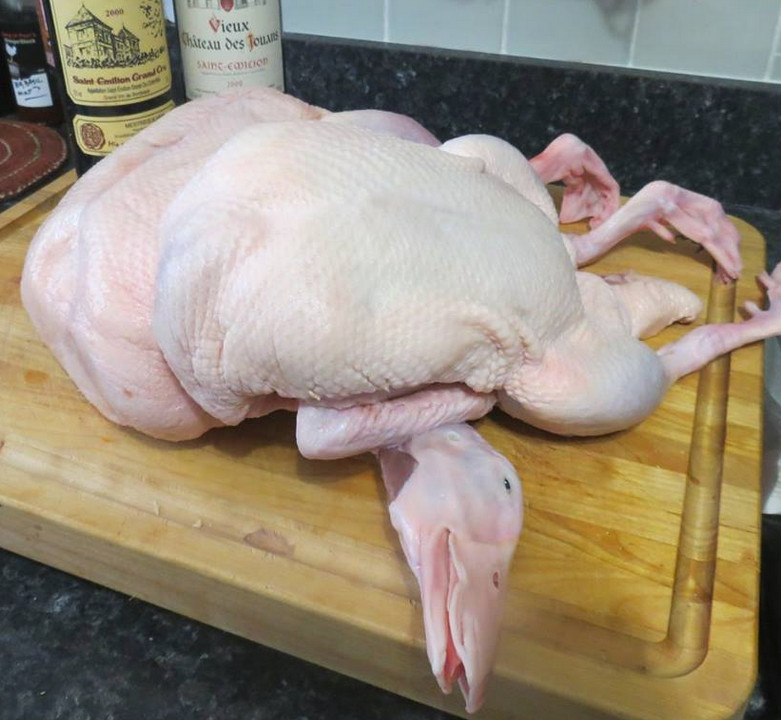 After noodles, we took a quick visit to the Honey Bee Market in Detroit's Mexicantown, then headed back to the ranch to rest up and get ready for more fun and excitement. That's when Chef Kerr began having his way with two dead ducks.
The first of our wine "pairs" were actually tasted on successive nights. I had threatened only a few weeks before to investigate more Schramsberg bubblies, and so we did, starting with a fine Blanc de Blancs on Friday night. The Blanc de Noirs reared its funky head early the following evening.
2011 Schramsberg North Coast Blanc de Blancs Brut, 12.5% alc., $29.99: Medium straw color, with an explosion of very fine, very active bubbles as soon as it's poured and as long as it lasts in the glass; C.Z. finds it very tart on his first sip, whilst I noted rich green apple flavors and aromas, shaded with subtle mineral and yeasty bread dough. Medium-full bodied, with ample acids, good length and great balance and character. Two thumbs up from the chef and me; Kim passes at first, then relents, takes a pour and, surprise, she likes it too! 100% Chardonnay, 52% Napa, 40% Sonoma, 7% Mendocino, 1% Marin, 26% barrel fermented. Find this wine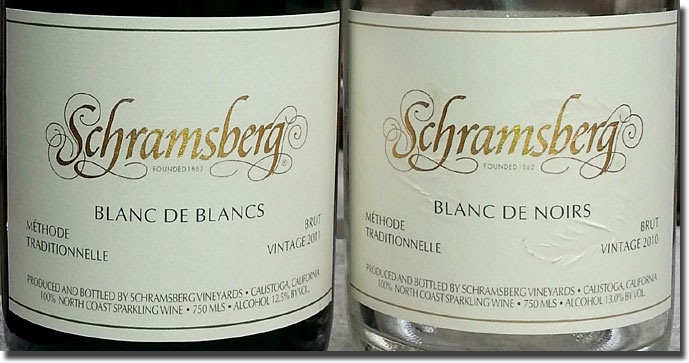 2010 Schramsberg North Coast Blanc de Noirs Brut, 13% alc., $32.99: Clean, medium color, with a very fine active bead. Alan immediately commented that he likes this better than the Blanc de Blancs from the previous evening, and Rebecca also expressed her liking for this, saying "It tastes slightly over-sulfured, but that might blow off." It didn't. This one is a bit funky, both on the nose and in the mouth, and that sets the tone for this particular bottle's personality, though there is some Pinot Noir character lurking underneath. Medium-full bodied, with abundant acids and good length, and while the funk didn't turn me off, I didn't like this nearly as well as the BdB. Still, it was nice with some delightful duck-laden spring rolls, but not so much with the slightly sweet dipping sauce. I posted a bottle shot of this (and everything else we opened over the two evenings) on Facebook, and one bubble head friend commented that "We think there may be some Q(uality) C(ontrol) problems. Too many times off & oxidative flavors. I'm worried about my 3L." Your mileage may vary. 85% Pinot Noir, 15% Chardonnay, 54% Sonoma, 19% Mendocino, 14% Marin, 13% Napa, 31% barrel fermented. Find this wine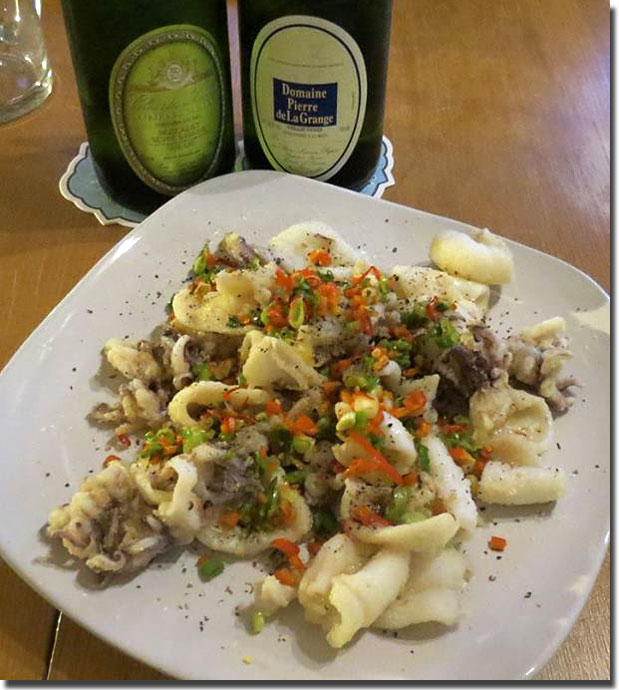 The two from Luneau-Papin were purchased a good year or so ago, for tasting and reviewing well before now, but these wines have a great track record for aging (I've loved previous vintages of each), so this seemed like the obvious time to pull the corks from both.
2011 Domaine Pierre Luneau-Papin Muscadet-Sèvre et Maine Sur Lie Clos des Allées Vieilles Vignes Cuvée Médaillée, 12% alc., $17.99: Clean, medium color, with "clean" flavors that are less mineral driven than I expected. "Ooh, I like this," uttered Chef Kerr," it has that sort of Spy apple, and I do like the acidity." Kim observed that it's "tasty, but simpler than the" Pierre de la Grange. There is some mineral here, but not as much as I prefer, and while I like it, I keep wondering, "Can Muscadet be too clean?" 45+ year old vines, 9 months on the lees. Find this wine
2011 Domaine Pierre Luneau-Papin Muscadet-Sèvre et Maine Sur Lie "Pierre de la Grange," 12% alc., $15.99: Clean, medium color, with more mineral than the Clos des Allées, but not a lot more; it has more depth of flavor as well. Bone dry, quite tasty and, while I like my Muscadet a bit funkier, I can't quibble with the quality here. Medium bodied, with perfectly balanced acids and nice length. 45+ year old vines, 7 months on the lees. There's just enough heat on the delicious salt and pepper squid so that it not only doesn't clash with either of these two wines, they actually pair quite nicely. Find this wine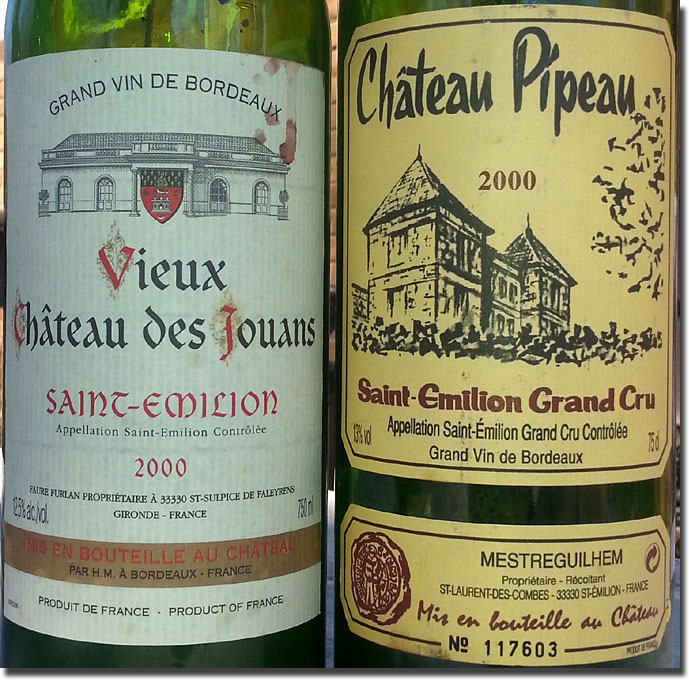 C. Z. brought along a 14 year-old Saint-Emilion, and when it occurred to me that we had exactly one from that vintage, I went down to the "cellar from hell" and retrieved it. Both were great with a thin sliced, medium rare Neiman Ranch "Bistro Tender Steak." We started with Alan's contribution.
2000 Vieux Château des Jouans Saint-Emilion, 12.5% alc.: Deep and dark in color, with little, if any bricking, as of yet. Earth, old wood and black currant aromas follow through so nicely on the palate, and there's no mistaking this for anything but Bordeaux. A sizable wine, still thick and intense, and while in a nice place for drinking right now, it has the structure to go another decade, at least. C. Z. commented, "Not impressed with the finish, but other than that…" Frankly, I liked this one just fine. Find this wine
2000 Château Pipeau Saint-Emilion Grand Cru, 12.5% alc.: Almost opaque in color, and from the first whiff, obviously more refined than the rough-and-ready Vieux Château des Jouans, and while it's drinking beautifully, it also has a decade or more left in it to determine how much better it will get. Earthy, with a fine leather patina over the black currant-cassis flavors and aromas that distinguishes it from the previous selection; full bodied and intense, it just gets better and better as it opens with air. One of the highlights of the weekend, to be sure. Find this wine
Imported by Union Beverage Co., Chicago, Il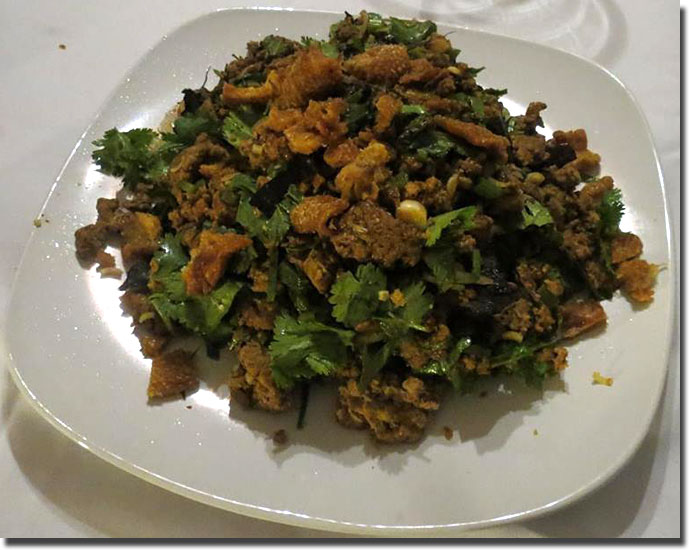 The two Morgons were enjoyed on Saturday. I had intended that they be served with the wonderful Pok Pok duck laab with crispy skin (right), but we got to the Lapierre before that dish was prepared. Not to worry, it was just fine on its own.
2013 Lapierre Morgon, 12% alc., $27.99: Darker color than you might expect from Gamay, with a lovely, floral cherry nose; about the flavors, Alan remarked, "Almost like a soy sauce note" and "almost like beet root." Medium-full bodied and structured for some years in the cellar, yet drinking beautifully right now. Sourced from old-vines with low yields, organically farmed, manually harvested and rigorously sorted; indigenous yeasts only, whole cluster fermentation à l'ancienne, maintained at low temperatures for ten to twenty days; aged on fine lees in old Burgundy barrels (from third to thirteenth passage) and bottled unfiltered. Find this wine
The duck laab was ready by the time we got to the Breton, and they paired beautifully.
2011 Guy Breton Morgon Vieilles Vignes, 12.5% alc., $27.99: Good, dark color, with an attractive cherry berry nose that is decidedly NOT "fruity." Earthy and a bit funky, with a subtle tartness to the fruit. That's all I recorded at the time, but I remember this being quite pleasurable to drink and very old school in style. Both of these Morgons offer excellent value for the price, and I will look for the earliest opportunity to invest in more. Happily, I know where they came from. Organically farmed, with grapes sourced from the Saint Joseph and Grand Cras subzones of the appellation and crushed in an old wooden press; carbonic maceration at low temperatures, indigenous yeasts only; fermentation a minimum of 15 days; malolactic fermentation takes place in barrel and rests for 6-8 months; aged on fine lees in Burgundian barrels (of at least the third passage) and bottled unfined and unfiltered. Find this wine
Breton & Lapierre Morgons imported by Kermit Lynch Wine Merchant, Berkeley, CA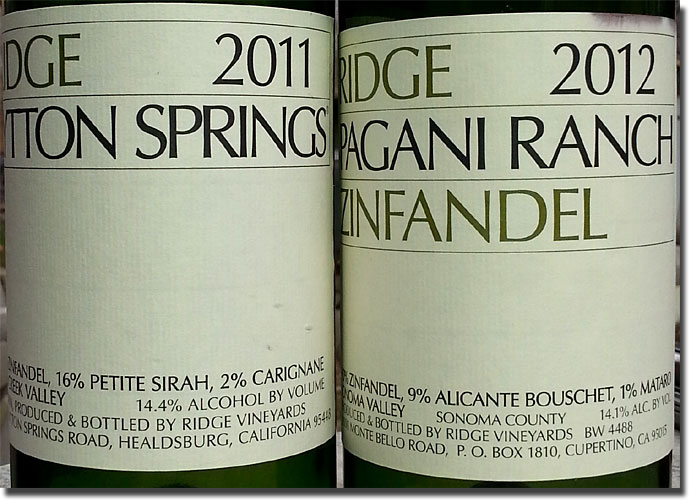 Of course, we weren't about to let this episode pass without paying homage to Mr. Ridge. These also were tasted and loved on successive evenings, starting with the '11 Lytton Springs on Friday night.
2011 Ridge Lytton Springs Dry Creek Valley, 82% Zinfandel, 16% Petite Sirah, 2% Carignane, 14.4% alc., $29.97: There's no mistaking this for anything else but Mr. Ridge. I tried to keep up with my scribe duties as Kerr rattled off the following: "Big blackberry, not coulis, but crushed berries; you can really smell that fresh fruit. Trebor Licorice, dried mint and a little prune-y note, but not excessive; silky tannins." What a gorgeous fruit bowl; ultra-smooth, quintessential Lytton Springs, this evolves by the minute in the glass, and as good as it is already, it's several years from showing its best stuff. Find this wine
2012 Ridge Pagani Ranch Zinfandel Sonoma Valley, 90% Zinfandel, 9% Alicante Bouschet, 1% Mataro, 14.1% alc., $29.99: There was too much conversation going on for me to record impressions at first, but I finally hunkered down to scribble the following: "Sleek and delicious. Rich, ripe and intense, this is the first Pagani we've had in quite some while. So primary, I really want to try this again in five years."" This taster.
"Just rocks. Pagani seems to have that extra sweetness that I don't need. Not saying I'm not liking it, but the Lytton Springs has better balance." C. Z. Find this wine
Kim wanted me to add that those two ducks served us well both nights – besides the breasts going to the laab and the carcass going to stock, it gave us legs for confit which were used in a rich duck noodle soup, fresh confit spring rolls and fat for a later use. Mung bean kim chi pancakes rounded out Saturday's meal.
Look for a follow-up report in the next few days on the single bottles we also opened throughout these two fun and exciting evenings.
Reporting from Day-twah,
Bastardo
7 Responses to "Pairs and Pairings"