A while back, I received an email from Christian Lane, the Director of Sales & Marketing at Viluko Vineyards, asking me where he could submit wine samples for review. In all honesty, I'd never heard of Viluko, but we're always willing to try new things, so I passed on the address here at Gang Central and immediately did some research into what this operation was all about.
Viluko Vineyards is located on the Sonoma side of the Mayacamas Mountains, between the Russian River and Sonoma Valleys, with 37 acres of CCOF-Certified organic vineyards planted on a 500 acre estate, with Cabernet Sauvignon, Malbec, Sauvignon Blanc and Chardonnay planted above the fogline at between 600-1,100 feet. The soil is volcanic, mixed with alluvial uplift, and the vineyard temperatures are moderated by cool night air from the Russian River. Viluko was established in 1998 by proprietors Pedro and Karen Arroyo; the winemaker is the seemingly ubiquitous Timothy Milos. The Arroyo's four children are also involved in various aspects of the operation, and there is a strong sense of stewardship of the land with the incorporation of diverse practices of sustainability throughout. (Click image to enlarge.)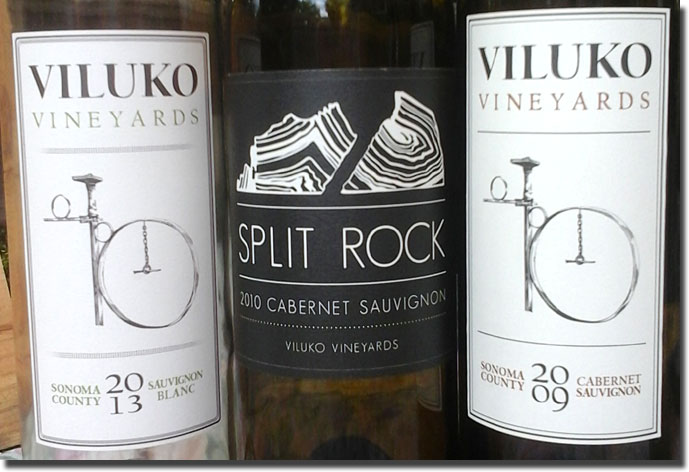 All this looks great on paper, but how are the wines? As has been the case so often lately, we took possession of the samples sent to us and then gave them plenty of time to recover from their cross-country journey. Here are my impressions of what we found in the bottles.

2013 Viluko Sonoma County Estate Sauvignon Blanc, 75% Sauvignon Blanc Clone 1, 25% Sauvignon Musque, 14.2% alc., $22.00: Clean, medium color; the wine is driven by racy acidity and shows an earthy, faintly bitter edge to the not-quite-under-ripe character. There's a fairly rich core of fruit here, not entirely typical of the variety, though it could probably be identified in a blind tasting through a process of elimination. It's in the golden apple/melon spectrum rather than the grapefruit/green apple gang that is so prevalent these days, with perhaps a hint of grass and no cat pee whatsoever. Medium bodied and more, with the aforementioned racy acids, this is a pleasant match for Kim's delicious dinner of chicken, artichoke hearts, onions and tomatoes over wild rice. The bitter edge is a bit of a detraction for both Kim and me, not to the point that we can't find more to like here than otherwise.
Viluko tech information: The fruit was picked on a single day, hand-harvested and whole-cluster pressed cold to tank. The juice was partially fermented in chilled tanks and transferred without racking to older French oak barrels to complete fermentation. The wine was left on gross lees to bring out its complexity and richness. It was prevented from undergoing malolactic fermentation so as to maintain the fresh and delicate fruit flavors. 144 cases produced. Find this wine
For me, the reds are the real attractions here.
2010 Viluko Sonoma County Split Rock Cabernet Sauvignon, 13.5% alc., $30.00: Clean, dark color, with a pretty black fruit nose, ripe, but not to ripe, all graced with a judicious kiss of oak; it's like a mélange of black currants, blackberries, plums and some blueberry. Earthy flavors generally echo, slightly drier that the nose might lead one to expect, and slightly astringent, especially on the finish, where the tannins clamp down some. Full bodied and structured for at least five years in the cellar, this is good now with a nice venison stew, but while this is made for earlier consumption than the Estate Cabernet Sauvignon, it really wants some time in the cellar, or at least an hour in a decanter if you're opening one soon. The astringency does tone down some after 45 minutes or so, and it does open with air, but this promises to be an even better wine with patience.
Viluko tech information: The fruit was hand-harvested on a single day in October, destemmed and allowed to soak on the skins for 4 days cold prior to a wild fermentation. The fermentation was pumped over twice daily and allowed to macerate on the skins for a total of 47 days from crush to press. The wine was pressed into French oak barrels, 50% new, where it underwent malolactic fermentation and was aged for a total of 18 months before it was bottled without fining or filtering. Find this wine
2009 Viluko Sonoma County Estate Cabernet Sauvignon, 14.1% alc., $50.00: Clean dark color, practically identical to the Split Rock. A bit less effusive aromatics, but even prettier than the previous wine, almost perfumed. It's more substantial on the palate as well, bigger, with more structure, and a rich black currant, blackberry, spicy oak personality anchored with a solid earthy base. This is stylish (in a good way) and attractive, with lots of promise for further development, at least 5-8 years. It also shows a bit of astringency on the finish, but not as much as the Split Rock. Nice now with a bowl of venison stew, but be patient with this and lay it down for a while. You'll be rewarded.
Viluko tech information: Cool evening air from the Russian River helps our wines retain their pure fruit flavors, a balanced acidity and graceful yet firm mountain tannins. We grow several clonal selections of Cabernet Sauvignon; our 2009 is a blend of five clones: 4, 7, 8, 191 and 337. The steep, 35% grade hillsides and elevations variances of 600 to 1100 feet above sea level and these elevational and slope variances add to the dimensional complexity in our wines. On average less than 1 ton per acre was harvested from the Cabernet Sauvignon vineyard block. 19 Months, 50% New French Oak. 131 cases produced. Find this wine
After trying the two Cabs, I wasn't sure how Kim would react to them, knowing her preference for southern French reds. "They're very interesting," she replied, and I would have to agree. We don't drink much Cabernet Sauvignon around here, so when we do, they better be good, and both of these are fine examples of Sonoma County Cabs. I'd love to taste them again a few years down the road to see how they evolve.
Reporting from Day-twah,
geo t.
Related posts: