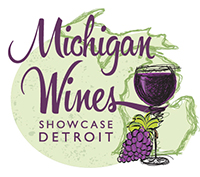 Kim and I had the pleasure of attending the Michigan Wines Showcase Detroit this past Monday, April 20th, at The RattleSnake Club. Hosted by Vintage Michigan and organized by our friends Master Sommeliers Claudia Tyagi and Madeline Triffon, the event featured the wares of more than 25 Michigan wineries, as well as appetizers created by RattleSnake Club Chef Chris Franz. This is a don't-miss show that we go to every year, as much to renew acquaintances with our friends in the industry as to taste the wines being presented. My intent this time out was to focus on just a few producers that held special interest to me, and there was only one place to start, with Larry Mawby's sparkling wines. All notes are necessarily of the "snapshot" variety, because of time constraints. (Click images to enlarge.)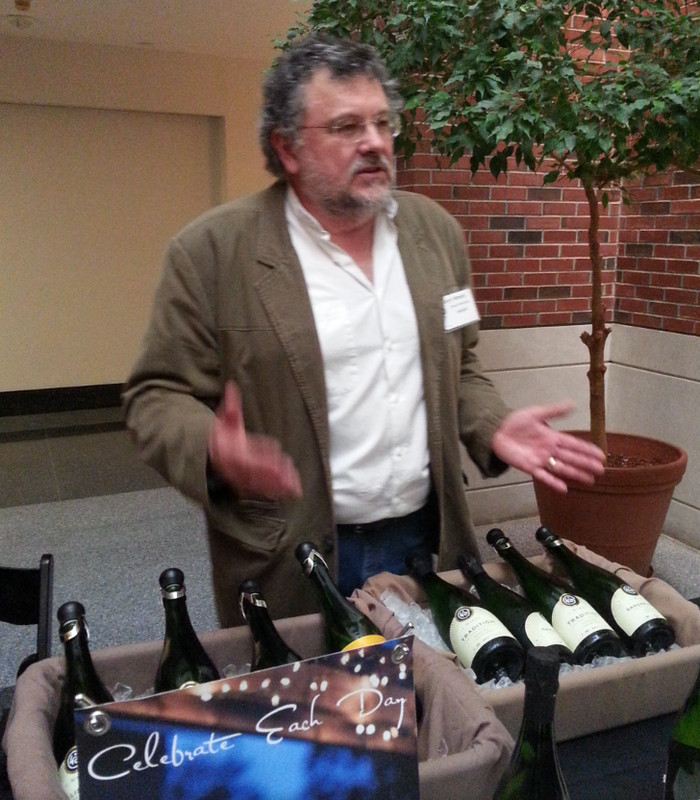 Following up on my recent report, I didn't try everything Larry was pouring on this occasion; I focused on these three, and they were all very much to my liking.
L. Mawby Leelanau Peninsula Tradition Brut NV, 80% Pinot Noir, 20% Chardonnay, $21: Crisp and tart, with mineral-laced green apple flavors and aromas; racy acids and good length. I like this a lot for its tart character. Made mostly with 2013 fruit, and rounded out with reserve wine; a little over a year en tourage. A wine club selection to be released in July. Find this wine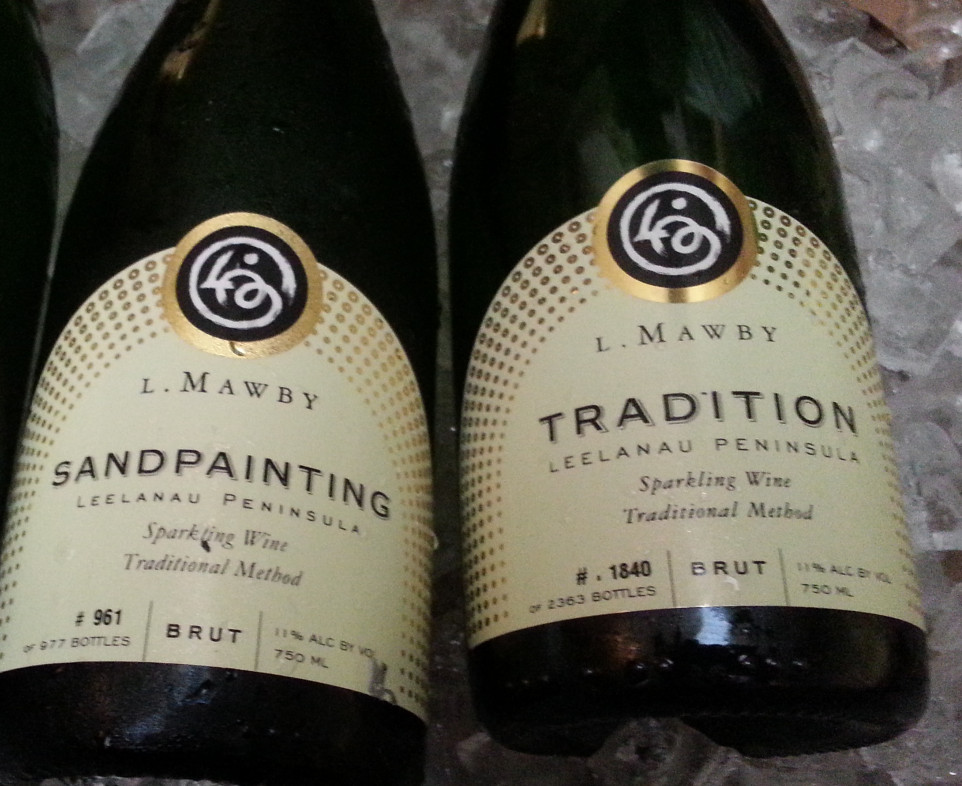 L. Mawby Leelanau Peninsula Sandpainting #5 Brut NV, $29.00 ($24.65 Club Price): Yeasty bread dough, green and red apple flavors and aromas; tart, but not as tart as the Tradition, with a little more depth and body. Great acidity and good length, rich and tasty. A wine club selection that will soon be available at retail for the first time. A one-of-a-kind series, all from the 2011 harvest, a blend of pinot noir (50%), chardonnay (27%), and vignoles (23%). Find this wine
L. Mawby Leelanau Peninsula Talismon Brut NV, Cuvee 193, $37.00 ($31.45 Club Price): More mineral-driven than the first two, with some yeasty bread dough and rich, somewhat tart green apple character, requisite acids and good length. Such a pleasure to sip. "A blend of vignoles, pinot noir, pinot gris, and chardonnay grapes that are hand picked and carefully whole – cluster pressed. The juice is fermented in stainless steel and blended with reserve wines in a solera kept in oak, then fermented a second time in this bottle and aged en tirage before degorgement." Find this wine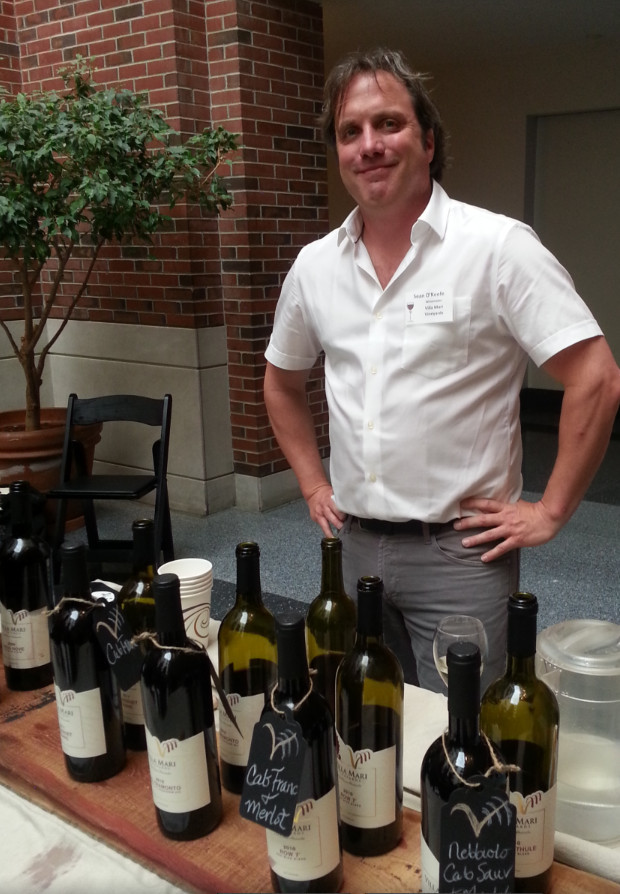 Villa Mari Vineyards, located on Old Mission Peninsula, pretty much ran beneath our radar, until it was announced last December that our friend Sean O'Keefe would be taking over as winemaker on January 1st of this year. We've been following Sean's wines for years at his family's Chateau Grand Traverse, where he was a co-owner and "specialty winemaker." Now, with this move, he retains his share of ownership in his family's business, but has relinquished all other duties, with the blessing of his father, Ed O'Keefe, Sr. Sean has actually been making Villa Mari's wines for the past 6 years in a freelance arrangement, but recently decided it was time to make the switch to full time.
The Villa Mari story is as fascinating as it is unlikely. Owner Marty Lagina's mission was to produce wines from grape varieties such as Nebbiolo and Sangiovese that are seemingly not that well suited for the northern Michigan climate. The first vineyards were planted in 1999, with the first official production of Villa Mari Row 7 taking place in 2006. A vineyard feature unique to Michigan grape growing called "Nellaserra," which employs hoop houses, or what Sean refers to as "high tunnels," extends the growing season by as much as four weeks, allowing the grapes to ripen that much more.
O'Keefe maintains that while his first love is still Riesling, he is tremendously excited about not only the reds he's making, but also Villa Mari projects in the future involving white and sparkling wines. Kim and I were quite intrigued to see what he'd been up to with this new phase in his career, and, frankly, neither of us was expecting these five reds to be anywhere near as good as they are, Sean's talents notwithstanding.
2009 Villa Mari Solo Nove Old Mission Peninsula, $24.65: A blend of Cabernet Franc, Merlot and a little Nebbiolo, from "the year summer never came." Rich red fruit, with a pretty kiss of oak; slightly dusty in a good way. Kim exclaimed, "Huge cherry and olive." In my notes, I wrote, "One of the best Michigan reds I've had," and the next four got incrementally better. Find this wine
2011 Villa Mari Cabernet Franc Old Mission Peninsula, $26.00: Villa Mari's only single varietal bottling at this point, from a cool vintage; lovely cherry berry nose, gaining some nice earthy minerality on the palate; structured for some years of development in the cellar. Find this wine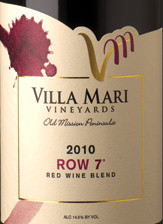 2010 Villa Mari Bel Tramonto Old Mission Peninsula, $39.00: 75% Merlot, 25% Sangiovese, the latter grown in Nellaserra hoop houses. Red and black fruits with some dried cherry and a kiss of oak and some dusty mineral; very pretty and nicely structured. Find this wine
2010 Villa Mari Row 7 Old Mission Peninsula, $49.00: Named after three rows centered around the 7th of Villa Mari's initial vineyard plantings; nobody knows for sure exactly which varieties are growing there. Sean says that this is 60% Cabernet Franc and 40% Merlot, and is made purposely "showy" with new oak. The oak isn't at all overdone, and this is rich and flavorful, structured for several years in the cellar. Quite impressive. Find this wine
2010 Villa Mari Ultima Thule Old Mission Peninsula, $55.00: Grown in Nellaserra hoop houses in two locations on opposite ends of Old Mission Peninsula, a blend of Nebbiolo, Cabernet Franc and Merlot. Rich red and black fruit with nuances of mahogany and earth and a judicious kiss of oak, this is just so good. Find this wine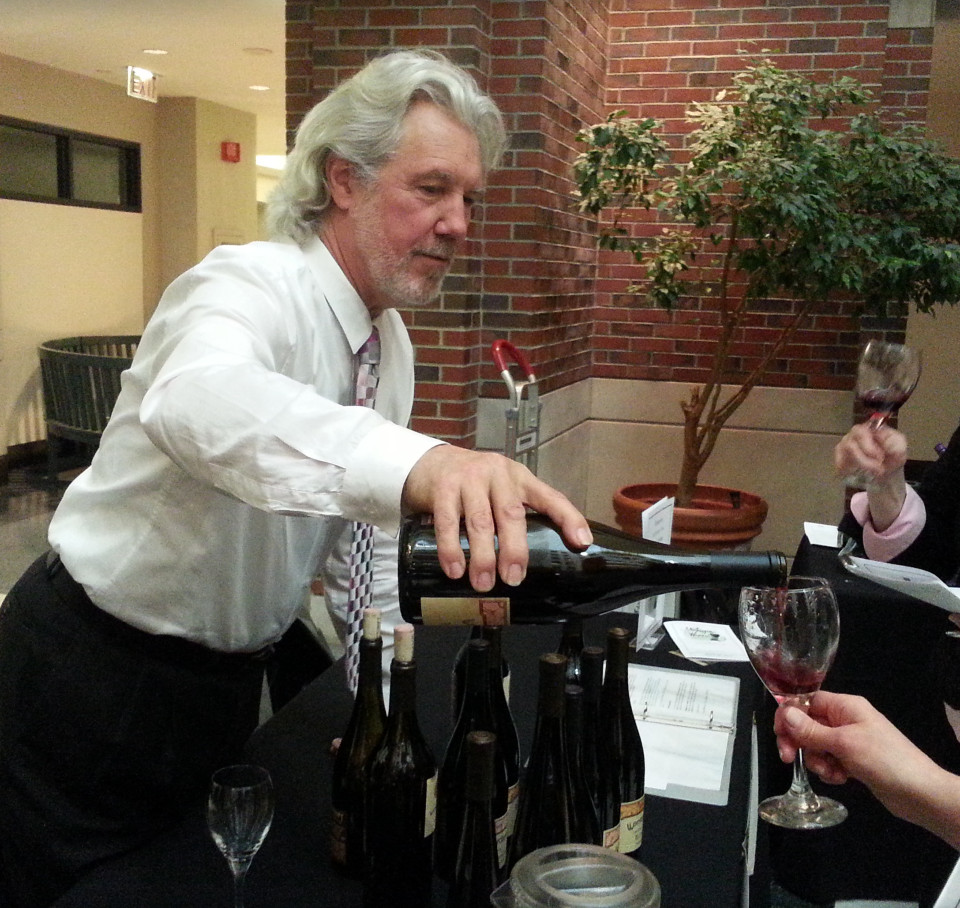 Finally, we couldn't leave without stopping by our dear old friend Jim Lester's Wyncroft table. We've been fans of Jim's wines for several years now (you can see our reports in reverse order, starting from the last one), and though he's been through tragedy and hard times, things have stabilized for him in his life and he's at the top of his game, especially with his 2012 Pinot Noir, "Shou" Bordeaux blend and 2013 Riesling Ice Wine.
2013 Wyncroft Riesling Lake Michigan Shore Wren Song Vineyard, $25.00: Kim remarked that this is "so fragrant," and I would wholeheartedly agree. Young and impressive, with green apple character and good, though not particularly racy, acids. My impression is that this wants some time in the bottle to really strut its stuff. Find this wine
2010 Wyncroft Lake Michigan Shore Chardonnay Avonlea Vineyard, $35.00: Picked at 24.5° brix; Jim calls this "my "Kistler-esque" Chardonnay. Nice minerality and spice nuances grace fine Chardonnay flavors, all with balanced acidity. Find this wine
2013 Wyncroft Michigan Blaufrankisch Glacier's Edge, $25.00: This vineyard is located just north of Brighton, without appellation status, thus the Michigan designation. It shows some briar and bramble over black currant and blackberry fruit, making for a luscious drink-me-now summer red, so give it a little chill. Find this wine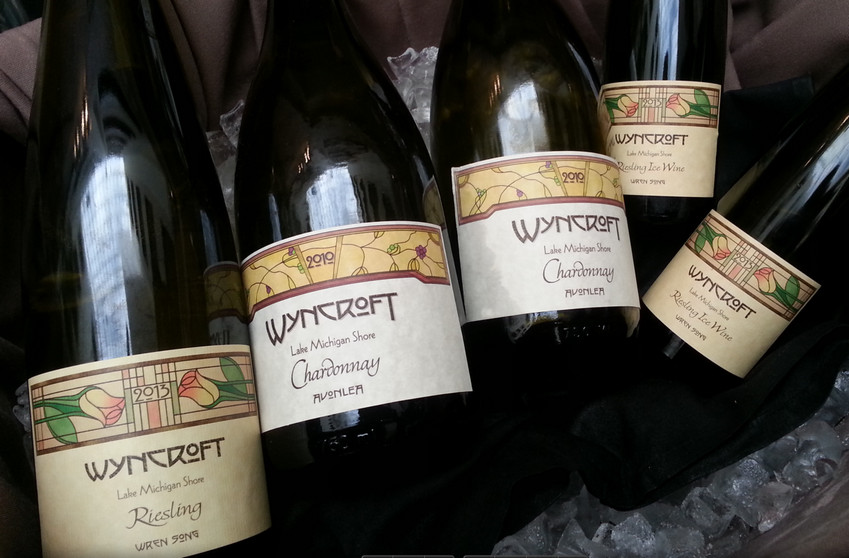 2012 Wyncroft Lake Michigan Shore Pinot Noir Avonlea Vineyard, $ 45.00: Jim calls this "one of my five best Pinots," and I can't remember liking another as much as this. Rich and luscious, with earthy cherry character, balanced and silky. Just so pretty; drink now and over the next 5-8 years. Find this wine
2012 Wyncroft Lake Michigan Shore "Shou" Avonlea Vineyard, 77% Cabernet Sauvignon, 16% Cabernet Franc, 6% Merlot, 1% Petite Verdot, $ 45.00: Picked at 23° brix, this offers rich black currant and blackberry flavors and aromas, shaded with a subtle earthiness and a lovely patina of leather and mahogany. Voluptuous right out of the gate, but structured to age gracefully for years. Find this wine
2013 Wyncroft Riesling Ice Wine Lake Michigan Shore Wren Song Vineyard, $50.00: Picked at 40.6° brix; 25% botrytis, 26% residual sugar. The petrol and mineral nose give little indication of the unctuous burst of honeyed glory that follows on the palate. WOW!!! Find this wine
Michigan wines keep getting better and better. These three producers are not the only proof, by any means, but they are terrific examples of just how good our industry has become.
Every month is Michigan Wine Month for this taster.
Reporting from Day-twah,
Bastardo
Related posts:
One Response to "Snapshots from the Michigan Wines Showcase Detroit"