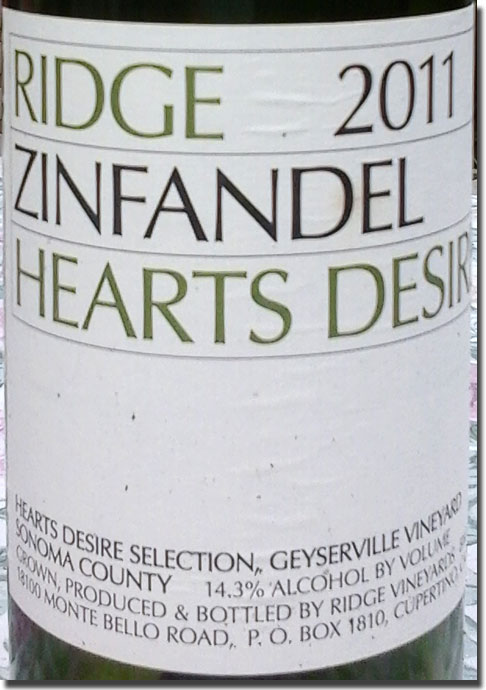 The original title for this blog entry was intended to be "Disaster Wines," since we had two challenging house-related issues descend upon us during the month of August, and I thought it would be fun to do a mini-reprise of our "Wines with Blackout and Other Earthly Delights" spread from several years ago. One of these issues was a loss of power after a powerful thunder storm rumbled through the metro Detroit area, forcing us to spend an evening with only candlelight to navigate our domicile, candlelight that I had to resort to in order to write notes on a lovely 2007 Tawse Cabernet Franc that Alan Kerr aka Canadian Zinfan had gifted to me many months ago. It would have made a cute little piece, but for one slight problem. The dog ate my tasting notes.
OK, so we don't really have a dog, and I don't really know where in the hell those notes on that slip of paper are. Hopefully, they didn't end up in the recycling and will turn up sometime in the near future, at which point, I will pass them on accordingly, because that Cab Franc was delicious.
Since the other wine for my intended feature was a fine Ridge Zin, I decided to go with an excellent Plan B, and focus on three wines we've enjoyed recently from that esteemed producer.
I had a birthday last month. It was probably the worst birthday I've ever had, not because of the particular year that turned over on me, but because of the flood we had in our basement the night before. 6 inches of rain in 4 hours will do that. We spent a good part of my "special day" bagging up ruined belongings and dragging them out to the street, where they would finally be picked up over a week later. Tiring, frustrating drudgery, to be sure, but we did rest up afterwards and go to Royal Oak's wonderful Café Muse for dinner with friends Rod and Hayden Leon and Shar Douglas. Afterwards, we came home and enjoyed this delightful wine, gifted to us by the equally delightful Christina Donley aka "The Donley." (Click images to enlarge.)

2011 Ridge Sonoma Zinfandel Hearts Desire Selection Geyserville Vineyard ATP, 100% Zinfandel, 14.3% alc.: Clean, dark color, with classic Ridge "Draper perfume" of spicy American oak and black raspberry; flavors echo, with decidedly dry, somewhat earthy fruit coming to the foreground. A bit pucker/astringent on the finish, almost burry. Rich, and fairly ripe, with great balance; svelte, yet structured for several years of further development, and, with air, the somewhat rough finish smooths out nicely. A great example of what Ridge Zins are all about, especially since it's going to evolve and improve. 42 barrels were produced, and unfortunately, this is sold out at the winery. Find this wine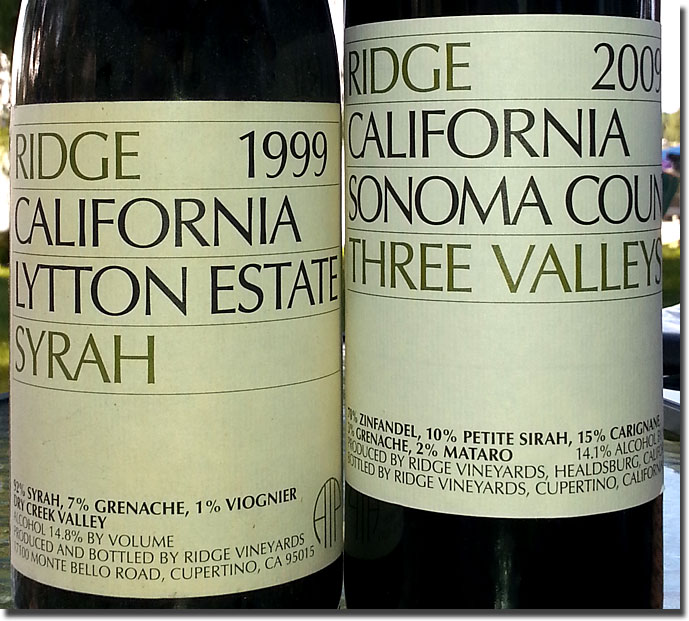 We visited our friends Charlie Walmsley and his wife Melinda at their beautiful home on a lake somewhere in mid-Michigan late in June, and enjoyed these two from Mr. Ridge with them. Kim and I turned Charlie on the Ridge back in the misty (mystic?!) '90s, and it obviously made an impression, since he pulled the cork from a terrific '95 Ridge York Creek Zin after a gig we played last summer. (He also shared a beautiful '94 Lytton Springs Zin with me after a gig the year before.)
We got things started with our contribution to the festivities, which we last had with Alan Kerr during the Easter weekend of 2009.
1999 Ridge Dry Creek Valley Syrah Lytton Estate ATP, 92% Syrah, 7% Grenache, 1% Viognier, 14% alc.: Deep, dark color; still a big dose of oak here, with plenty of big, bright black plum and blackberry fruit, and only hinting at any secondary action now. Still quite primary at 15 years of age; full bodied, very smooth and structured for several more years of development, but drinking well now, as the oak has integrated just enough to where I finally find it quite enjoyable. Not what I'd call a monster, but there's a lot of wine left here, and it's only going to get better. Find this wine
2009 Ridge Vineyards Sonoma Three Valleys, 70% Zinfandel, 10% Petite Sirah, 15% Carignane, 3% Grenache, 2% Mataro, 14.1% alc.: While nice enough on its own terms, this was somewhat overpowered by the Lytton Syrah. Clean, dark color, with somewhat restrained aromatics, and nice plum and berry shaded with moderate oak on the palate. Full bodied without being heavy in any way, this may be on the downside of its drinking window, but it's still hanging in there. Drink 'em if you got 'em, I sez. Find this wine
Reporting from Day-twah,
geo t.
Related posts: